Kids Party Games
This post may contain affiliate links. Read our full disclosure policy.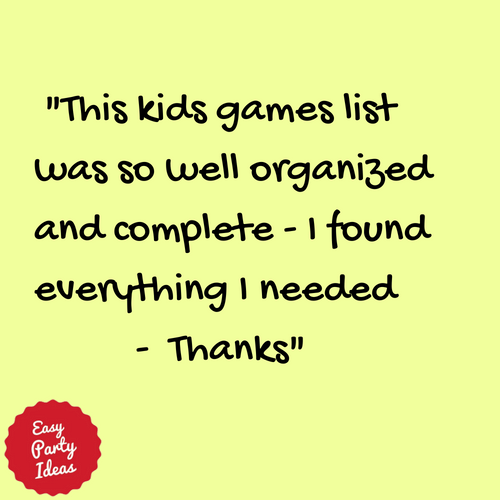 You'll be wanting to include great kids party games when planning your party!
On the following pages you'll find a full selection of free kids games to play at parties – more than you'll ever need for your kids birthday party!

Skip to hints for planning party games for kids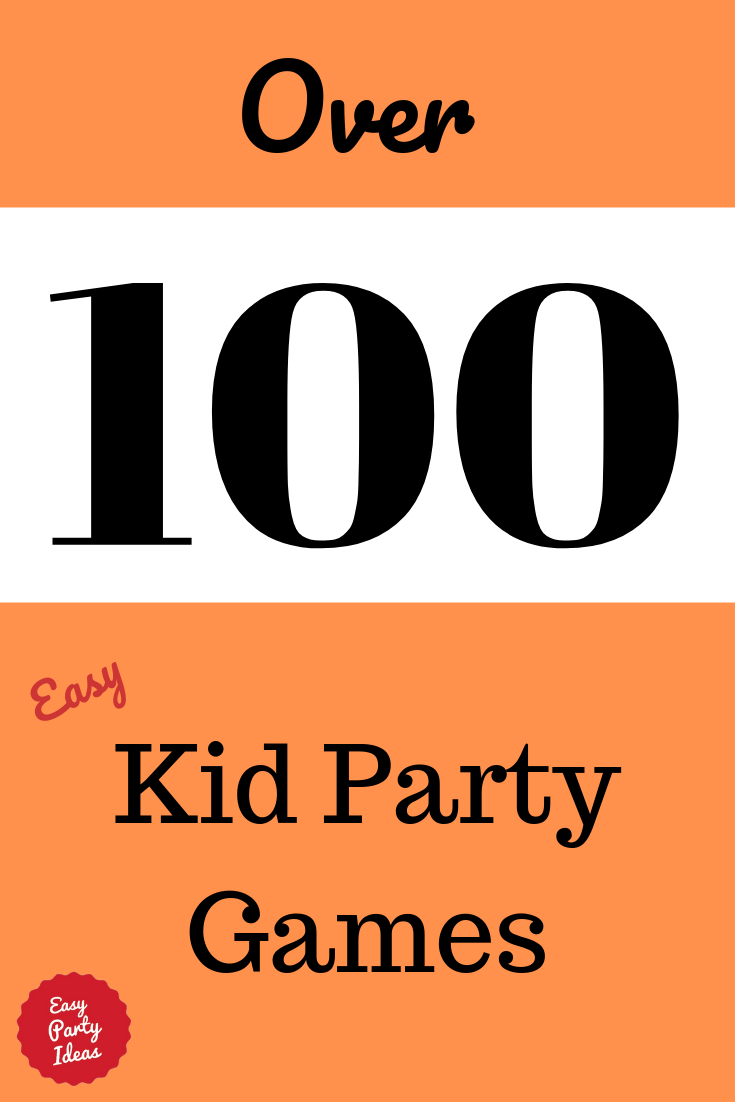 Giant List of Kids Games
Catching Games

All of these games involve throwing or catching something - better keep these outdoors! Classic childrens birthday party games include:
Annie Annie Over
Balloon Catch Game
Crazy Catch
---
Circle Games
As the name implies, all of these games are played with the players gathering in a circle. These games can be played inside or outside! (I love those!) Easy party games include:
Duck Duck Goose
Button Button Who's Got the Button?
Bean Bag Pass
Cat and Mouse
Chair Slide
Circle Tag
Fruit Salad
Human Knots
Jack Sprat
Parachute Games
Ring Around the Rosie
Spiderweb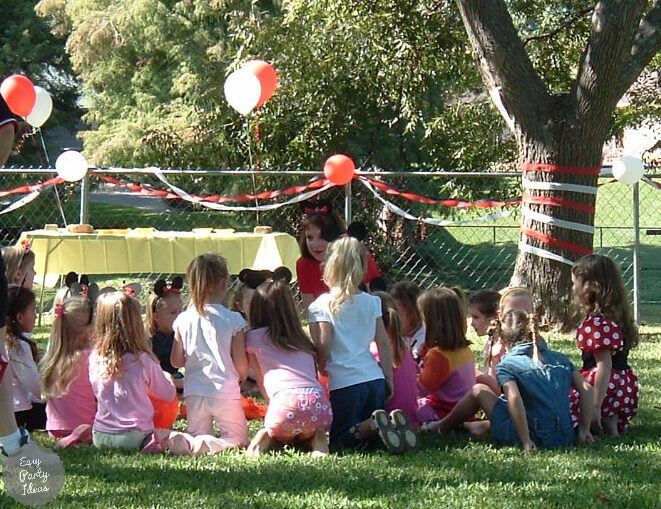 ---
Hunts

It's all about the thrill of the hunt!
Treasure hunts
Scavenger hunts
String mazes
Road Trip Games

---
Leader & Playground Games
All the great, classic leader and playground games are here! How many of these do you remember? Games to play a party include:
Arm Lock Wrestle
Birthday Lineup
Charades
Follow the Leader
Hand Push
I Spy
Red Light Green Light
Red Rover
Simon Says
Tug of War
Go to Leader & Playground Games 
---
Music Games
The fun party games on this list involve music. Pick music that relates to your theme to really make it fun! These games can be played outside and possible inside. Kids games include:
Hot Potato
Freeze Dance
Limbo
Musical Dress-up
Musical Chairs
Musical Spots
Pass the Parcel
Statues
Go to Musical Kids Party Games

---
Pool Party Games
If your party involves a swimming pool, you'll want to check out our list of pool kids party games! Pool games include:
Beach Ball Relay
Marco Polo
Sharks and Minnows
Watermelon Relay Race
Coin hunts
Many more!
---
Printable Birthday Games
Games you can print and play from
PrintGamesNow.com
Another source for printable games is creating a DIY Escape Room with these printable games and ideas from LockPaperScissors.
---
Relays & Races
Divide your guests into teams and away you go! Races and relay games are lots of fun because they are kids party games that involve everyone. These party games for kids include:
Egg and Spoon Race
Balloon Races
Frisbee Toss Relay
Hopping Relays
Hula Hoop Races
Jump Rope Relay
Obstacle Courses
Pass the Orange
Sack Race
Pantyhose Relays
Scooter Races

Stick Horse Races
Three Legged Races
Up and Down Race
Water Relay Games
Broom Sweeping Races
Go to page giving full info about races & relays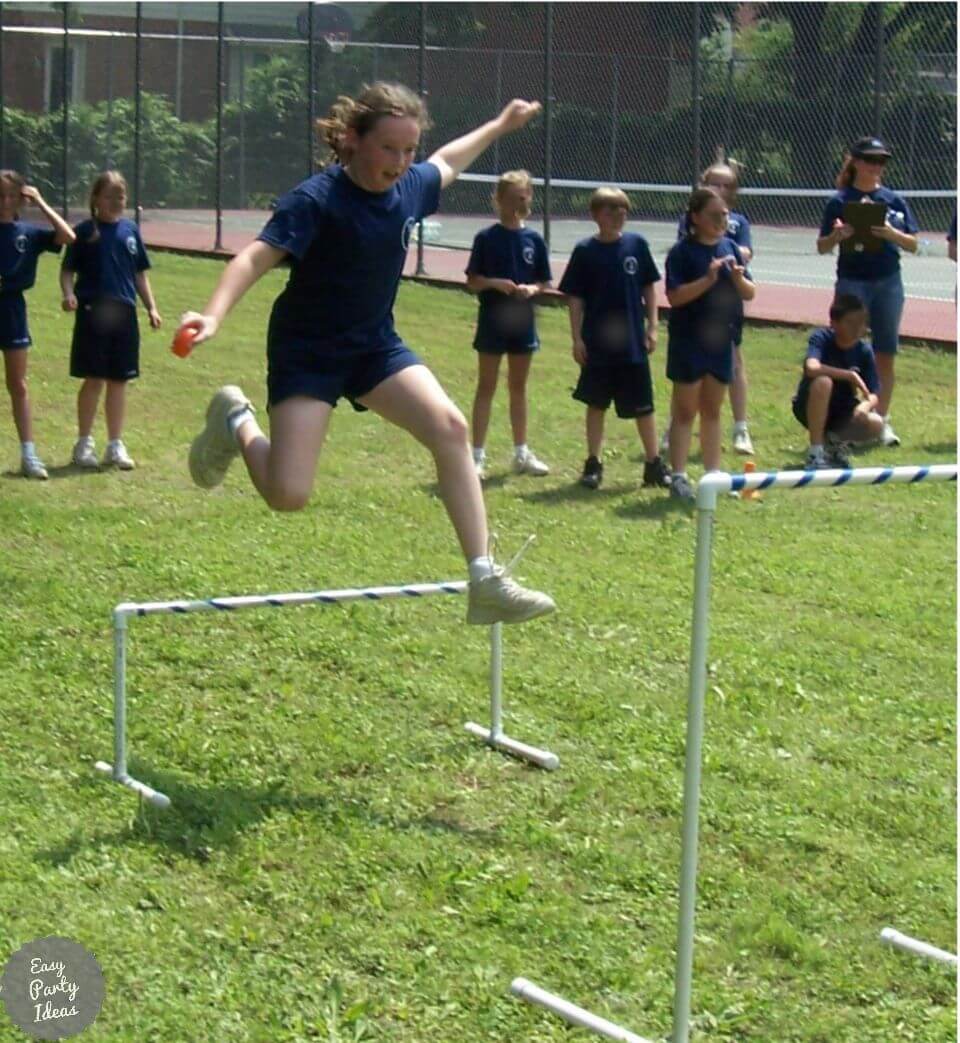 ---
Tag Games
Tag, you're it! The kids party games on this list all involve someone being "It". Tag games are best played outside, unless you have a large indoor party space. Games include:
Capture the Flag
Flashlight Firefly
Freeze Tag
Hide and Seek
Lion's Tail
Monster Monster Are You Hungry?
Sticker Tag
Wacky Tag
What Time is it Mr. Wolf?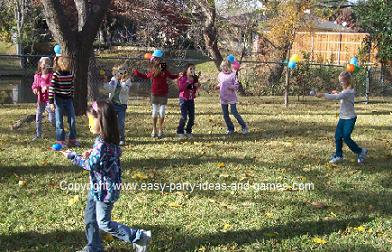 ---
Target Games
All those great target type games for your party are listed here. Fun kids party games include:
Bean Bag Toss
Clothespin Drop
Feathers
Hula Hoop Target
Paper Throw
Pin the "whatever" on the "whatever"
Pinatas
---
Water Games 

Keep cool with our water games list! With or without a pool, you'll never look at a hot day the same way again! Group games include:
Water Relay Races
Water Balloon Games
Water Gun Games
Many more on the Water Games Page
---
Games for Very Young Children
This list of kids party games is tailored specifically for any party for a very young child, usually three years of age or younger (although they can be played with older kids as well!). These preschool kids party games include:
Farmer in the Dell
Ring Around the Rosie
London Bridge
B-I-N-G-O
If you're Happy and You Know It
Hokey Pokey
Complete details about Games for Young Children
---
Games on other sites
Ice Cream Games - For party games devoted to the love of ice cream, visit our friends at Ice Cream Freaks.com! In addition to fun and games, you'll also find ice cream recipes, crafts and trivia!
Free Toddler Games
Free Toddler Games has a huge list of activities that are lots fun and can make some of the most memorable moments for everyone! And you don't need to go out and spend lot of money on expensive stuff, you can use things you probably have on hand.



---
Kids Party Games Organized by Party Theme
We've also organized some easy party games by theme, just to make it a little easier for your planning...


Airplane Party Games
Around the World Party Games
Art Party Games
Astronaut Party Games
Backwards Party Games
Barbie Party Games
Bowling Party Games
Butterfly Party Games
Campout Slumber Party Games
Car Party Games
Cat Party Games
Castle Party Games
Circus Party Games
Construction Party Games
Cooking Party Games
Cowboy Party Games (or Cowgirl Party Games!)
Detective Party Games
Dinosaur Party Games
Dog Party Games
Elmo Party Games
Egyptian Party Games
Fairy Party Games
Fashion Doll Party Games
First Birthday Party Games
Garden Party Games
Golden Birthday Party Games
Kids Halloween Party Games
Hawaiian Luau Party Games
Holiday Party Games
Horse Party Games
Indiana Jones Party Games
Jungle Safari Party Games
Knight Party Games
Kung Fu Panda Party Games
Ladybug Party Games
Littlest Pet Shop Party Games
Madeline Party Games
Magic Party Games
Mermaid Party Games
Olympics Party Games
Peter Pan Party Games
Pirate Party Games
Pool Party Games
Pretend Sleepover or Half Slumber Party Games
Princess Party Games
Purple Party Games
Rock Star Party Games
Scavenger Hunt Party Games
Science Party Games
Slumber Party Games
Soccer Party Games
Spa Party Games
Star Wars Party Games
Superhero Party Games
Survivor Party Games
Tea Party Games
Teddy Bear Party Games
Teen Party Games
Train Party Games
Tween Party Ideas
Webkinz Party Games
Wedding Party Games
Wizard of Oz Party Games



---
Party Game Tips
Our party games for kids are organized as to the type of game and include instructions along with a list of what items you'll need.
These games were selected because they are always fun and crowd pleasers. Most can be played with a small group or large group of players.
Try selecting one kids party game from each category. That way you'll have one catching game, one music game, etc.
Plan what order you'll use for playing your birthday party games. You may not want to play a quiet sitting game right after you've been running all around! I usually start with the tamest and move to the craziest games last.
Once you've chosen your games, try to find a way to use your theme or party colors to make the game special for your party.
Our Balloon Game, which is on the Catching Games Page, is one of our favorite birthday party game ideas for the end of the party when you are waiting on the guests to be picked up.
A pinata is always a fun choice for a birthday party! How to Make a Pinata
Make sure you visit our pages devoted to Kid party themes and planning tips for inspiration.
Remember to Play Safe! Have fun!

---
Have A Great Party Idea or Game?
Share your own great ideas from parties you've planned or attended!

What Other Visitors Have Said
Click below to see contributions from other visitors to this page...

Blind man's bluff

For this game,you'll need at least five people,a large open space, and a blindfold. It's a perfect game for kids aged 6-9. To play, choose one player to …
What Other Site Visitors Have Said
Click below to see contributions from other visitors to this page...

Penny in the Bottle
You place an empty coffee bottle or cup on the floor (the older the children the smaller the whole)You put the cup/bottle at one end of the room and …
Telephone Game
We love to play the Telephone Game as one of our favorite child party games. Everybody sits on the ground in a circle. The first person whispers a secret …
Dance Off Not rated yet
Each one of the kids or anyone do a dance to ONE song and everybody votes who did the best.
Mother May I Not rated yet
Well, my friend and I were bored. I wanted to play house and she wanted to play red light green light. So her dad got tired of listening to us argue so …
Hello Mr. Judge Not rated yet
You pick the host first and ask them to turn around and close their eyes. No peeking! Then go in a circle and shuffle yourself. Start to the left and one …
Kid Games Not rated yet
Kid games that my son who is 11 and his friends love, and which we often do as an Ice breaker is toilet roll mummies... teams of two players.Each team …
Kid Party Games Not rated yet
My son and his friends when they were 11 had some favorite kid party games. They just loved to play a pictionary game with playdough...You need two …
Circle Game Not rated yet
Everyone sits in a circle and each person has their own sign (a body movement - maybe touch your nose, rub your elbow, ets). Everyone knows each others …
Color Game Not rated yet
The leader says a color and everyone must touch something that color on another person.For example, if the leader says "Blue" then everyone must touch …
Marco Polo Not rated yet
Marco Polo pool game - have the players to spread out in the pool and then chose one player to be the person that says marco and the other players say …
Name That Song Not rated yet
A great game for a sleepover with at least 6 girls is Name that Song. First, Divide into two teams.(Blue, Red, Etc.)Pick one person on each team to be …
Colorful Letters Not rated yet
Colorful Letters: First, get wooden letters that are the first letter of every guests first name. Then, take squeezable paint and decorate them to hang …
Snake Not rated yet
Snake is a fun game for a sports party or tennis party. Give everyone a tennis racket and line them up. Then give one person at the end a ball. Have everyone …
Water Guns vs Grenades Not rated yet
This is a water game to be played with youth groups or at a party. Prefill several hundred water grenades or balloons; whatever. Split your group into …
Water Balloon Fight Not rated yet
For a fun water balloon fight, well, you divide as many people you have in your group into 2 groups. Then you give both teams equal number of water filled …
The Layered Surprise Party Game Not rated yet
This game can be played for children of all ages.For our game, we wrapped a surprise in layers and layers of paper. You can put into each layer a prize …
Knock Kneed Not rated yet
In this "knock kneed" game, set up relay teams and have them race with a balloon between their legs, sqeeze and pop the balloon and then run back.
This site is a participant in the Amazon Services LLC Associates Program, an affiliate advertising program designed to provide a means for sites to earn advertising fees by advertising and linking to amazon.com.

Let's

Connect

!