It's a Bird...It's a Plane...
It's a SuperHero Party!

This post may contain affiliate links. Read our full disclosure policy. 
Which moms and dads are more powerful than a locomotive?
The ones who plan a Superhero Party!
Set up your party as a Superhero in Training Event!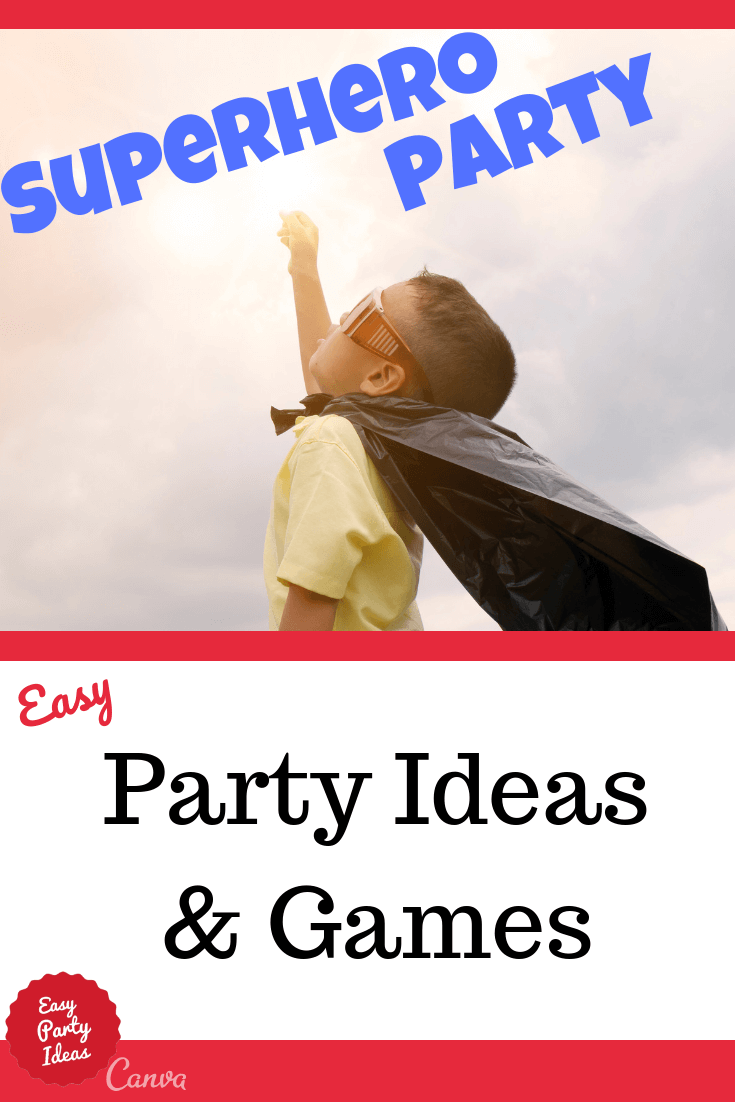 Superhero Party Invitations
Send a "Top Secret" memo, telling them they have been selected to become a new superhero, and will need to report for training.
If you're in a hurry, try cute online invitations.

Kids Birthday Party Decorations
Include decorations on your list for planning  your kids party ideas. Decorations can really set the mood and make any a little more festive. For this kids party...
Anything having to do with a superhero! Batman, Superman, The Incredible Hulk, Spiderman, Ironman, Justice League, on and on…mix and match items from each of the great Superheroes.
Print images of well-known villains (find them online) and hang them up as "wanted" posters.
Bright colorful balloons and crepe paper streamers - these are very cheap and add a lot of visual impact to your party space.
Superhero Party Games
First, you'll need something for guests to do as you are waiting on everyone to arrive.
Some fun "arrival" activities are:
Have each child decorate their own superhero mask. Have markers, crayons and stickers on hand so they can let their creativity go wild!
Superhero coloring pages. You can probably find a superhero coloring book at your local toy store, but if not, you will be able to find choices to print from the internet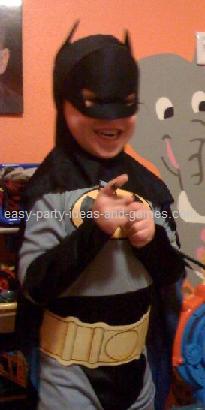 Superhero School
Once everyone is there and you are ready to really get started with your children's birthday party games, set up some "official" Superhero training activities, including…
 Obstacle Training Course - Some ideas for your obstacle course include:

Crawling thru a secret tunnel or cave (use a play tunnel, large cardboard box, or table covered with a sheet, and hang streamers over the entrance and exit)

Paint some cereal boxes gray and set them up to jump over (leaping tall buildings in a single bound). If cereal boxes are too tall, choose something else appropriate in size

Do a forward roll or other great move to show your agility

Walking on a "tightrope" – actually a line drawn in chalk or done in tape on the ground – to show balance.

Jumping thru windows (a hula hoop held up)

At the end have a baby doll or stuffed animal that needs to be picked up and brought back to safety
A Test of Speed - Divide players into teams for some relay races to show their speed!
Spiderman's Web – Have pictures of villains posted in an area and give each guest a can of silly string so they cover villains with their "webs".
Musical Superheros - Play a version of musical chairs, but instead of having chairs, have colored sheets of paper on the floor. If a person isn't able to land on a colored sheet, then they are out that turn – let them control the music for that next round, before returning to the game.
Drench the Villain - Make some drawings of villains using waterproof markers. Have the kids throw water balloons at the villains and eventually the villain drawings will "run."
Kryptonite Hunt - Before the party spray paint some large rocks in a fluorescent green color. Just before the hunt have a helper hide the "kryptonite" rocks and announce a hunt for them. Give the players plastic bags to pick up the kryptonite and bring to you (so they don't have to touch it with their hands, or else their superpowers might be destroyed! Yikes!)
A Test At any point in the party you can set up a treasure hunt to find the cake, favors, or other item that a villain has taken (but luckily left important clues…)
"Official Superheros" - At the end of "Superhero Training", line the trainees up and present them each with an "official superhero cape". You can easily make these out of fabric, and can even put an emblem on the back such as their initial. If you didn't decorate masks at the beginning of the party, present a mask as well. As you make the presentation, ask each what their special superpower will be (invisibility, strength, xray vision, etc.). Lots of fun to see what they come up with! If any are having trouble, help them by "bestowing" a superpower on them.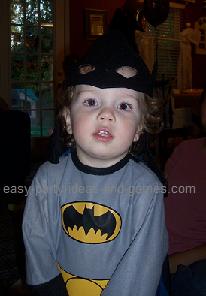 Superhero Birthday Cakes
This Superman cake makes a perfect Superhero cake!
Feature your favorite superhero. For example, if your favorite is Spiderman, make a Spiderman Cake. Or a Batman cake for your Batman fan!
Another idea is to make a simple sheet cake and let the birthday child place their own favorite superhero figurines on top of the birthday cake.
Superhero Party Favors a/k/a Superhero Training Graduation :
My number one favor is a superhero capes and masks (awarded at the end of training!) Everyone will have so much fun wearing it at the party and afterwards!
Here are some other ideas your favorite heroes will love!

Small action figures
Superhero Shopping List

Superhero Party Favors
More Superheros!

Not all superheros wear a cape! Use some of these "superhero training" games on this page to create a Fireman Party or Policeman Party!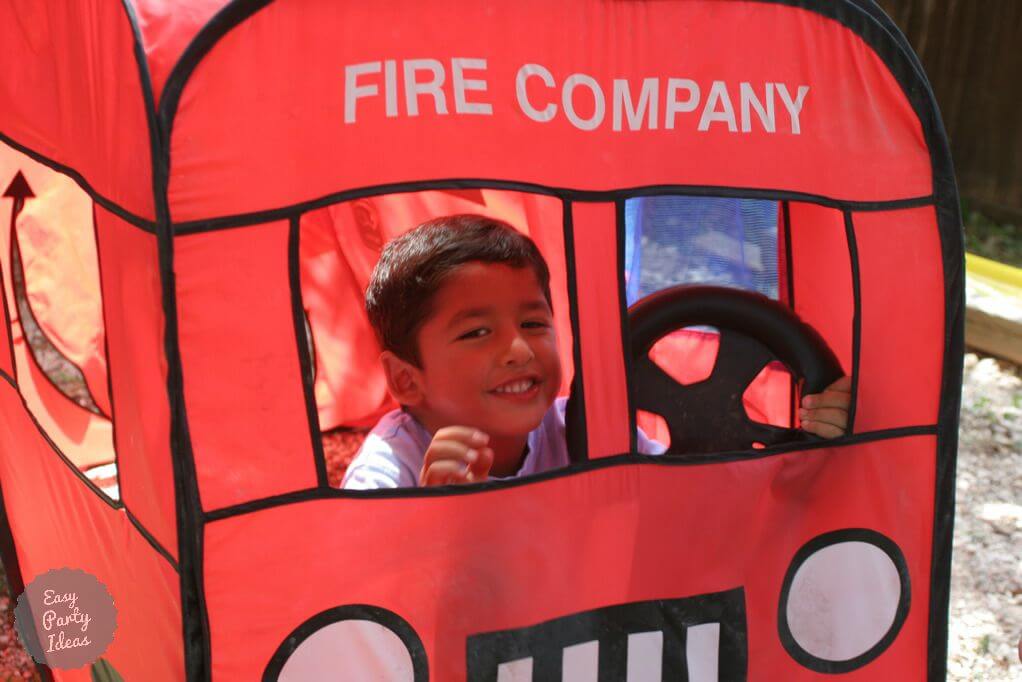 Kid Party Ideas
Do you have a great kid party idea or game?

Share your ideas and photos here, and they will be added to this site to help other moms & dads everywhere!

You can leave comments and questions here too!
Super Game
By: Geo
From: England
Split your garden OR selected area in 4. Name each split a name of a famous super hero (E.G: Batman, superman, hulk, ironman...). The host of the party will turn into the other direction and count to 10. The children should run to a random superhero and wait there. After the count, name out loud one of the superheros. Whoever is standing on the super-hero that the Host called is out. Whoever lasts the longest wins the game. (Give a Prize to the winner and a smaller little sweet to the other kids for taking part)
This site is a participant in the Amazon Services LLC Associates Program, an affiliate advertising program designed to provide a means for sites to earn advertising fees by advertising and linking to amazon.com.

Let's

Connect

!

Tips for Mom & Dad
Tips for Planning your Superhero Party