Astronaut Party
This post may contain affiliate links. Read our full disclosure policy. 
There are lots of big space fans in our family, so an astronaut party or space party is a must at our house!

Whether you are an astronaut fan or just love outer space in general, here are some great and easy party ideas and games for you!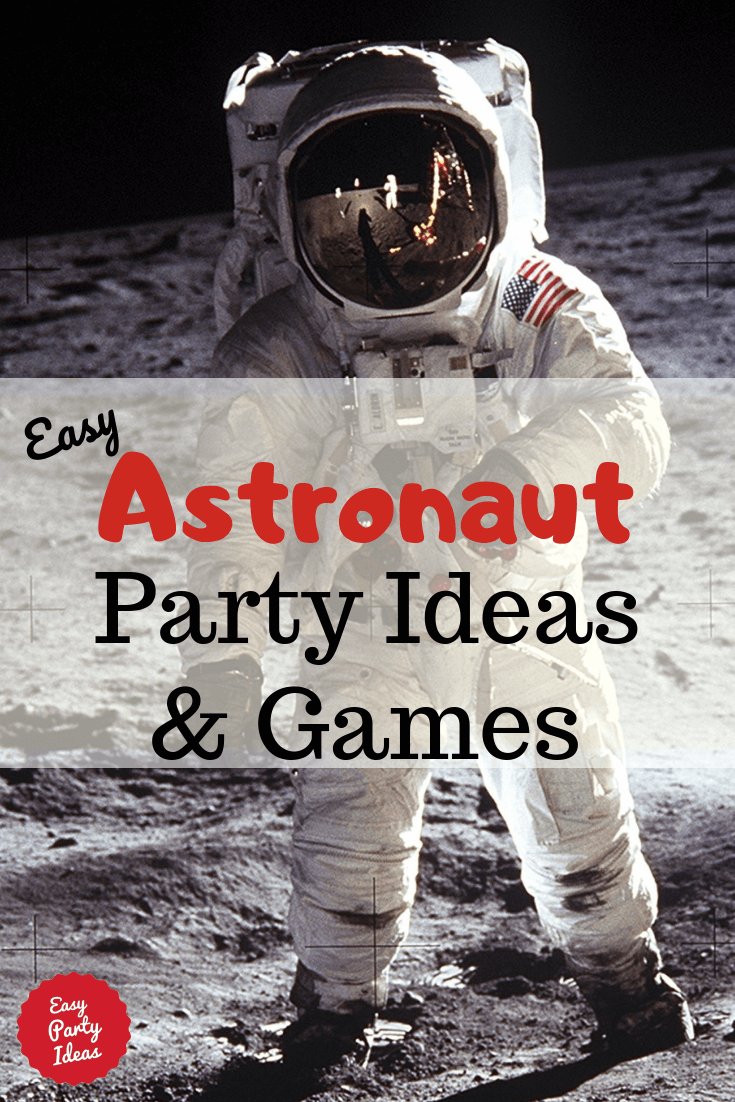 Outer Space Party Invitations
For invitations, you can make your own by cutting out a card to look like a rocket ship or cutting out a star shape.
Another fun idea is to create a "mission logo", and use that as your party invitation.
You can also purchase cute ready made invitations in a space theme.

Outer Space Party Decorations
Black or purple tablecloths
Black, Blue, Purple or Silver Metallic Fringe hanging in doorways and around tables
Blue or White Christmas lights or rope lights
Metallic Stars in Silver
More Party Decoration ideas for an indoor party:
Posters of the Moon, of space or images printed from Google
Cover walls with aluminum foil, or cover walls with black trash bags, and place stars cut out of paper on them
Glow in the dark stars either on the ceiling or hanging from the ceiling

Space Party Arrival Activities
Space coloring sheets
Shoot off rocket balloons, air pump rockets, or Space Slingshot Rockets
Before the party, decorate a large appliance box to look like a space ship. It serves as a decoration AND something to play in!
Have an "astronaut uniform" for each child. Make it out of a large white t-shirt, with a nasa or space logo on the arm. You can even make a logo. Each NASA space mission has a patch that is on the uniform, and you can do the same! Design your own mission patch and make it into an iron on transfer - Such as "Mission: Rob's 8th Birthday" (with a photo of a cake!)

Astronaut Party Ideas #1
Go on a mission to several planets
Designate an area as a "launch pad" and pretend to go to several planets. If you only have a few children at the party, you may be able to get them all inside a large appliance box that is decorated to look like a rocket!
Moon:
Go on a Moon Rock Hunt - use real rocks or Easter eggs (spray paint Easter eggs with textured paint to seem more like rocks).
Mars:
Play a game of pin the antennae on the Martian! (draw a martion on poster board before the party)
Saturn:
Use a Hula Hoop Target as one of Saturn's rings. Have kids throw a ball or bean bag thru a hula hoop.
Neptune:
If it is the right time of year, you can do a water relay race.
Earth:
Instead of a piñata, have a "meteor shower". Let an adult (or several) throw candy and trinkets up into the air so it rains down and have the astronauts just pick it up!

Astronaut Party Ideas #2
Astronaut Training Exercises
Fun catching games, such as a balloon catch or crazy catch, will test the reflexes of your astronauts.
Arrange a hunt for moon rocks. Use regular stones or wad up aluminum foil into balls and coat with plaster of Paris and allow to dry on wax paper. After dry, paint as you wish - textured spray paint in gray works great!
Every space mission must have a leader, so a good game of follow the leader is in order!
What if you meet an alien? A fun game of the Monster Monster game (but call it Alien Alien are you Hungry?) would be fun!!
At the end of a mission, the space ship is always in pieces. So why not hit make and hit a spaceship pinata? How to make a pinata

Astronaut Birthday Party Cake Ideas
You can create a moon scene, with astronaut figurines.
Create a dark chocolate cake and cover in little edible white star shaped sprinkles.
Make a space shuttle cake.
Astronaut Party Favors
Milky Way Bars and Orbit Gum


Moon pies


Glow sticks


Rockets or rocket balloons


Frisbees (flying saucers)


Glow in the Dark Stars

This site is a participant in the Amazon Services LLC Associates Program, an affiliate advertising program designed to provide a means for sites to earn advertising fees by advertising and linking to amazon.com.

Let's

Connect

!

More Great Ideas!
Turn your Astronaut Party into a Star Wars Party