Scavenger Hunt Ideas
This post may contain affiliate links. Read our full disclosure policy. 
A Scavenger Hunt is a fun and challenging activity, perfect for a birthday party, slumber party, or any party for that matter! It is an especially popular idea for teen party games.
What is a hunt?
Basically, your guests will be divided into teams and provided with a list of items to gather (or places to visit) within a certain amount of time.
If you and your friends will be a small group, you can have fun going out as one group together.
Sometimes hunts follow a specific theme, such as a Halloween theme scavenger hunt.
Types of Hunts
First, decide what TYPE of hunt you'd like to have. Will it be all at one location? Will it be on foot? Will it be involve driving around? The type will determine what items will go on your list.
Scavenger Hunts at One Location Suppose you want to contain the hunt to your house or backyard. In that case, you'll probably have something more like a treasure hunt, with clues leading teams from one location to the next to gather an object or do a task.

Scavenger Hunts on Foot Have your guests go from house to house in your neighborhood, looking for items on your list. Alert neighbors in advance as to what is happening. It might be a good idea to also mark the neighbor's houses that are willing to participate with a balloon or something like that! (But don't tell the neighbors what items are on the list!)
Scavenger Hunts On Wheels These hunts will require a driver for each team, (preferably an adult so the kids can have fun without worrying about being careful driving!).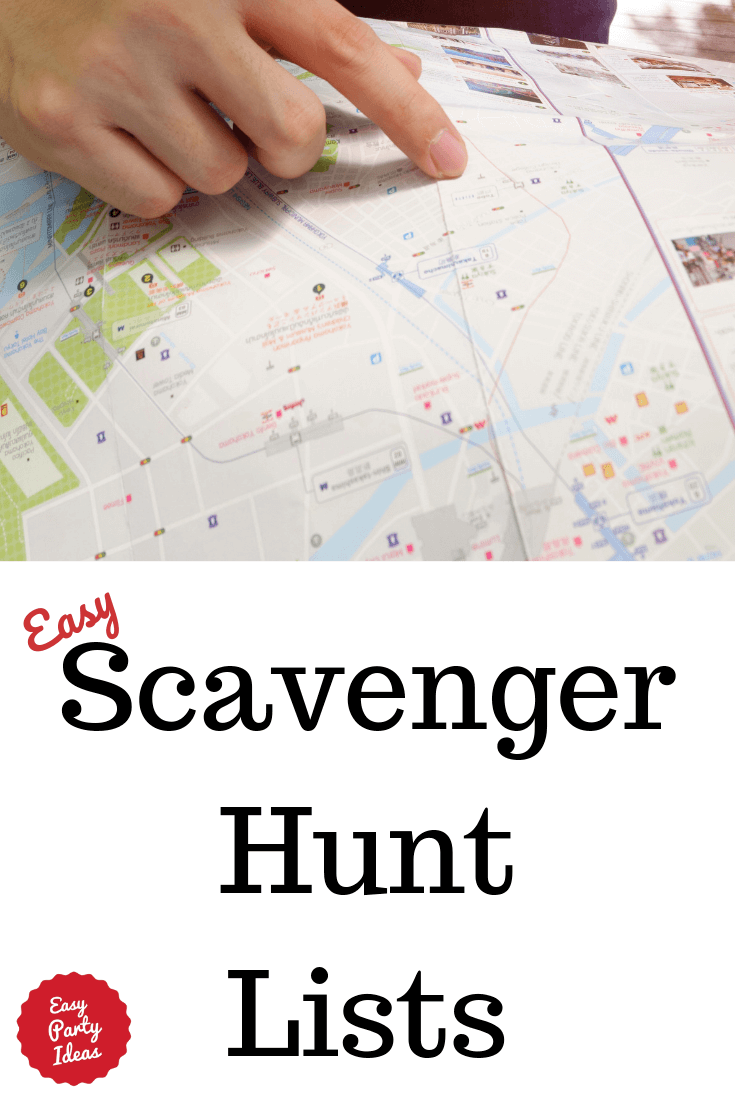 ---
What to Hunt
After you decide on your type of hunt, next decide on what your guests will be hunting for.
Some ideas ...
Make a list of things for the teams to collect, such as a ...
balloon
band aid
bobby pin
box tops
brown paper sack
business card
candy wrapper
cancelled stamp
cotton swab
coupon
dryer sheet
empty toilet paper roll
golf tee
hotel guest soap
grocery bill receipt
menu
paper airplane
paper clip
pencil
penny
paper plate
piece of chalk
plastic Easter egg
plastic spoon
recipe
soup can label
straw
ticket stub
yarn, etc.
Be sure to give the team a bag or something to put all these goodies in!
OR…
Have teams use their phones to collect photos of their group doing these things:
standing in front of a house number whose address contains the numbers 16 (if a 16th birthday)
walking a dog
with a policeman
in front of a fire hydrant or fire engine
at a local landmark
with a Walmart greeter
in front of a McDonalds
with a statue
inside an elevator, etc.Ideas for video scavenger hunts, in addition to the photo ideas, could be:
Doing the Macarena in a public place
singing the national anthem
getting a stranger to spell a word, etc.
Take this idea a step further by giving teams clues as to where to go for their photos – such as take a photo in front of the golden arches (which means McDonalds).
You might want to write the list of items down in a different order for each team.
That way they won't all be going to the same places at the same time!
OR…
Let the teams use their imagination to collect items. Instead of giving a list of specific things, give ideas. For example:
something furry
something rough
something hot
something cold
something white
something black
something that bounces, etc.
Another twist on this would be to have the teams find something for each letter of the alphabet – something that starts with A, something that starts with B, etc.
If you still aren't sure, or want a little help, you can purchase a scavenger hunt that is already all planned out for you!
Click here to visit SimpliFun Studios
and see what they have to offer!
---
The Winners!
Give a nice long list of items to gather (twenty to twenty five would be great, but you can never have too many!). Make some of the items really challenging.
Then, give the teams some time to do the scavenger hunt (an hour works great for hunts on foot, two hours at the very most for hunts that require driving). In case a team returns early, have some fun things for them to do while waiting for the others.
Before sending the teams out, tell them what time to return. They should return at that time with whatever items they've gathered. The team that has done the most off their list wins!
As a variation, you can assign points to different items on the list – for example gathering a penny is worth 1 point, but a dime from the year 2000 is worth 5 points, etc. The harder to find/achieve items are worth more points. 
---
More Scavenger Hunt Ideas
I love it when others share their ideas! Here are some fun ideas from wonderful visitors to this site:

Do you have a great easy party idea or game?
Share your great ideas!
What Other Site Visitors Have Said
Click below to see contributions from other visitors to this page...

Scavenger Bingo Not rated yet
Make a list of items from around the house, neighborhood, or my favorite, a list of businesses in town. Drive them around and using your homemade bingo …
More ideas from site visitors like you!

Puzzle Scavenger Hunt
By: Stacey J., Fort Worth, TX
I love to doing scavenger hunts with my kids. For my granddaughter's seventh birthday my daughter and I put together clues and put them on the back puzzle pieces.  The kids were broken up into teams and each team had to hunt for the next piece each piece had a clue on the back when they got all the puzzle pieces the front of the puzzle was a picture of my granddaughter blowing out her birthday candles. On the back of the Assembled puzzle was directions where to go to get the grand prize the kids loved it and it took up a fair amount of time where they could have fun and work together as a team.




This site is a participant in the Amazon Services LLC Associates Program, an affiliate advertising program designed to provide a means for sites to earn advertising fees by advertising and linking to amazon.com.

Let's

Connect

!

Other Popular Hunts
Here are some fun hunts: