ADULT PARTY IDEAS
This post may contain affiliate links. Read our full disclosure policy. 
Here are some of our favorite adult party ideas and themes that can be used for almost any occasion! As a matter of fact, there are over 60 adult party themes listed below!

After you pick your theme, add a party game or two. This will help make your event even more memorable!

Are you celebrating a birthday? If so, you'll want to visit our list of adult birthday ideas.
We've also compiled a complete list of adult parties and adult games found on this website - just another way to search for the easy party ideas are looking for, all in one place.
After your party, come back and tell us how it went - share your photos and your own party ideas for adults and we'll add them to the site.
---
Top Adult Party Ideas
We've compiled a list of the most popular party ideas, based on visitors to our website:
---
Big List of Adult Party Ideas and Themes


20's Party The Roaring Twenties are alive and well! This great adult party theme isn't used that often, but it sure does have a lot of fun party decorating possibilities!
40's Party Great nostalgia of the "greatest generation". This is particularly great for a birthday party of people who were born in that era, or for folks in the military.
50's Party Get out your poodle skirt and get ready for some 1950's fun! The Fabulous 50's Party is always a favorite, whether you were around for them or not.
60's Party The decade of change...the Sixties brought us the Beatles and Woodstock. Groovy! This is a fun one too for bright colorful (and sometimes tie-dye) decorations.
70's Party The age of Disco is alive and well! Check out these fun ideas for a Swinging 70's Party.

80's Party Big Hair, big shoulder pads and big dreams...celebrate the decade of excess with a 80's bash! One of the most popular adult party ideas at the moment - really fun!
Afternoon Tea Party
Around the World Party A great party theme!! Pick your favorite countries and celebrate them in decorations, food and drink! Some ideas to get you started...
Backwards Party A fun party where everything happens backwards! It is really popular as kid and teen party, but we thought it was something the right mix of adults could have fun with too, so we added to the list.
Adult Birthday Party Ideas Celebrate Adult Birthdays with lots of ideas for any age...from Over the Hill to 100th Birthday Celebrations! We've got a list of party ideas, birthday party games, and even special ways to mark the occasion.
Beer Tasting Fun adult party ideas that are a great alternative to a wine tasting (and fun for an Oktoberfest party too! Somehow the guys never mind going to this one!
Black and White Party Who doesn't just love decorating with black and white? very easy to create a dramatic, elegant evening. Have your own version of Truman Capote's Black and White Ball,which was known as the "party of the century"!
Breakfast at Tiffany's Party Cocktails, Mocktails, and all the 60's glamour. Add a movie-watching for a fun "girls night" in honor of one the greatest chick-flicks of all time.
Bunco or Bunko...it doesn't matter how you spell it...the points just add up to fun!! Often played as a girl's night out, this is a dice game that is easy to plan and a fun night for everyone! Here is everything you need to know about how to play bunco including free bunco scoresheets. Pass the M&M's...
Candy Party Who says that candy is just for kids! We adults like sweet stuff too so we're adding it to the adult party ideas list! Bring it on!!
Card Party When you want to have party, but can't because of health, distance or other factors, this is a great way to honor someone! With email, it is easy to spread the word and make this one happen.
Cartoon Party What adult doesn't love a good excuse to dress up as Speed Racer, Batman, or Wonder Woman? This themed costume party is fun when it isn't Halloween but you still want to do a costume.
Casino Party Ideas that will help you create a very elegant, Let's go to Monaco - James Bond style casino party, or a fun night in Las Vegas...complete with Elvis impersonators. No need to hop on a plane. Plan your casino night at home with our adult party ideas.
Champagne Tasting Party Could there be anything other adult party ideas that sound so elegant?
Cocktail Party A fun "list" for you of what is involved with planning a great cocktail party!
Come as You Were Party  I found this one in a book of vintage party ideas. I thought it was something that would still be fun today. What do you think?
Decade Party Why limit yourself to a party theme about the 1950's, 60's, 70's, etc.? Celebrate several decades! Works great for a birthday!
Dessert Party Yum!
Dinner Party All you need to know to throw a classic dinner party, along with links to some fun theme dinner parties, such as a Mexican Dinner, a cookout, or BBQ.
Dog Party Ideas Celebrate man's best friend with a party for your pooch.
Election Day Party Watching the election returns has never been so fun! No matter what party you are routing for, you can turn your election party into more than just waiting for results.
Flower Power Brunch or Luncheon For a brunch or luncheon, flowers are always in style...so make them your theme!
Fundraising Party Seems like everyone is a member of a group that is looking for a way to do some fundraising - or perhaps you have a cause in mind that you want to support. Here are some ideas to make your fundraiser fun!
Gilligan's Island Party I once heard that Gilligan's Island is shown somewhere in the world, every minute of every day. Everyone knows who Gilligan is, and it makes fun adult party ideas!
Golden Girls Party Have a party and help your friends go home with a little cash!
Holiday Adult Party Ideas Whether you are planning for a Halloween Party, Christmas Party, Easter, New Years or even Fourth of July, we've got you covered!
---
Printable Games for Holidays and Parties!

---
 Hollywood Party Lights! Camera! Action! Your friends will think you are the star when you throw a Hollywood Party! Use this party plan for your Oscar Watching Party too.
Ice Cream Social One of those that has been around for years and years and years.
Kids Party for Adults This party is for the young at heart. Great for celebrating an adult birthday!
Luau Party Ideas for your next luau, beach or tropical themed event! And you can even add some great homemade party decorations!

Magic Party A magic party isn't just for little kids. Have a grown up magic party and prepare to be amazed.
Mardi Gras Party Plan a night in the Big Easy! Mardi Gras is the ultimate party, with everything geared to having a good time! Beads, Doubloons, Hurricanes...and Dixieland!
Margaritaville Party...Wastin' away in Margaritaville...a fun theme that always draws a crowd! Every summer, this is consistently rated one of the top adult party ideas on our website.
Medieval Party Hear Ye, Hear Ye, calling all Lords and Ladies to this Royal Event...Who says that knights, princesses and castles are just for kids?
Muffin Madness A favorite for groups and meetings.
Murder Mystery Party Who done it? Information about how murder mystery parties work.

New York, New York Party Love New York? Celebrate this iconic city and way of life. A fun theme with lots of possibilities! Broadway, here we come!
Night under the Stars Party A Night Under the Stars, outdoors or indoors (hang the stars from the ceiling!) is a beautiful theme with lots of elegant and fun decorating possibilities. Could be a great theme for a "remember when" prom party...
Office Party So, you're probably the one in charge of planning the office party if you're the one reading this, right? Here are some ideas to get create when you are trying to throw a budget office party.
Oscar Party It is fun to watch the Oscars or any awards show with friends!
Over the Hill Party A very popular birthday party theme, especially when the person isn't really over the hill!
Picnic Games for Adults - Add some fun to your picnic with these games at PrintGamesNow.com!
Pink Party One of my favorite parties that I have thrown for my friends. Maybe this celebration of all things pink will give you some good ideas of things you plan with your own friends.
Reunion- Whether you are planning a class reunion, family reunion, or other type of reunion, we can get you started on the right path.
Showers Whether it be a baby shower, wedding shower, or bachelorette party, we've got you covered with themes, games and ideas! You'll also find links to all the printable games you'll ever need.
Slumber Parties That is right - adult slumber parties. You are never too old! Bachelorette parties, spa nights, scrapbooking nights, or just a girls sleepover to spend time with your friends.
Spa Party Ahhhh. Everyone loves a trip to a spa. So will your guests! Great for a girls night out or adult slumber party.
Sports Party Whether celebrating a specific team or sport, the Olympics or sports in general, a sports party is a winning theme! Love of sports unifies a lot of people, and makes for fun decorating too.
Super Bowl Party Ideas to celebrate a super bowl or for any football watching party.
Tacky Party When is it proper to be tacky? At a Tacky Party, of course! Set your imagination to work on this one...it's a favorite adult party idea!
Tequila Tasting Party Another variation of a tasting party - this time with Tequila.
This is Your Life Party A great way to celebrate someone!!
Toga Party Need we say more?
Vodka Tasting Party A unique and fun idea, and a great alternative to other types of tasting parties.
Western Party Get your boots on and your best hat - time to party cowboy style!
Wine Tasting Party This one is always a hit, and we've got all the details on how to customize your party. Always one of the top party ideas across the board.
Winter Wonderland Party Celebrate all things winter. A theme that can be made very elegant, very easily!
Wizard of Oz Party We're off to see the Wizard! Everyone loves this movie...and this party theme! Great for all ages.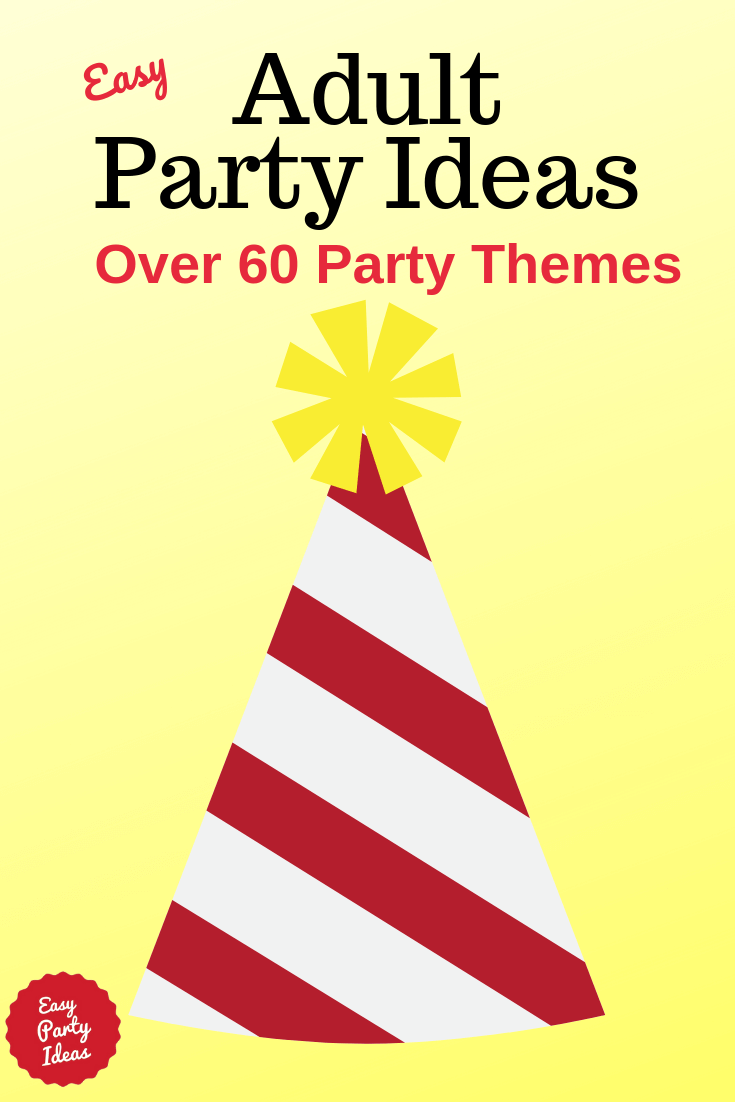 ---
Tag...you're it!
That's right - I said you'd get a turn. Here it is! Fill out the form below to share your best adult party ideas and we'll add them to the site.

Have A Great Party to Share?
We want to hear all about it!
This site is a participant in the Amazon Services LLC Associates Program, an affiliate advertising program designed to provide a means for sites to earn advertising fees by advertising and linking to amazon.com.

Let's

Connect

!

You'll also want to see...