Adult Party Game Ideas
This post may contain affiliate links. Read our full disclosure policy.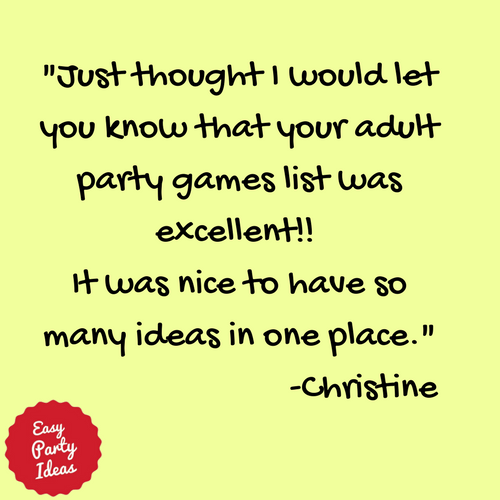 Creating easy adult party game ideas and then watching everyone enjoy them is fun!
Sometimes I think that adults like party games even more than the kids! We have lots of ideas to help get you started.

Adult parties don't need to have games...
...but it sure makes it more fun!
I always include at least one game or activity at a party (usually more). Games give people something to talk about and also makes for a more memorable evening. But keep an eye on your guests and make sure everyone doesn't get "played out"!
Of course some parties are centered around or involve an activity for the entire party, such as a Bunco Game or a Murder Mystery Party.

And if you'll be entertaining older folks, you'll be needing our great list of Elderly Adult Games and Senior Activities.

When planning your next event, try some of our favorite adult party games!

---
Our Favorite Adult Party Game Ideas:
This site contains affiliate links, meaning if you click on the link and make a purchase, I may receive a small commission (at no cost to you!) I only recommend products I've personally used or would love to use myself! Get the scoop here.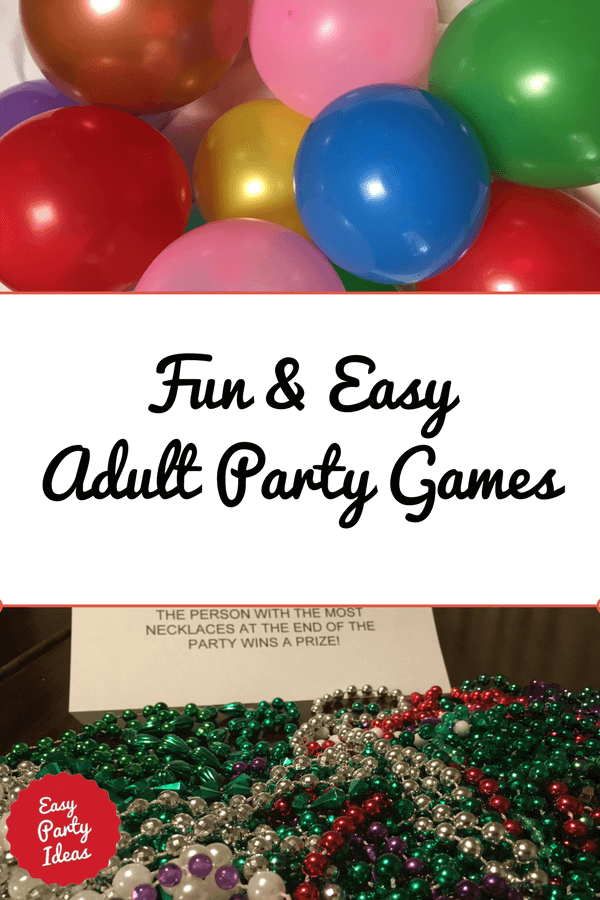 Bingo - A great game and it is easy to understand why it is a staple for parties and events!

Board Games - Links to some of our favorite party board games that you can purchase and play with a crowd.

Bunco - Plan to play bunco at your party and you won't need to do anything else! Fun that isn't just for girls!

Capture the Flag - Not just for the kids on the playground, Capture the Flag is a great active game which is not only physical, but also uses some strategy. Great when you are looking for company picnic games or team building games.

Celebrity Twenty Questions - A really fun version of 20 questions, celebrity-style!
Charades - The classic party game, charades is always fun and easy!
Conversation Starters - Our list of conversation starters can be used as a dinner party game, a way to teach children about how to make conversation, or as clean truth or dare questions!
The Dictionary Game - A quiet game, perfect for smaller gatherings such as dinner parties, where everyone can talk and have a moment to think. The Dictionary Game will decide who will be the next Samuel Webster!

Dollar Game – A great one to fall in the mixer or icebreaker adult party game idea category – Secretly give a few people at the party three (or more) $1 bills. Then announce that some unknown people have $1 bills, and they will only give it to the 5th, 10th and 15th person, etc. who shake their hands. Since no one knows who has the $1 bills, everyone goes around shaking everyone's hands to try to get the money!!
Escape Room Printable Games - Read our review of this super fun DIY Escape Room that you can print and play at home. 
Fast Charades A much easier (and faster) version or the old charades game, Fast Charades is guaranteed to get your party going! This game uses a single word, rather than a phrase or title.
Gift Exchange Games - Variations of a White Elephant gift exchange, as well as other fun party gift exchange games.

Guessing Game - This Guessing Game will leave your guests guessing!! (Try saying that three times fast!). Great to play at Oscar or Hollywood theme parties.

Holiday Adult Party Games - Whether you need Halloween Party Games, Christmas Party Games, Christmas Office Party Games, Easter Party Games, New Years Eve Party Games or even Fourth of July Games, we've got you covered for adult party game ideas!

Ice Breaker Games - a list of multiplayer games that are perfect to use when your guests won't know each other. Use for meetings, showers or in home show party games. This list includes one of my favorite ice breaker games - Human Bingo!

The Match Game - This is a great ice-breaker game that will get your guests mixing and mingling! In the Match Game, see if your guests can find their famous match!

Murder Mystery - Everyone loves a good mystery, especially when they are part of it! Mystery games are an activity that ARE the party and very popular as far as adult party game ideas go!

Off Limits - One of our all-time favorite adult party game ideas! This is an example of great adult party game ideas that can be played over the course of an entire evening. Keeps your guests talking, as long as you don't say the word that is off limits!

Printable Birthday Games - Games you can print and play. There are great collections of just about everything you can imagine. Not just printable birthday games, but holiday games and printable games for any age group.
Song Adult Party Game Ideas – A great icebreaker game – Before the party write out four sections or lyrics or parts to a song, with one part each written on a note card. Do this with different songs so that you have enough for one card for each guest. When the guests arrive, give each one a card. It is their job to find the other 3 people with lyrics to their song so they can get together as a group and sing their song lyrics before another group can sing theirs.
Steal A Sticker - Who has the gentlest touch? You'll find out when you play the steal a sticker game.
Stroke of Fun - Try Stroke of Fun for a party ice breaker activity that becomes a gift!
Teambuilding Games - Our friend Les has a website full of teambuilding exercises and activities. Click the link to visit his site - he can provide you with a tool kit to become a teambuilding expert and leader!

This is Your Life Party - This party theme is it's own activity/game, and is a great way to honor someone for their birthday, retirement, or other special occasion!
Treasure Hunts - That's right. We said Treasure Hunts. This isn't the kids stuff. Create challenging treasure hunts for adults!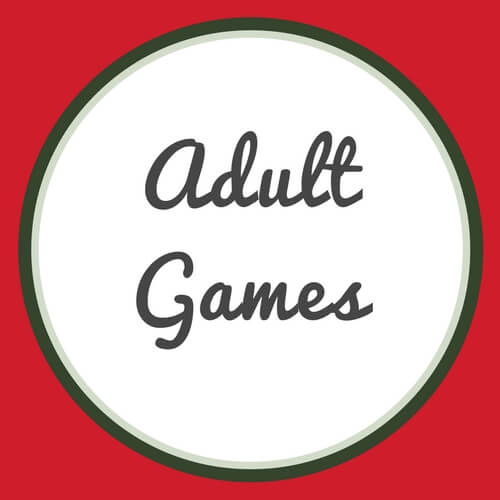 Trivia Games
- There are lots of great adult party trivia games out there for you to purchase in addition to the classic Trivial Pursuit. Other great choices, found at Amazon, are:
Conspiracy Theory Game
Two Truths and a Lie Game - This is a great dinner party game to play around the table. To play, have everyone go around the table and tell two crazy truths about themselves and one lie about themselves. Everyone has to guess which one they think is a lie by having everyone vote. It is a good idea to let people know about the game in advance - that way they can be thinking of what truths they want to share and come up with a really good lie. 

True or False? - For a gathering of couples or good friends, the true or false game is a great way to find out how well everyone REALLY knows each other!
Truth is Stranger than Fiction - You'll really be saying that when you play the Truth is Stranger than Fiction game. Think of all the great tabloid headlines. Can you come up with some that are even crazier? And which ones will the other guests think are true?
Up Jenkins! – Another Dinner Party Game – You start with one side of the table vs. the other side. Side "A" has a coin that is passed in secret under the table on their side until someone on Team "B" yells "Up Jenkins!!". At that point everyone on Side "A" must raise their hands in the air with fists clinched. Then, someone on Team "B" yells "Down Jenkins!!" and all hands must hit the table. Someone will be hiding the coin in their hand. It is up to Side "B" to guess who. This dinner party game has been around forever and appears in many adult party game ideas books.
Whats a DAME to do?! - Lots of comments from site visitors about this game at Amazon - everyone seems to love it. Honestly, I haven't played this game but from reports I've heard, it is good to play for a girls night, and it is a relatively "clean" game - safe to play with small groups of mixed ages, church groups, etc. Reviews of more party games to purchase here.

Who is It? - This addition to the adult party game ideas list will truly leave you wondering who is it? See if you can guess! You'll find out some great fun-facts about your friends and all get to know each other better.

---
What is your favorite party game?
Do you have a great party game? Share it!
What Other Visitors Have Said
Click below to see what others have said...

This site is a participant in the Amazon Services LLC Associates Program, an affiliate advertising program designed to provide a means for sites to earn advertising fees by advertising and linking to amazon.com.

---
Let's

Connect

!

You'll Be Wanting to Visit These...
Adult Birthday Games and Ideas