Pool Party Time!
This post may contain affiliate links. Read our full disclosure policy. 
Having a pool party is a great way to celebrate summer.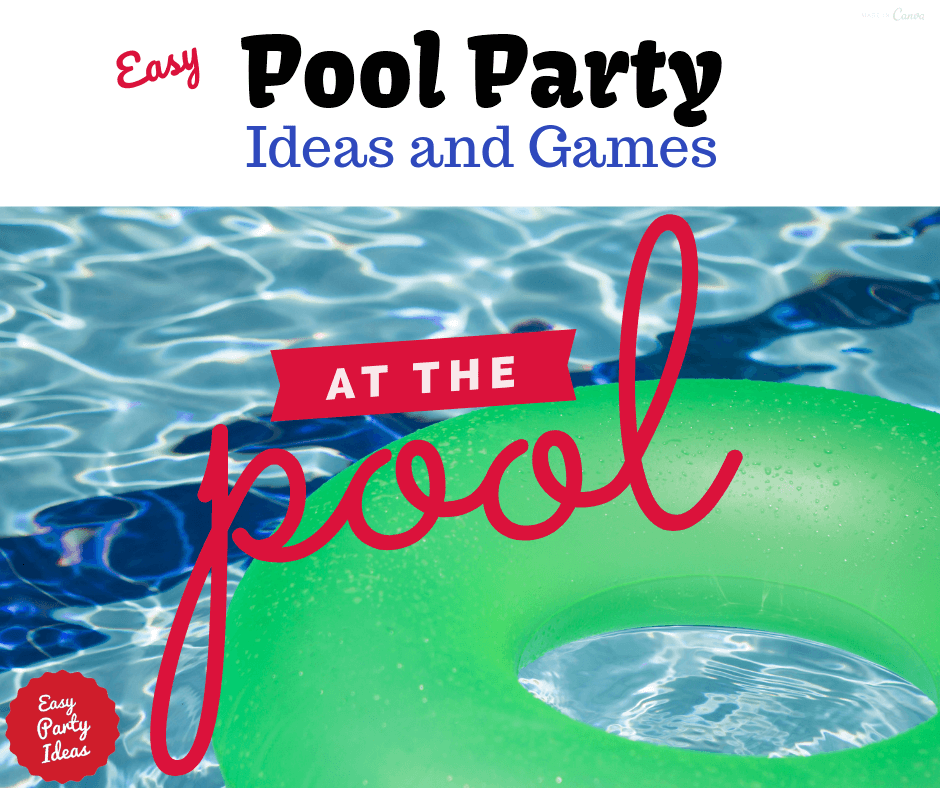 Make it an extra special event with just a small amount of planning.
If you don't have a pool, you can often rent a public swimming area if there is one near you.
Other options are having a party at a hotel and making use of their pool. This a popular hotel sleepover idea.
This party doesn't have to just be about summer. Have your party at an indoor pool for year round fun!
---
Pool Party Invitations
One of my favorite ideas for a party involving the beach or a pool is to write the details of the party on an inflatable beach ball. Use a sharpie or other permanent marked to make sure the party info stays for the long term.
You can also use any of the fun invitation ideas that you might use for a Luau Party.

---
Easy Party Decorations
You may already have some items for party decorations from previous trips to the beach or other themed parties. Check your closets for these items:

Raffia table skirting
Seashells
Sand Pails and beach toys
Blow up beach balls
Fish Nets
Palm trees (real, inflatable, or made from butcher paper)
Flowers (Hibiscus, orchids, palms)
Fresh Fruit (pineapples, coconuts, bananas)
Tiki Torches
Paper Lanterns
Don't forget your favorite music to set the party mood!
Make some homemade party decorations that look great - tiki torches, tropical flowers...and cute sea creatures!
---
Craft Time
If your party includes people who love to craft, here are some ideas that can work with this party theme:

Decorate flips flops with strips of ribbon or material
Decorate sunglasses
Decorate sand pails
Decorate t-shirts with fabric markers
Do Sand Art
---
Pool Games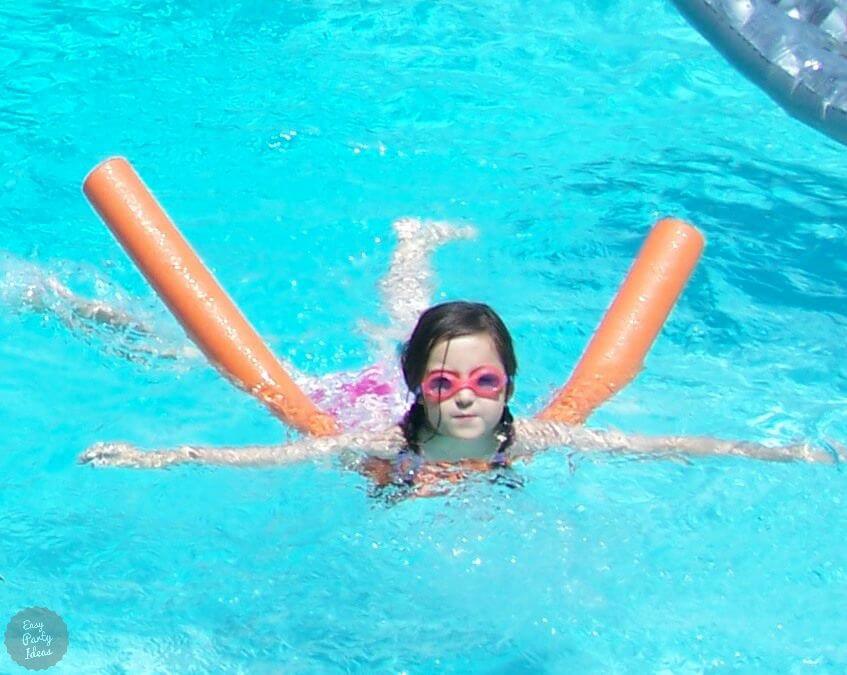 Plan some water fun! Choose some fun from this large list of Pool Games - the list is so big we had to devote an entire page to it!

Not everyone is going to want to be in the pool all the time. Have some things to do outside of the pool!
For kids, you can
Fill a baby pool with sand and build sand castles
Fill a baby pool with sand and hide gems, plastic gold coins, etc. inside
Have a Treasure Hunt
Play some of our great Water Games (including water balloon games, water gun games, and relay races!)
---
Easy Party Food
That swimming is going to make you hungry!

Serve burgers, hot dogs or pizza
Set out some snacks such as Goldfish crackers and fresh fruit
Even if you aren't celebrating a birthday, it is always fun to include a cake at a party. For this theme, you can cut a cute ocean themed cake.
---
Party Favors
Some fun themed pool party favor ideas for you:
Plastic Sand Pail (you can fill a sand pail with some of these items as well, or fill with candy, sunscreen, etc.)
Beach towels
Have A Great Water Game or Pool Party Idea?
Do you have a great idea? Share it!
What Others Have Said
Click below to see contributions from other visitors to this page...

Dibble Not rated yet
Get a bottle cap (preferably a water bottle cap) and have someone throw it in the water while the other people look away. When the person throws it, the …
This site is a participant in the Amazon Services LLC Associates Program, an affiliate advertising program designed to provide a means for sites to earn advertising fees by advertising and linking to amazon.com.

Let's

Connect

!

Just Add Water for Easy Party Fun!
Water Relay Races involve playing together as teams in a relay style race!  
Including Water Gun Games at your pool party are always a recipe for fun!