Fun Water Games
This post may contain affiliate links. Read our full disclosure policy. 
Need to beat the heat? These water games are the answer!

You don't have to have a pool to have fun (although there is a great collection of pool party games listed here!).
Sometimes just playing with water is just fine.
The pages linked below are to games that are great to play at the beach, in your backyard, or at a pool party!
---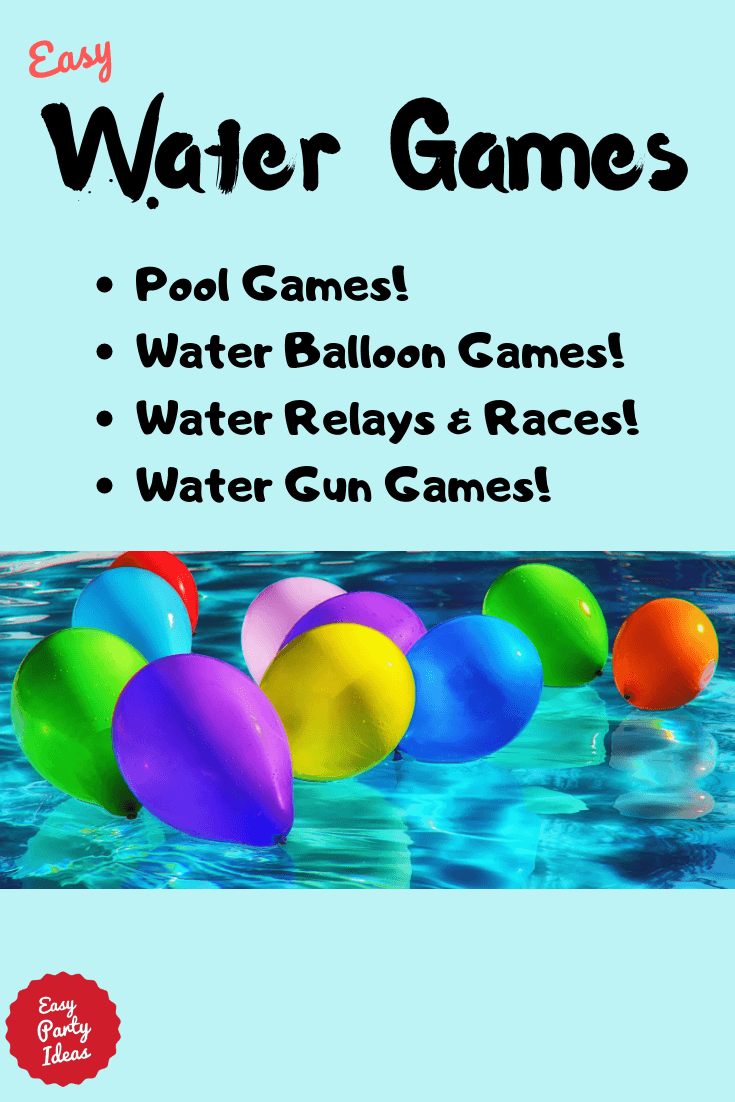 Ultimate Water Games Guide:
These links will take you to lots of water games. No matter what type of game you are looking for...pool games, water gun games, water balloon games... you'll find it here!

Water Relay Races - These games all involve playing together as teams in a relay style race! Fun and Exciting!
Water Balloon Games - These water balloon games all involve water balloons or water-filled sponges. A great way to cool off!
Water Gun Games- Ready...aim...fire! Water gun games are always a hit, especially if you have lots of space in your party area.
More Fun Water Games! - Don't forget these fun games. Some of these are also enjoyed by our youngest water fans.
Pool Games - If you have access to a pool, you won't want to miss our list of pool games!

---
Water Games Helpful Hints

If you are planning a party that involves water, there can be some precautions to take to keep everyone safe. Here are some helpful hints for including games with water at your party:
Warn guests that they'll be getting wet. If wearing swimsuits is an option, let them know that up front.

Sometimes games with water are great to do after a party where you get really messy. Think of having a painting party, or an arts and crafts party.

Other times it is fun to just let everyone get together and splash around in the water, without having anything organized. If this is the direction your party is going, be willing to be flexible and "go with the flow" so to speak!

If you are having a pool party and there are children attending, never leave them alone. Whether your pool party guests are young or old, always  have a strong swimmer available in case of emergency. 

Have plenty of towels on hand in case anyone forgets (they can make a great party favor too!)

Unless your party is at night, keep the sunscreen handy!


Lastly, remember that anytime water is involved, surfaces can get slippery. Take whatever precautions are necessary to keep you, your guests and your property safe while playing these fun outdoor games at your next party.
Keep cool...and play safe when playing these fun party games!
---
This site is a participant in the Amazon Services LLC Associates Program, an affiliate advertising program designed to provide a means for sites to earn advertising fees by advertising and linking to amazon.com.

Let's

Connect

!

Trending