Lock Paper Scissors Escape Room Kits Review
This post may contain affiliate links. Read our full disclosure policy. 
The printable escape room games from LockPaperScissors.co are a great resource when you are looking for a fun twist to family game night or an exciting group activity for a dinner party with friends. Our group had so much fun working on the puzzles and solving the mystery and we wanted to share our review of this product with you!
There are several games to pick from, with recommendations for age ranges. We selected "Envy" which is for adults, family game night or corporate team days. Our game was provided to us so we could review it, but that did not influence our review in any way.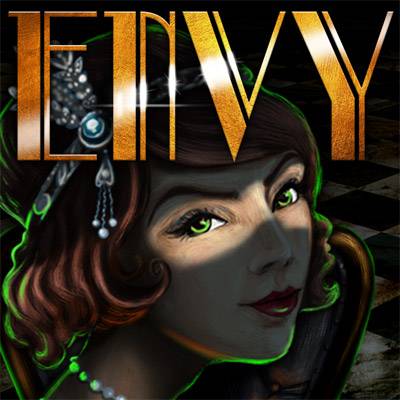 The games are instantly downloadable after purchase, and we were able to print it out easily. The artwork is impressive and was clean and clear. We loved how easy it was to access this game and that it takes up no storage space at all. Being able to print it out simplified all of the game set-up and allowed us to get started immediately!

The mystery is divided up into several pages of puzzles or clues that you must solve. Each of our strengths became apparent as we were working on each page and piecing the information together as a group. The game was definitely challenging, but we were able to figure out each puzzle. If help is needed, there are hints available. If the hints don't help, the solution is available too. 
A suggestion that came with the game was to set up props like in the pictures and have an interactive mystery night with friends! It's not necessary to set up actual props, but the way the game is structured, it would be very easy to transfer it over to real life, so this is definitely something we will have to keep in mind for the future. It would be fun for guests to come in costume and you can serve themed refreshments to really set the mood. A music play list is even enclosed! 

The tools are provided to make the game customizable to make it a unique experience.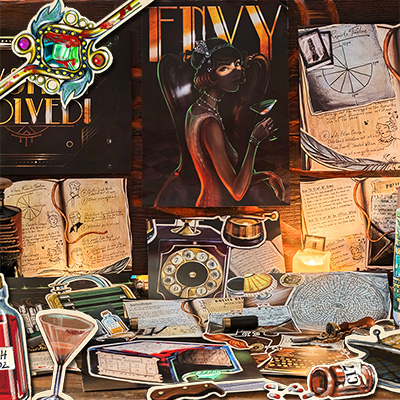 One of the best things about this game is the flexibility as to how many players you'll need. Many mystery games need a specific number of players; however, with these you can play with small groups, large groups, or any size in between. That is a huge plus for planning your party. 

Another plus for this game is that the host can play too. When you purchase and print the game, nothing is "given away" so the host will have as much fun solving the mystery as everyone else at the party! 

The games are affordable, guaranteed, and they even offer products for schools and a "create your own escape room" guide. 
We loved the game and enthusiastically endorse it!
Check out all the games they have to offer at their website - LockPaperScissors.co
To purchase the game we played, "Envy", visit - Envy Escape Room Game
Love Zombies? Check out this Escape Room Idea
Benefits of the Lock Paper Scissors DIY Escape Room Kits
Affordable, with a guarantee
Games for all ages
Host can play too 
Can be played by small and large groups
Ability to use real props
Ability to customize the escape room game
Challenging, but hints and solutions are available
Can create a themed event around the game
Printable, available instantly
This site is a participant in the Amazon Services LLC Associates Program, an affiliate advertising program designed to provide a means for sites to earn advertising fees by advertising and linking to amazon.com.

Let's

Connect

!