Discount Party Supplies
This post may contain affiliate links. Read our full disclosure policy. 
Everyone wants to save money! This listing of party supplies includes some of our favorite sources - consider it your party supply headquarters! But what is even better is that these suggestions will save you both time and money! And you'll find resources here for everything party theme imaginable!
Before buying anything, you'll want to decide on a party theme and plan your event. Besides the theme, you'll need to make decisions about how many people to invite, refreshments to serve, activities and games, as well as invitations, decorations and any party favors.

Then, when you have your list together, it is time for the fun stuff - it is time to shop!
#1
Personally, as soon as I have my list, I try shopping at my local dollar store first. I am always trying to stretch my pennies, and the dollar store can be a great resource for serving trays, solid color paper plates with matching colored cutlery and disposable table cloths. They also have candles, both for the cake and to scatter around the room. You can often find many things to use with your decorations, as well as favor ideas and game supplies.
The dollar store can also have some great seasonal decor which isn't just related to holidays. For example, every summer my local dollar store carries luau supplies such as leis, grass skirts, and coconut drinking cups. Keeping up to date about what is in their inventory is a great way to save a little money.

#2
After you have your list and have visited the dollar discount stores, you'll want to visit the vendors listed below for your remaining party supply needs. Make sure your shopping list includes plans for each of these!

Invitations
Decorations
Pinatas (Check out info on how to make your own pinata - it is easy!) 

Party favors
Streamers & balloons
Any items needed for games

Plates, napkins and cutlery
Serving pieces
---
Adult and Teen Parties
Perhaps you are thinking that you don't need any games at your adult or teen party...
Or maybe you do have some fun things planned...
In either situation, it is nice to have some printable games on hand. Guests appreciate having something to do and talk to people about, especially if they will not know every person at the party. Even if you have things planned, it can be good to "over prepare" and have a backup in case something doesn't work as you planned, or in case you find you need more things to do.
Printable Games are an easy and affordable way to add games to any party. They are inexpensive and can be printed at home. Read my reviews of Top Printable Party Games that are available.

You'll find that there are always items on sale - sometimes up to 40% off (check out the "special deals" tab), and they even offer ways to be rewarded by having the cost of your game refunded to you, resulting in a
free
Party Game!
Affiliate Links:
Get 15% off with this coupon!
---
Kid Parties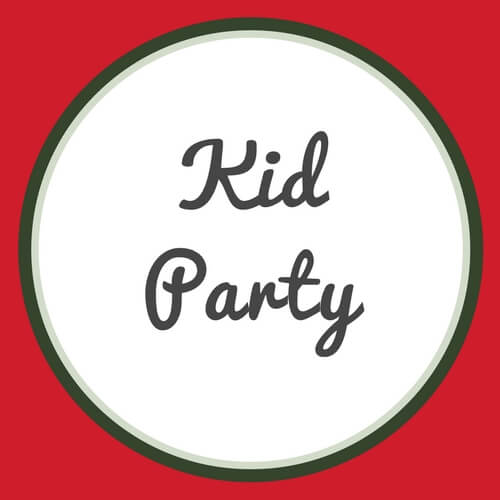 Shopping for a kid party or specific theme? Look no further! One of my favorite sources for party supplies for kids parties is ... Amazon.

 They carries party goods, invitations, decorations, banners, favors and more for every theme imaginable! They carry a great selection of items with everything you could possibly need to fully theme out your kid's party, with quick and efficient shipping and fair prices. 
---
Invitations
What is a party without guests? Whether a party is for two guests or 2000, you'll need to invite your guests in a way that provides them with all the details.  When thinking of a cheap way to do invitations, the first thought is to simply send an email. Of course you can do this, but why not email a beautiful (free!) virtual invitation like the ones offered at Paperless Post? Read all about choices for popular and pretty online party invitations. 
Another option is making your own invitations. There are so many beautiful papers available from stores that carry scrapbooking supplies, making the possibilities endless. Probably you are only limited by how much time you have to make them! Check out Pinterest for lots of beautiful ideas.
Want to send an invitation by mail, and don't want to make it yourself?
Amazon
(Affiliate Link) will be your best bet. Easily compare options and deals to get your preferred invitation at the best price.
---
Party Favors
I'm often asked about where to by party items like party favors - once again the possibilities are endless and you can make your own, purchase favors, or make a "take away" project at the party which can serve as a favor. Visit our page for party favors for a collection of ideas. Keep in mind that this doesn't have to cost a lot - it is just a remembrance of your super-fun party!
Need specific themed favor ideas? On the page for each theme party idea on this website you'll find some easy and fun suggestions for a themed party favor.
If I'm looking for something special, my go-to place to shop online is
Beau-coup
where you'll find the most beautiful favors imaginable! They seem to always be running a special or promotion to
save money on your entire order or shipping,
so be sure to look for it in the banner at the top of the page if you visit their website.
Affiliate Link:
---
Costume Party Ideas
Want to make your own costume? Here you go! Check out these costumes you can make!
Here is a great example - this rocket costume. He made it out of a two or three pieces of posterboard and some paint, and he won 1st place in a costume contest! Easy and inexpensive - those are the best!
There are so many party themes that lend themselves to costumes. Don't just limit them to Halloween parties!

---
Party Supplies, listed by Party Theme
Some parties and events are so specific, I thought it might be helpful to gather supply ideas with resource links that are focused on particular party themes. I'm working on selecting more items to create pages of party supplies for different themes, so be sure to check back for more easy shopping opportunities in the near future!
---
Hunts
If you are planning a Treasure Hunt, Scavenger Hunt, or Mystery Party,
click here to visit SimpliFun Studios.
This site is a participant in the Amazon Services LLC Associates Program, an affiliate advertising program designed to provide a means for sites to earn advertising fees by advertising and linking to amazon.com.

Let's

Connect

!