Princess Birthday Party Ideas
This post may contain affiliate links. Read our full disclosure policy. 
One of the most popular theme parties for little girls is the princess birthday party.
Princesses are a hit, whether you go for a Disney Princess theme, a Princess Tea Party theme, Barbie, or just go with princesses in general!
If you include boys at your party, they can be dashing young knights, kings or princes.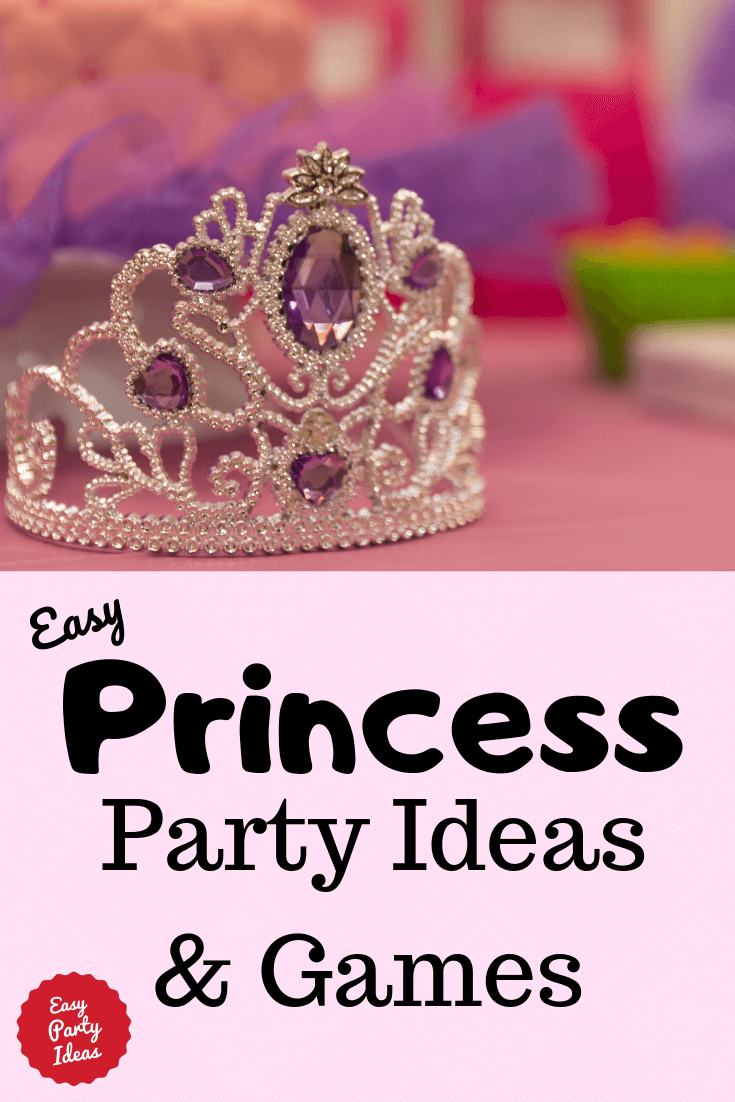 Princess Birthday Party Invitations
There are lots of choices for princess party invitations.
There are many invitations available at your princess party supply store, or you can make your own.
Some cute ideas for making your own include:
Cutting out a crown shape and covering in glitter, sequins or jewels.
Delivering (or mailing in a tube) a "hear ye, hear ye" type scroll...it's easy to do when you have these scroll invitations



---
Princess Birthday Party Decorations
You can create a castle out of stacked cardboard boxes and paint them to look like castle walls.
Lots of streamers and balloons in the color of choice (pink is always popular!)
Make some banners with your "family crest" to hang up.
Suits of armor? Draw some out on butcher paper and tape to the walls, as if they are standing guard in the castle.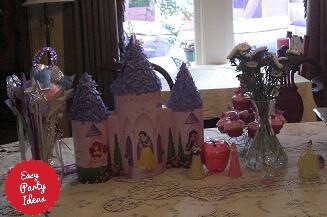 ---
Princess Birthday Party Icebreakers
I define "Icebreakers" as those activities the kids do when they arrive to a children's birthday party, when the games haven't started yet because you are still waiting on other party guests to arrive to the party.
You need something to do to keep them busy until the party activities officially begin!

Make or Decorate Crowns - they'll love working with sparkly craft jewels!
Princess Coloring Pages
Put on Dress-up Clothes
Have an adult put make up on the guests and paint their fingernails
If doing a makeover...don't forget the body glitter!
Decorate a cardboard box to look like a castle, and then let everyone color it. This is a fun activity that will also be a fun pretend play toy for the birthday princess to keep!

---
Princess Party Games
Here are some fun and easy princess birthday party ideas and games!
Ring, Ring, Who's Got the Ring? - Played just like Button, Button, Who's Got the Button? but with a small ring, or button (a crown, rose, or star button, or whatever you can find!!).
Princess and the Pea Game - Create an activity based on the famous story. Have all the girls sit on a stack of pillows (hard to get a stack of mattresses) to see if they can feel a tennis ball or other hard ball. Set it up so that you are sure they can all feel it, and let them know that if they can feel it...they are really and truly a princess!
Ring Around the Rosie - Gather hands and play Ring Around the Rosie. Go round and around while saying "Ring Around the Rosie, a Pocket full of Posies, Ashes, Ashes, we all fall down!", falling down at the end. After doing it once the normal way, try doing it really fast, in slow motion, really loud and on tiptoe.
Treasure Hunt – Search for something special, such as rhinestone rings or gems hidden inside treasure stones.
Hot Potato - Pass a septre, crown, or other "royal" item around the circle while music is playing. Whoever is caught with the item when the music stops is the person who is holding the item do a silly stunt, make a silly face, etc.
Musical Dress Up – You'll need music and a big bag full of princess related dress up items. Gather the kids in a circle and have them pass around a hand mirror while the music plays. Whenever the music stops, whoever is holding the mirror gets to put on something from the dress up bag. Have enough items so everyone gets to put on some clothes a couple of times. Variation: You can also have the kids march around in a circle, landing on pieces of colored paper. When the music stops, have the child standing on a certain color reach into the bag for a dress-up item. Hint: Don't let the kids look in the bag to select something. Have them just reach in and whatever they grab is their item!
Statues - All the players dance and run around while the music plays. When the music stops, all players must freeze as if they are a statue. If anyone laughs or moves, they are a broken statue. Play until only one person has never been caught moving.
Dragon, Dragon Game - Played just like the Monster Monster Are you Hungry? Game - your guests are guaranteed to squeal!!
Bean Bag Toss – You'll need a target and bean bags to toss at it.
Pinata -always a popular party game! Visit our page to learn how to make your own for pennies!

Place the Kiss on the Frog or Pin the Crown on the Princess...
London Bridge - one of the favorites of the youngest princesses!
Here We Go Round the Mulberry Bush - Another hit with the younger set!
---
Princess Birthday Cakes
Here you'll find links to this site's pages of fun cake designs...
A cute Castle Cake would be perfect!
A doll cake, such as a Barbie Cake will delight any little girl.
A Princess cake, with the princess drawn on the cake.
A cake made with a Princess cake pan.
---
Favorite Princess Party Favors 
Some of the favorite princess party favors:
Princess Pens
---
Royal Party Supplies
These party supplies are perfect for anytime you are celebrating your favorite princess, knight, royal or castle theme!
Medieval Knight Paper Plates - I really love the medieval flair to some of these!
Stone Wall Decor - instantly create a "castle" look in your party spacea href!
Amazon has a great selection of Castle Party Supplies
Kid Party Ideas
Do you have a great kid party idea or game?

Share your ideas and photos here, and they will be added to this site to help other moms & dads everywhere!

You can leave comments and questions here too!
Visitor submitted ideas:
This site is a participant in the Amazon Services LLC Associates Program, an affiliate advertising program designed to provide a means for sites to earn advertising fees by advertising and linking to amazon.com.

Let's

Connect

!

You might also like...
Make your Princess Birthday Party a Tea Party