Let's Get Creative! Art Party Ideas
This post may contain affiliate links. Read our full disclosure policy. 
An art party can be a real crowd pleaser because arts and crafts parties are lots of fun. No games are often necessary, just a place to create and spend time together. They are great kid party ideas because kids just love them! So they work great for a birthday party idea.
Another great thing is that this party will work for all ages. It is especially popular for tween party ideas.
Here are some fun craft party events that I've been lucky enough to attend.
Each have been very different, but all very successful and fun!
Share your own art party ideas with us, and we'll add them to the list!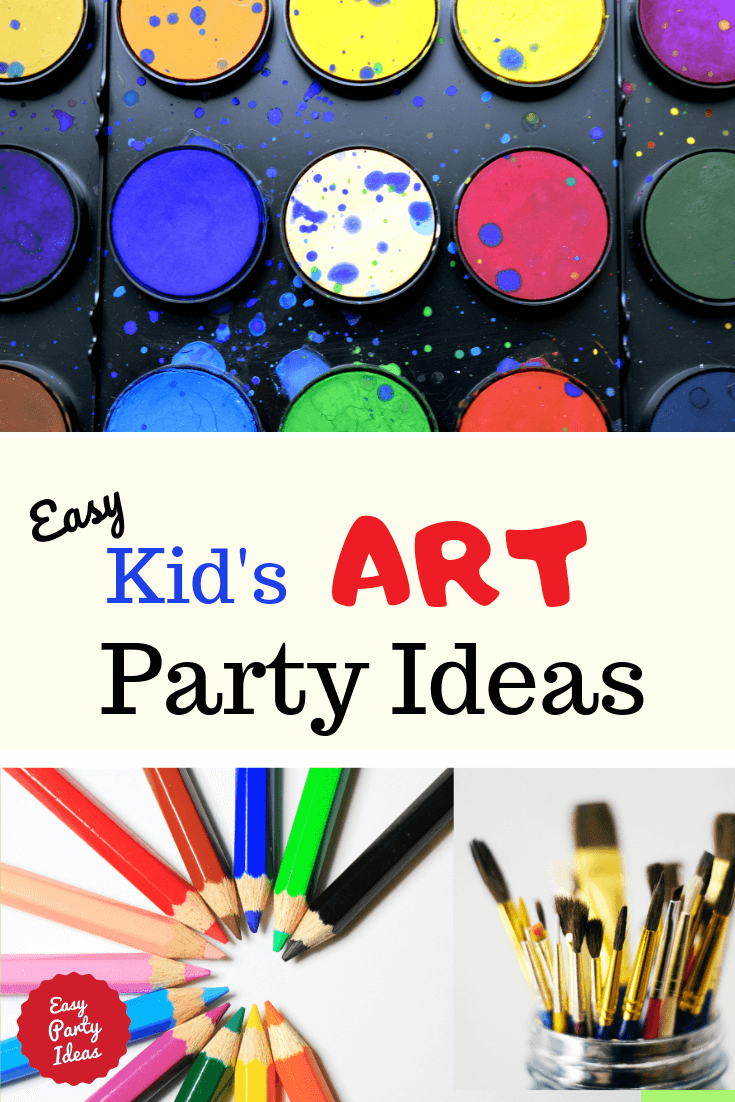 ---
At Home Art Party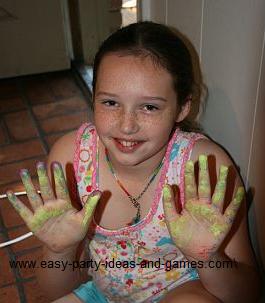 The mom at this party did the neatest thing! They had just redone her daughter's bedroom and needed some fun art for the wall. They found some cute, floral, youthful looking invitations and bought a large piece of canvas - just the right size for her wall in her room.
Next, the mom found an overhead projector and traced the invitation picture onto the canvas. She then scored the canvas into squares - one square for each party guest (A few left over for the immediate family to each do a square as well!).

As each party guest arrived, they chose a square to paint. The end result was a beautiful piece of art for the birthday girl, made by her family and friends. Something she will always treasure.
Because only a few girls could paint at a time, there were modeling clay projects, large plastic rings to decorate with markers, and sidewalk chalk to use on the sidewalk so no one ever became bored or was looking for something to do.
---
Craft Party - Pottery Painting
For this party, we met at a pottery painting place and each child selected their own piece to paint. Painting masterpieces took up the time of the party, and each guest had so much fun!
About a week later, the pieces were fired by the pottery store (so they'd be shiny and beautifully colored) and were delivered by the birthday girl's mom to each of the guests.
You could do this party at home by purchasing plaster or wooden items to be painted and taken home or delivered at a later date.
Kids love to create!

---
Arts and Crafts Theme Party - Decorating
Another fun party is to have a fun craft where everyone can do their own thing. Fun craft ideas include making jewelry or decorating wooden picture frames with foam letters, symbols and shapes.
After "creating", enjoy cupcakes that have been created by each artist as well. You supply the cupcakes, frosting and sprinkles. Let them decorate (and then eat) as they wish. You can do this with cookies too! (Hint: have lots of sprinkles...)

---
Scrapbooking Party
Provide photos of your guests having fun with the birthday girl. You can take the photos and print them at the party (make sure you have a super fast printer if this is the case) or collect them ahead of time.
Set up stations with lots of supplies, cute borders and stickers and of course scrapbooks! For more ideas, visit our scrapbooking party page.

---
Fun Arts and Crafts Party Games
Try these fun and easy party games at your art party:
Blind Van Gogh - Divide players into pairs, and have one of the players in each pair blindfolded. Give the blindfolded player a sheet of paper and a pencil. Set a timer for two minutes and show the partners (who can see) an object. The seeing partner then describes the object without saying what it is while the blindfolded player tries to draw it. Each team may have the same object When time is up, take off the blindfolds and let the "artists" see how well their drawing looks like the actual object they were drawing.
Left Foot Art - At your art party, have everyone sit on the floor with no shoes on. Give each player a pencil and a piece of paper and have them draw a picture using their left foot.
Pass the Picture - One of my favorites was done by my friend at her daughter's party. The game was to set all the girls in a circle, have them draw an oval or circle for their face, and write their name. Then they passed the paper to the person on their right, they added eyes, then the next person added a nose, then mouth, ears, then hair then any other distinguishing characteristics like glasses, freckles, bandaids etc. The girls had a great time with it and all the kids participated, absolutely a snap shot moment in time!! We've included some photos here for you...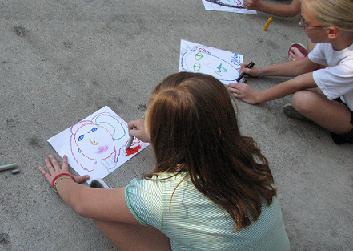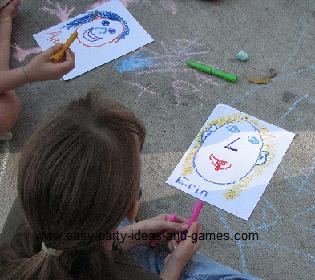 One more thing...
Just a few more helpful hints to help you with your craft party or art party.
Everyone appreciates a good value. Shop your local dollar store for supplies, but look for name brand items, or buy a sample to test to see how it works. Sometimes the "off-brand" crayons, etc. don't work as well.
Kids of all ages like to create, from the youngest to the oldest. For younger parties, keep the group small and at the same stage developmentally.
Pick activities that are age appropriate and have help - make sure you have extra adult hands to give any help needed.
Lastly, protect surfaces that you'll be using at your art party, and make sure the kids dress appropriately or provide smocks made out of men's t-shirts or dress shirts (visit your thrift store for these).

This site is a participant in the Amazon Services LLC Associates Program, an affiliate advertising program designed to provide a means for sites to earn advertising fees by advertising and linking to amazon.com.

Let's

Connect

!

More Creative Parties