Fashion Doll Party
This post may contain affiliate links. Read our full disclosure policy. 
Hmmm...a Fashion Doll Party was just what we needed.
You see, for my daughter's 5th birthday, she wanted to have a Polly Pocket party.
There is only one problem...
She always picks themes that no one seems to have done before...
But I love because it really gets my creative juices flowing!
This party could be used, not only for a Polly Pocket Party, but for a Barbie Party, Bratz Party, or for any fashion doll (or fashion for the sake of fashion, of course! :-))
This is what we did...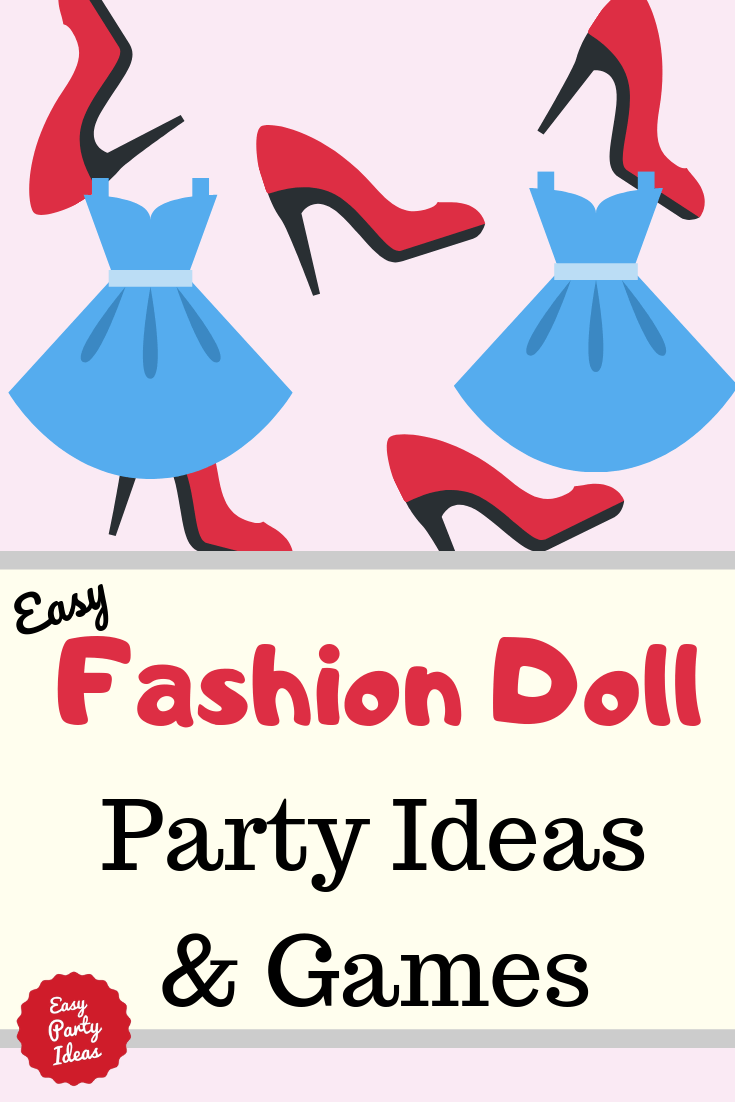 Kid Party Decorations
In the front yard, we had a bunch of balloons and side walk chalk marking the way the party.
The party area was filled with balloons and crepe paper streamers to match the colors of the plates and napkins.
For music, we played popular Radio Disney songs.
Arrival Activities and Ice Breakers
Beauty stations - A "dressing room" complete with glittery hair spray, nail polish, body jewels, eye shadow and body glitter.
Decorate a fun fashion item, such as a picture frame or foam purse with foam stickers.
Fashion Doll Party Kid Party Games
Since our fashion doll party was a Polly Pocket party, we used "Polly" in these games listed below. Substitute the name of your favorite fashion doll - Barbies, Bratz, etc.
Limbo - We used a boa instead of a limbo stick
Simon Says - Except at our party it was "Polly Says" instead of Simon.
Parachute - always a hit! We bounced bean bags on our colorful parachute toy.
Monster Monster Game - OK, this has nothing to do with Fashion, but we love it so. Just have to play it at every party.
Pinata - Stuffed it full of candy and rings, bracelets, ring pops, candy necklaces...
Pin the Clothes on Polly - we made our own drawing of Polly, and the I cut out clothes for her. Everyone had something different - a pair of pants, a shoe, a purse, etc.
Balloon Game - Again, nothing to do with fashion, but the kids love it.
Bean bag toss - We tossed bean bags into a large shopping bag. I stuck a cardboard box inside to help the side stand up and out.
Duck Duck Goose - We said "Polly", "Polly", "Pocket" on this one.
Hullaballoo (Amazon) - Yes, the classic game. The kids had a great time with this one!
Musical Dress Up - We did have boys at our party, so I included items that they wouldn't mind wearing - hats, sunglasses, etc. They loved it too!
Freeze Dance - Always fun!
More ideas for kids party games for your fashion doll party on our GIANT game list!

Fashion Birthday Cake Ideas
Our cake was a multilayer cake that looked like a wedding cake, but with a Doll cake on the top, featuring our favorite doll.
You could also do a Rock Star Cake
And the ultimate fashion party cake? A purse cake!

Fashion Party Favor Ideas
Lip gloss rings
Marabou slap bracelets
Fruit snacks (featuring your favorite character!)
Ring pops
Boas

This site is a participant in the Amazon Services LLC Associates Program, an affiliate advertising program designed to provide a means for sites to earn advertising fees by advertising and linking to amazon.com.

Let's

Connect

!

For your Fashionistas