It's a Pretend Sleepover!
This post may contain affiliate links. Read our full disclosure policy. 
Having a pretend sleepover or pretend slumber party is a lot of fun, and just perfect for little ones who aren't quite ready for the real thing.
This type of party makes them feel like they've done a sleepover, but without spending the night.
Instead of calling it "pretend", we like to call it a half sleepover or half slumber party.
If you're unfamiliar with the idea - basically the little girls get together for about 2 to 3 hours (long enough for some party activities and perhaps a movie), wear their PJ's but go back home in plenty of time for bed!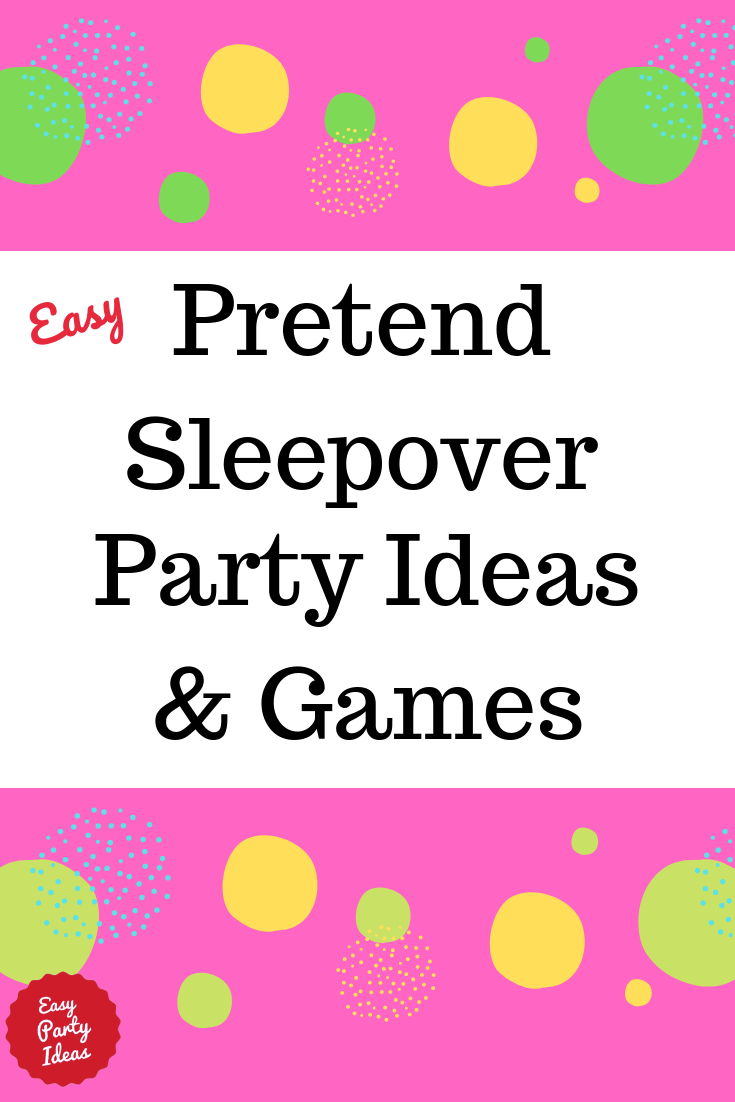 Pretend Slumber Party Invitations
Use these cute ideas for slumber party invitations as you would for any slumber party.

Half Sleepover Decorations
You can use some balloons and streamers for instant (and cheap!) party fun.
Pick something that has to do with your party - perhaps spa activities, perhaps Barbie (especially if watching a Barbie movie or having a doll cake. If you are watching a Disney princess movie, you could decorate with that and have a castle cake...)

Half Slumber Party Icebreaker Games and Activities
Paint your fingernails and toe nails - have a one or two of polishes available to choose from. For older girls, they can polish each other's nails. For little ones - you do the polishing! Keep control of this one - it could get messy. Also, consider using that nail polish that dries in one or two minutes (or the wash-off kind of nail polish).
Makeovers - give everyone a new hair style
Spa Stuff - soak your feet, put cucumbers on the eyes, etc. if you are going with a spa theme.
Watch a movie - pick a fun movie such as one of the Barbie movies (if a Barbie theme), the Tinkerbell movie, or any one of your favorite Disney movies!
Make dream catchers
Decorate pillowcases
If you are going to watch a movie, have everyone bring sleeping bags, pillow and a stuffed animal so they can lay on the floor.

Half Slumber Party Games
Simon Says or Mother May I?
Karaoke
Play a fun fortune telling game like Cahootie
For girls who are old enough to do relay races, play the suitcase relay.
Actually, you can use game from our kid party games list or any age-appropriate game from our slumber party games list.
Pretend Slumber Party Favors
Pick something to go with your theme, just like you did with the decorations. If you are doing a "spa night", some nail polish and lip gloss would be fun. If you are doing Disney princess, then some princess party favors would be perfect!
Visit our slumber party supplies page for more ideas!

Have A Great Party Idea or Game?
Share your own great ideas from parties you've planned or attended!

Pretend Sleepover Ideas from our Visitors
This site is a participant in the Amazon Services LLC Associates Program, an affiliate advertising program designed to provide a means for sites to earn advertising fees by advertising and linking to amazon.com.

Let's

Connect

!

More Party Fun!
Make your pretend sleepover an American Girl Party