Dinosaur Party Ideas!
This post may contain affiliate links. Read our full disclosure policy. 
A dinosaur party theme is one of the most popular birthday party ideas for kids.
Here is a list of some great easy party ideas and games to help get you started on your hunt for a great dinosaur birthday party!
They are collected from many parties I have attended, along with favorite, time-tested ideas that have been adapted for a dinosaur theme.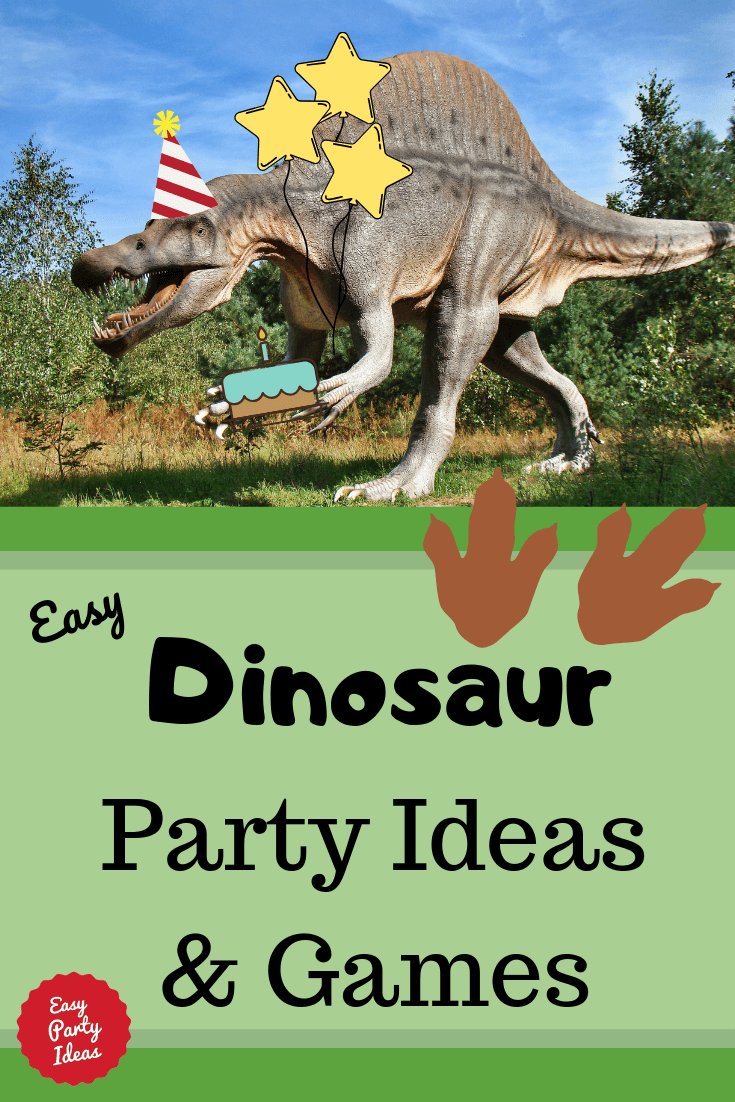 Dinosaur Party Invitations
Send an invitation as a memo - with the objective being "an official dinosaur expedition".


Make kid party invitations by covering a card with dinosaur tracks (use stamps and let the birthday boy/girl help make them!).


Since this is such a popular theme, you can find cute invitations at a party supply store.


Dinosaur Party Decorations
Think jungle - overgrown, greens, browns and the like. For kid party decorations, the more over the top, the better!


Make vines out of twisted brown paper.


Borrow some ideas from a jungle safari party theme.


Make some dinosaur tracks with sidewalk chalk or out of cardboard (for an indoor party.)

Dinosaur Party Games
Here are some fun kid party games, adapted for a dinosaur theme:


Dinosaur Egg Crazy Catch – You'll need a ball for every two kids and a bunch of crazy stuff! Pretend the balls are dinosaur eggs and have the kids divide into pairs (these will be your teams. Have the teams play catch with the ball, but they can't catch with their hands. Have them use nets, hats, etc.


Parachute – If you have a parachute make use of it . (If you don't have one, you can always use a bed sheet.) For a dinosaur party, let the kids bounce inflatable balls (dinosaur eggs) or dinosaur stuffed animals on top of parachutes and to make it go up and down.


Dinosaur Dig – If you have a sand box available, hide "dinosaur bones" related objects in the sand and let the kids hunt for them. For example, at a Princess party, you could hide plastic jewels. Don't have a sand box? Fill a tub with sand or rice. You might want to limit the number of items each child can find (such as three). If you have a large number of children let them take turns, just a few at a time, or set up this game as a "station" to be done when other "stations" are being played, such as some Target Games.


Dinosaur Hunt - Hide toy dinosaurs around the yard and go on a dinosaur hunt!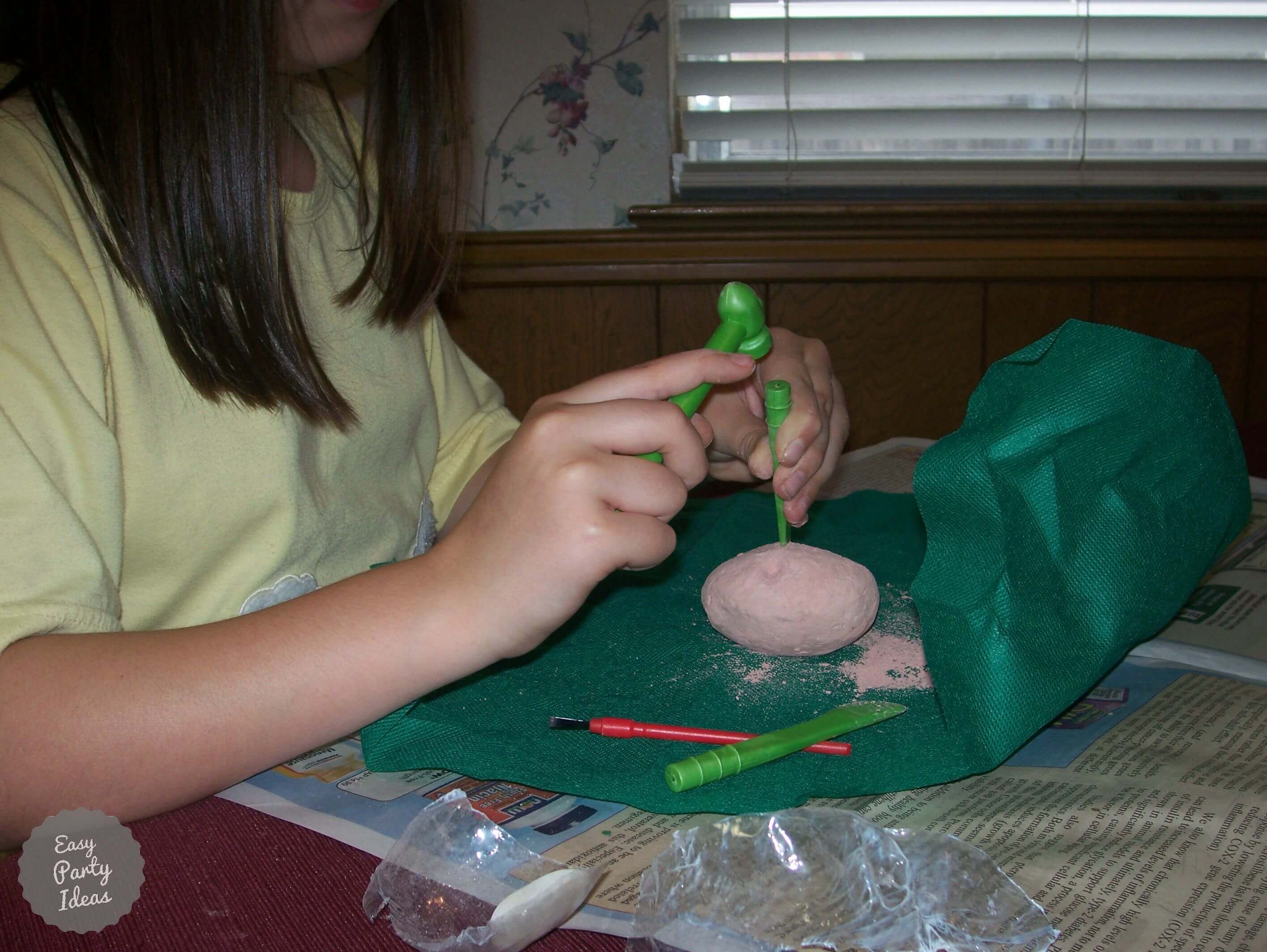 Dinosaur Party - Dinosaur Excavation Game
Dinosaur Excavation Game - Kids will love these uncovering their own dinosaurs with their own dinosaur excavation kit. This is something that can be done at the party or used as a party favor!

Dinosaur Egg Hunt - Get those Easter eggs out of the closet and put them to use! Go on an egg hunt. You can fill the egg with dinosaur stickers/tattoos for a fun touch.


Dinosaur Safari - Go on a "hunt" for dinosaurs. You might make a dinosaur piñata the prize for the lucky hunters. Before the party make dinosaur footprints and other clues, and lead your explorers on a hunt. Make part of it an obstacle course – with it being more challenging as age appropriate!


Hot Potato – You'll need something dinosaur related to pass around the circle. While the music is playing, pass the item around. Whoever is caught with the item when the music stops is either "out", or if you want to keep everyone in the game (that is what we like to do!) instead of being "out", have the person who is holding the item do a silly stunt, make a silly face, etc.


Dinosaur Egg (Balloon) Pop Relays and Races – For a relay you'll need a balloon for each player and two chairs. Call the balloons your dinosaur eggs. Divide the kids into lines of two teams and give each kid a balloon. Have a few extra balloons on hand in case any pop before the game begins. On "Go", one member of each team will race to the chair, try to pop their balloon by sitting on it, and when successful run back to the team. This is a relay and so the next person on the team would then be able to go. Variation: You can make this game into a race by giving each kid one or more balloon to try to pop, with everyone starting at the same time. First one to pop all their balloons wins!


Dinosaur Egg (Balloon) Races – You'll need one blown up balloon for every two players (blow up a few extra in case any pop before the game starts). Have the teams race from one point to another, while carrying a balloon between them. The catch? They can't use their hands to carry the balloon!


Dinosaur Egg and Spoon Relays and Races – For a relay you'll need a hard-boiled egg and a spoon for each team. Divide the kids into two teams and have each team form a line. Have a member of each team race to a certain point, holding the egg in the spoon, and then return so that the next team member has a turn. Variation: Give each child a spoon and egg and have a race. If you don't want to use an egg, use ping pong balls, golf balls, etc. 
Hopping Relays and Races – You'll need a blown up balloon or ball for each kid. Have kids race from point to point while hopping with a ball or balloon between their legs. 
Dinosaur Dinosaur Game - Also known as the "Monster Monster" game - this one is always a favorite kid party game!


Target games - such as a Bean bag toss into a dinosaurs mouth, a piñata or a pin the head on the dinosaur game. These make very fun dinosaur party games!


Littlest Dinosaur fans will enjoy some of their favorite party games made just for little ones as well as having a fun story time while you read a fun book about dinosaurs.


Hint: If you play a game where you divide into teams, give each team a name of a type of dinosaur.


More kid party games.
Dinosaur Birthday Party Cakes
Often used for kid party cakes, make a sheet cake and use toy dinosaurs on top to make a scene.
Feeling creative? Make this adorable dinosaur party cake!
Make a volcano cake and add dinosaur figures around the base.
Dinosaur Party Favors
My friend made these great Dinosaur Egg Party Favors out of paper mache! Read all about how she created these amazing dinosaur eggs!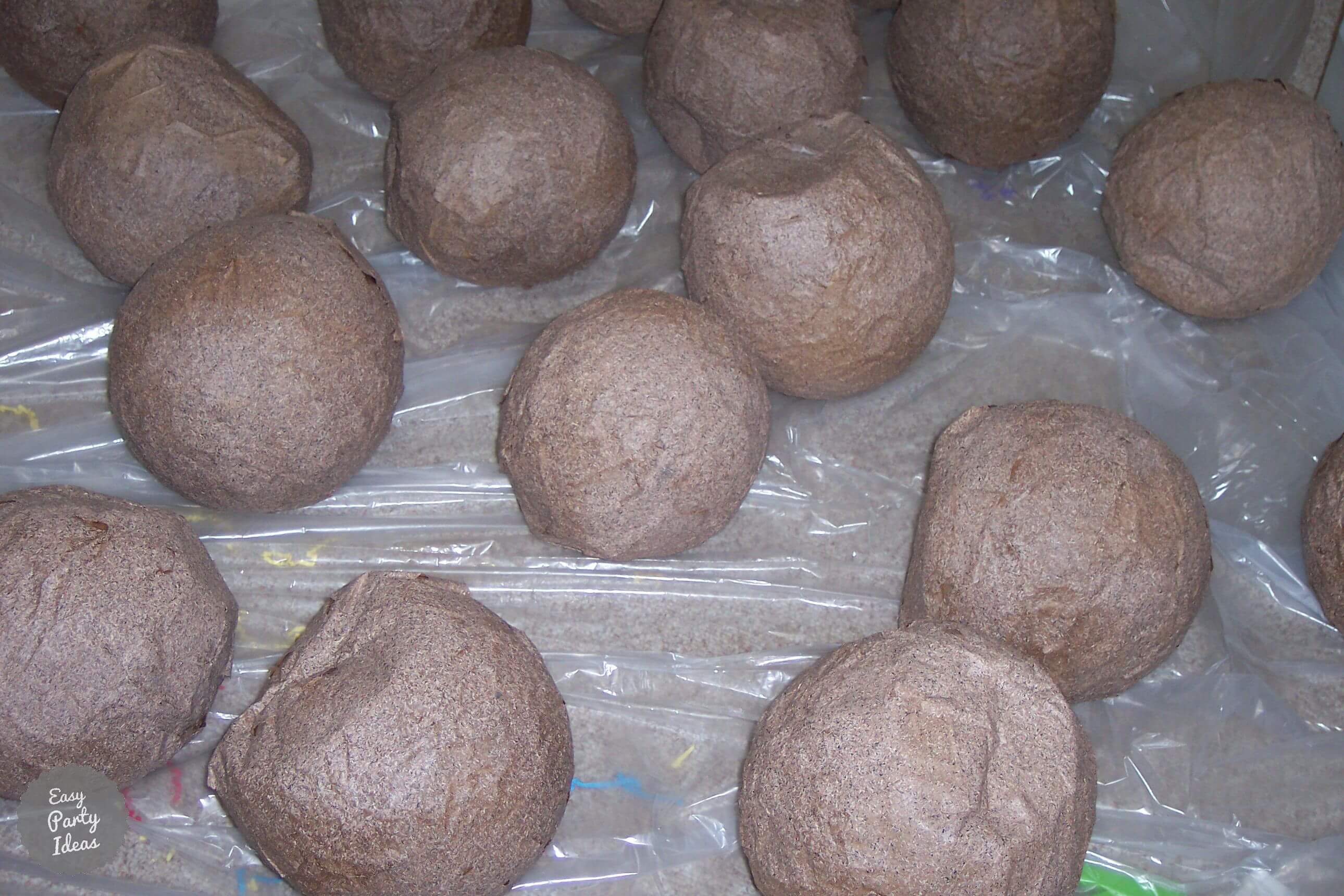 DIY Dinosaur Egg Party Favors
Kid Party Ideas
Do you have a great kid party idea or game?

Share your ideas and photos here, and they will be added to this site to help other moms & dads everywhere!

You can leave comments and questions here too!
This site is a participant in the Amazon Services LLC Associates Program, an affiliate advertising program designed to provide a means for sites to earn advertising fees by advertising and linking to amazon.com.

Let's

Connect

!