PARTY PLANNING IDEAS
A Top Ten List of Tips For Planning the Perfect Party
This post may contain affiliate links. Read our full disclosure policy.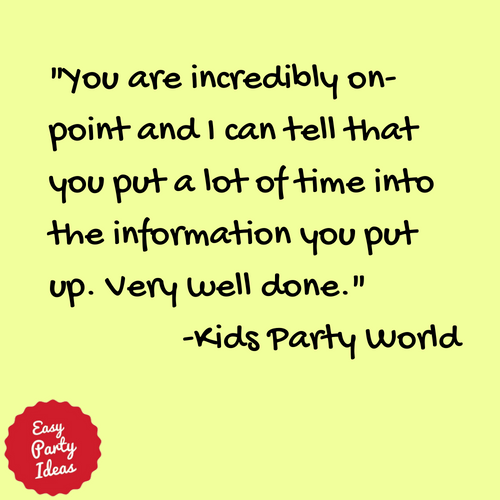 Here is a top ten list of party planning ideas to consider before you start brainstorming your party ideas!
It is good to sit down with this handy list to make sure you have thought thru everything, then you can make a task list of what to do and when, and get everything accomplished.
As with everything else, proper planning makes for a better event and a more enjoyable event both for the guests and for the host or hostess.
Party Planning can be easy and fun! 

How To: Party Planning Ideas
#1 Party Theme - the Key to Great Party Planning
A great party theme will make party planning fun! Getting creative with your theme is the best part of the whole planning process.
Don't think your party has a theme? Of course it does – you just have to find it. Birthdays for children are easy – princess, pirate, etc. But for teens and adults, the theme might be the idea for the party – for example – a 30th birthday party, or a wedding anniversary party. Even a backyard BBQ can be turned into a coordinated, decorated fun BBQ theme! Carry it thru to your invitations, decorations, food and music!
Check out our creative party theme ideas for adults, teens, kids, holidays, and special events. We think you'll find some great treasures!
#2 Location
Who said "location, location, location"? While some of your friends may drive to the ends of the earth for a party, others may not!! Keep in mind a location that is convenient for you and your guests. You don't want those great party planning ideas to go to waste, right?
The perfect location is easy to get to, big enough to hold your guests, and adaptable to your activities.
I love throwing parties at home. Home party ideas are limitless. I also think they are easier to prepare for because you have time (hours…even days) to decorate and get everything together. But of course you must also be prepared for having guests in your home. Can the space accommodate the crowd? And you'll have to clean up after everyone leaves…
Think about the number of people you'd like to invite, what they'll be doing at the party, how you will decorate, and how food will be served. You may find that a home setting won't do. In that case, you'll need to look for a location. Keep in mind that you won't get to decorate and prepare as you might could at home, and some things will be out of your control (such as time for guests to arrive and leave).
Working within a budget? Going out will usually creates a bigger price tag. Keep costs in mind when making your decision!
You'll find lots of party planning ideas, for home and away, on our site!
#3 Date
When setting the time and date of your party, just know that it will be impossible to find something that works for everyone!
Instead, study the calendar carefully and use your best judgement. For example, if you are planning a birthday party for your child and inviting a group of kids that play on a soccer team, check the team's schedule so there won't be a conflict!
Bottom line, you'll want to plan your party at a time that is convenient for you, without any known conflicts for your guests.
---
Need to give a speech? I have found a website with a lot of great speeches already written. It might not be a currently active site, but there is still a lot of great info. It is called Find-the-words.com ... (link is to a 21st birthday speech which is a good example of what is on the site - but they have everything from eulogies to graduation speeches already written out.) 

---
#4 Party Invitations
The perfect invitation will get your guests excited!!! Not only will the invitation provide the details of the party, but it will also set the mood for the entire event. Show your guests that you have put your great party planning ideas in the works by the quality of your invitation. 
Also, allow plenty of time for your guests to receive their invitations and be able to respond. Good party planning allows time for the guests to plan to attend!
Need to know what to include on your invitations?

Paperless Party Invitation Ideas


#5 Party Decorations
Party decorating ideas tie in with the theme of your event. When I start planning a party, I keep my eye open at dollar stores (actually, anyplace I may be) for bargains that I can use in my décor.
If you are throwing a really festive party, such as a birthday party, shower or children's party, I also love helium balloons. They add a lot visually to the party space.
For adult parties, I love to use a lot of candles. You can purchase large packages of inexpensive votive candles at stores such as Garden Ridge or Walmart. Scattered in small clusters around the room these look great!
You'll find lots of great ideas for homemade theme party decoration ideas on our site.
#6 Party Food
Ahh, food. I personally like to keep party food very simple. I'm usually busy decorating or setting up last minute details, and food preparation takes time!
But whether you are making food or buying it, good party planning involves figuring out what you will serve your guests to eat and drink.
For children's parties, the simpler the better. If the party will be held during a mealtime, pizza or hot dogs are easy and the kids love them. Otherwise, a bowl of pretzels or popcorn and cups of water are a big hit. Yes, I did say cups of water instead of water bottles, cans of soda, etc. Kids will take a sip, and then run back to playing. When they come back for another sip, it is easier to give them a cup of water rather than a whole new bottle/can/juice box.
For most other events (unless it is a dinner party or other event with a sit-down meal), I like to serve finger foods and appetizers. Party food should be easy to eat.
For menus, yummy appetizers, easy party recipes and snacks, click here. You'll also find a list of great party punch recipes!
If your party is a birthday party, your party planning ideas will include a birthday cake!!
Looking for birthday cake ideas? Check out our photo gallery of cakes.
#7 Party Music
Great music makes the party fun. What to play? It totally depends on the theme of your event.
A dignified but fun event? How about Frank Sinatra and the Rat Pack?
A kid's party? The latest hits (think Radio Disney).
For adult parties, music from their teenage/college years is usually a hit. Put on a CD or plug in your loaded ipod and enjoy the music!
Lucky enough to have a live band or DJ? Make sure you give them clear instructions on what type of music you'd like to have played, as well as a song list. Make sure you have control over the volume as well!
Only you know the tastes of your guests – plan to play something that will put them in the party spirit!
#8 Party Planning Ideas for Party Games and Activities
Party games and activities, whether for adults, teens or kids, should be something easy to play and fun. They should also be able include everyone who wants to participate.
This is another area of the party planning that is a lot of fun!
On our website you'll find great party game ideas and party planning ideas specifically for you next party, including:
#9 Party Favors
Party favors are a way for your guests to remember your party long after it is over. Try to find something unique. Favors don't need to be expensive (they usually aren't!) but are a fun token to take away from the party.
The key here is finding a way to blend your party planning ideas and theme to find a related small parting gift. Click here to read more about Party Favors.

#10 Enjoy!
Your planning has paid off! Enjoy your party!


This site is a participant in the Amazon Services LLC Associates Program, an affiliate advertising program designed to provide a means for sites to earn advertising fees by advertising and linking to amazon.com.

Let's

Connect

!

Do you have a great easy party idea or game?
Share your great ideas!
Return from Party Planning Ideas Top Ten List to
Easy Party Ideas and Games HOME