It's a Barbie Party!
This post may contain affiliate links. Read our full disclosure policy. 
Here are some more ideas for a great Barbie Party for your favorite birthday girl!...
Every young girl loves Barbie!! I have to admit, I love Barbie too! I seriously can't visit a Target store without stopping by the Barbie aisle to look over what is new!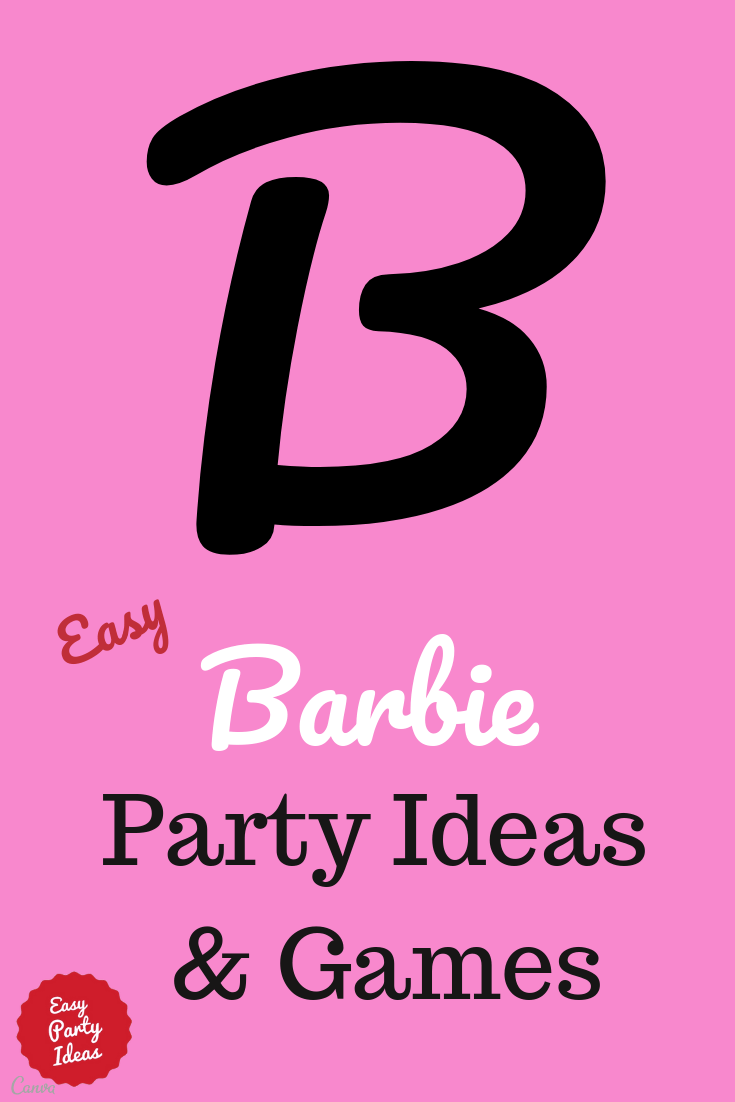 Barbie Party Themes
First you will need to decide what "type" of Barbie party you are going to have.

A Barbie girl party can take many forms:
Barbie can do anything, so how about a Girl Power Party?
---
Barbie Movie Party Themes
You see, the choices don't just end there!
The Barbie Princess DVD Movies  are very popular, so it is natural that girl party ideas for Barbie parties are needed.
As a matter of fact, for my daughter's 3rd birthday, she wanted to have a party based on one of the Barbie princess movies. When you think about it, you can adapt lots of games and activities for any of the Barbie princess movies.
For invitations, I bought the official invitations and partyware that went with the movie.
Look over our kids party games list and adapt a game to your movie. Try selecting one game from each category. Pin the tail on the donkey could become pin the crown on the princess. A bean bag toss could be tossing food into a dragon's mouth. We actually followed the story of the movie at our Barbie party, doing a game that would reflect different parts of the story.
Because everyone might not be familiar the movie, do a puppet show giving an overview of the story.
Dressing up is always popular!
Cake ideas are easy - a Barbie cake or something from the theme of the movie. The movie we loved was Barbie Princess and the Pauper DVD, so my daughter wanted a cake to look like a cat, which was one of the main characters in the movie.
Favor ideas can be plentiful, anything Barbie or fairy/mermaid/princess (depending on if your Barbie movie is a princess one or a fairy/mermaid one).

---
Barbie Theme Party Invitations, Decorations, Favors and Games
The type of party (fairy, princess, tea party, spa, fashion doll...) will determine what you use for invitations, decorations, favors and even what kid party games you will play.
You can also go with a flower theme or anything girl related and that will work with Barbie too. The possibilities are endless!
No matter what type of party you decide to do, a Barbie Cake is always perfect!

---
Read all about some great Barbie Parties
It is always so great when visitors to this site share their ideas and images to help others with their kids birthday party ideas. Here are a few to read about:
Have you heard of a great idea that you are planning to do that isn't on our list? Please t

ell us about your Barbie party ideas

 and they will be added to the site.

This site is a participant in the Amazon Services LLC Associates Program, an affiliate advertising program designed to provide a means for sites to earn advertising fees by advertising and linking to amazon.com.

Let's

Connect

!

Must Visit...