Butterfly Party Ideas
This post may contain affiliate links. Read our full disclosure policy. 
A Butterfly Party is popular because girls (and boys) love butterflies.
Butterflies are so beautiful, and there is something magical about the way that those little crawly wormy caterpillars emerge one day as a breathtakingly beautiful butterfly!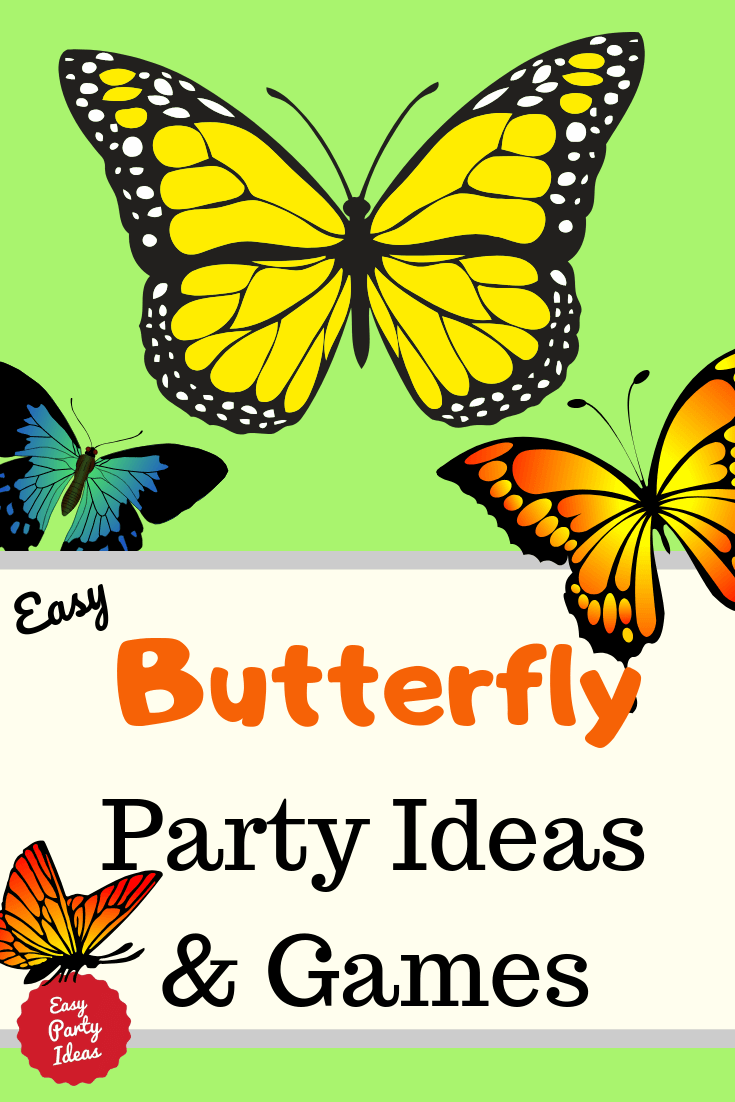 Butterfly Party Invitations
Cutting out a Butterfly shape is easy.
Fold a piece of paper in half, and then cut 1/2 of it into a butterfly shape.
Open it up and you'll have a butterfly, with both sides matching!
Let the birthday child help you decorate by painting with watercolors, or by coloring with markers and then spritzing with water to give a softer, watercolor effect.
Write your party info on the back, or attach this custom butterfly to a sheet of cardstock.

Butterfly Party Decorations
Make lots of butterflies out of colored tissue paper.
Take a large sheet of tissue paper, gather in the middle, and use a sparkly pipe cleaner to wrap around the gathered section and hold it in place.
Make lots and lots and tape them up everywhere! 
You can add lots of giant flowers too - see these pretty homemade flower decorations.
 
Arrival Activities
(while waiting on the guests to arrive)
Butterfly coloring sheets.
Decorate butterflies made out of construction paper (see above in "decorations").
Give everyone their own pair of butterfly wings. (Serves as a great party favor as well)
Do face painting - butterflies on the cheek of course!

Butterfly Party Games
Catepillar, Catepillar, Butterfly! - Play Duck, Duck, Goose, but change the names!
Ring around the Butterfly - Just like Ring Around the Rosie, but have everyone dance around a butterfly (tissue paper butterflies if you don't have a stuffed animal one.)
Butterfly Leader - Let everyone play follow the leader as you take them thru the steps of growing from a caterpillar to a butterfly.
Read a Story - Read a story about a butterfly, or give a synopsis of a great story like Hermie: A Common Caterpillar, which teaches that each child will blossom and become something beautiful one day!
Pinata - Look for a butterfly pinata.
Cocoon Wrapping Game - Know the old party game from Halloween of teams wrapping a player in toilet paper to look like a mummy? You can do this here - just call it a butterfly cocoon instead of a mummy!
Little ones coming to your party? Visit our page of for games and activities for your youngest players!
Butterfly Birthday Cake
Lots of options for
Butterfly Birthday Cake (Amazon)
pans and decorations can be found at Amazon.
Butterfly Birthday Party Favors
There are lots of butterfly items wherever you go, if you just look for them! Hair dodahs, pencils, stickers...it is usually easy to find things with a butterfly on them.
You can also give a little plant that butterflies love. (Potting them could make a fun (but messy) party activity!
Tell us all about your butterfly party!

This site is a participant in the Amazon Services LLC Associates Program, an affiliate advertising program designed to provide a means for sites to earn advertising fees by advertising and linking to amazon.com.

Let's

Connect

!

Cute Party Themes You'll Want to See!
These super cute kid party ideas will have your guests remembering your children's party for years to come!