Bunco Rules
This post may contain affiliate links. Read our full disclosure policy. 
Bunco rules are varied! That is one of the fun things of the game - no two bunco groups play alike.
But...
I've been on a quest to find as many of the bunco variations as possible
And there are a lot of bunco game rules variations!
After reading these, you can pick which bunco game rules you'd like to follow.
If you are joining a bunco group, they will already have rules that are established, so check with that particular group.
If you are starting your own bunco group, you'll find these bunko (bunco) rules to be helpful.
First, the basics...
---
How to Play Bunco: Some Basic Bunco Rules

To start with, some people spell it bunko, so this section is "How to Play Bunko" for those folks...but bunco and bunko are the same game.
Basic bunco rules are as follows:
Game Set up
Players divide into groups of four
Each group of four should have a set of three dice.
Each player should have a pencil and a scoresheet (free printable bunco score sheets)
Each table of four players is numbered: Number One (head table), Two, Three, etc.
Play Begins
In the first round, the Head Table begins to play, which signals other tables to begin as well.
Each round has a "target number." The target number of the first round is "ones", so you try to roll "ones" with the dice.
As your roll, record your target numbers as your roll them. For example, if you are playing "ones," record each "one" that you roll.
If you don't roll a "one," it is the next players turn.
Record your score, and combine it with the player across from you, who is considered your "partner" for that round.
Play Ends
When one of the teams at the table reaches 21 points, play ends.
Players then switch to another table. The winning team moves up a table, and the losing team stays where they are. The only exception is at the head table. The winners stay, and the losers move to the "lowest" table.
Play Begins Again
Begin a new round, where players try to roll a new "target number". In our example, next try to roll "twos".
More bunco rules
Don't partner with the same person two rounds in a row
If someone rolls 3 of kind, it is 5 points
Keep track of how many rounds you have won or lost
If you roll 3 of a kind of the target number, that is "bunco!" and an instant 21 points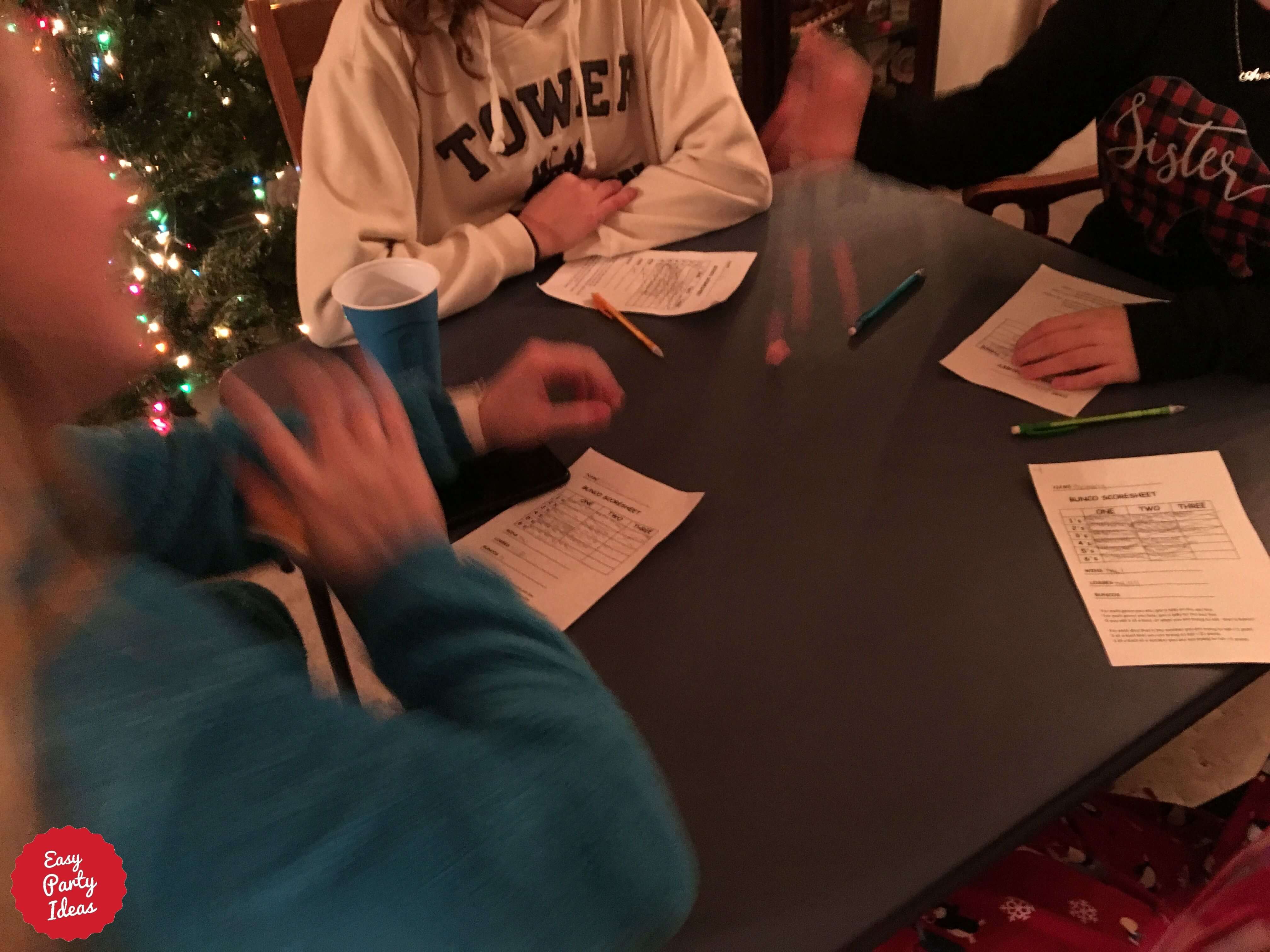 ---
Bunco Rules Variations
Since there really aren't any official rules of bunco, there are lots of variations.
Here are some common bunco/bunko rules variations:
Q: When do the tables start playing a round?
A:Everyone begins at the same time. The players at the head table may use a bell to ring to signal that it is time for play to begin.


Q: When does the round end?
A:Some groups use bunco rules that let each table play until a team earns 21 points.
However, the head table can control the end of the game as well. In this case, the game ends whenever the head table reaches 21 points and they ring a bell to signal the end of the round. Other tables will play to whatever number they reach - whether it be 1 or 21, or 100. They stop playing only when the head table stops.


Q: What happens if the head table rings a bell to stop the game, but someone is in the middle of their turn?
A:There are several possibilities, and this is a rule that should be established before you begin playing.
One option is, if a bell rings to end the game everything stops. Period.
Another option, if the bell rings while a player is rolling the dice, the points count. If the player is about to roll, but the dice haven't left her hand, then no roll is allowed.
A third option is to allow a player to completely finish their turn by continuing to roll until they no longer get their target number.


Q: What if someone rolls a bunco (3 of a kind) on their first try?
A:Congratulations! The dice must move all the way around the table at least one time. After all, one of the other players may roll bunco too!
Q: Do I play with the same partner all night?
A:No. One of the great things about bunco is the ability to play with different people and continually switch partners. After each round, play with a new partner. However, it is OK (and inevitable) to play with someone more than once over the course of the night.
Keeping true to the fact that there many ways to play bunco and many different bunco rules, some groups let the players at the head table keep their partners.


Q: Do I have to have 12 people? I have 15 who are interested in playing.
A:It is best to play with multiples of 4. If you don't have enough people to play, you can always play with a "ghost". The person who is partners will the ghost will roll for herself and the ghost.


Q: How can we keep track of which table is which? I will have more than three tables.
A:Make a sign to go on each table, along with instructions on what to do at the end of the round. For example "Table 2. Winners move to the Head Table. Losers stay."


Q: What is "traveling" bunco item?
A: Many groups use a traveling item of some sort to show who has most recently rolled three of a kind of the target number. Our group uses a boa. Some use a tiara, a stuffed animal, or if you are having a bunco night with a theme, an item that goes along with the theme.
Sometimes a bunco prize is given to the player who has possession of the traveling item at the end of the night.


Q: I rolled three of a kind, but not of the target number. Can I get anything for this?
A:That is what our group calls a "mini-bunco". Many groups will make this roll worth 5 points.


Q: I have heard about players diving for dice. What's up?
A:Some groups add this to their bunco rules for their game, and it is sometimes called "scramble". Usually, if someone rolls three of kind of the target number (a bunco) everyone tries to grab the dice.


Q: What happens if one of the dice falls on the floor?
A: Pick up the one dice that hit the floor and roll it. Do not re-roll the ones that stayed on the table.
Q: What should we use as bunco prizes?
A: Check out our page of bunco prizes for ideas. You'll want to set up your prizes, what they are and how they are determined, before you ever play your first game with your bunco group.
Have a Bunco Question? Or...
Have any great bunco ideas to share?
If you've played this fun and easy game - share with our visitors your bunco themes, rules, recipes, prizes and photos!
What Other Visitors Have Said
Click below to see contributions from other visitors to this page...

Airplane Variation
By: Greg in Chicago, IL
If any player rolls a bunco while having points, player loses all points starting back at zero.

Bunco Invitation
By: Shelly in San Angelo, TX
If you and your friends are internet friendly/saavy, you can use evite.com for free invites that go to email! I love using this site.

Baby Buncos
By: Anonymous
If you roll 3 of a kind (bunco) when it is not the right number we call them a baby bunco and keep track for an end of the night prize.
Switcheroo
By: Jan in CA
Whatever number is chosen at the beginning of the night, let's say 1's, whenever three 1's is rolled, both groups of partners at that table switch scores. If my partner and I had 10 Pts and the others had 1, we switch scores and I would now have 1 instead of 10. 


How we settle disputes
By: Sue in GA
WorldBunco.com helps settle disputes that do arrive.

Click here to add your bunco ideas or questions.

This site is a participant in the Amazon Services LLC Associates Program, an affiliate advertising program designed to provide a means for sites to earn advertising fees by advertising and linking to amazon.com.

Let's

Connect

!

Other Bunco Links
Free Bunco Score Sheets to use with these Bunco Rules

Bunco Party Theme Ideas

How to Find or Start a Bunco Group

Bunco Supplies