Jungle Safari Party
This post may contain affiliate links. Read our full disclosure policy. 
Have an adventure! Host a fun jungle safari party!
The idea of a safari or zoo party is forever popular because all kids love animals.
Have an idea we should include? Please tell us about it!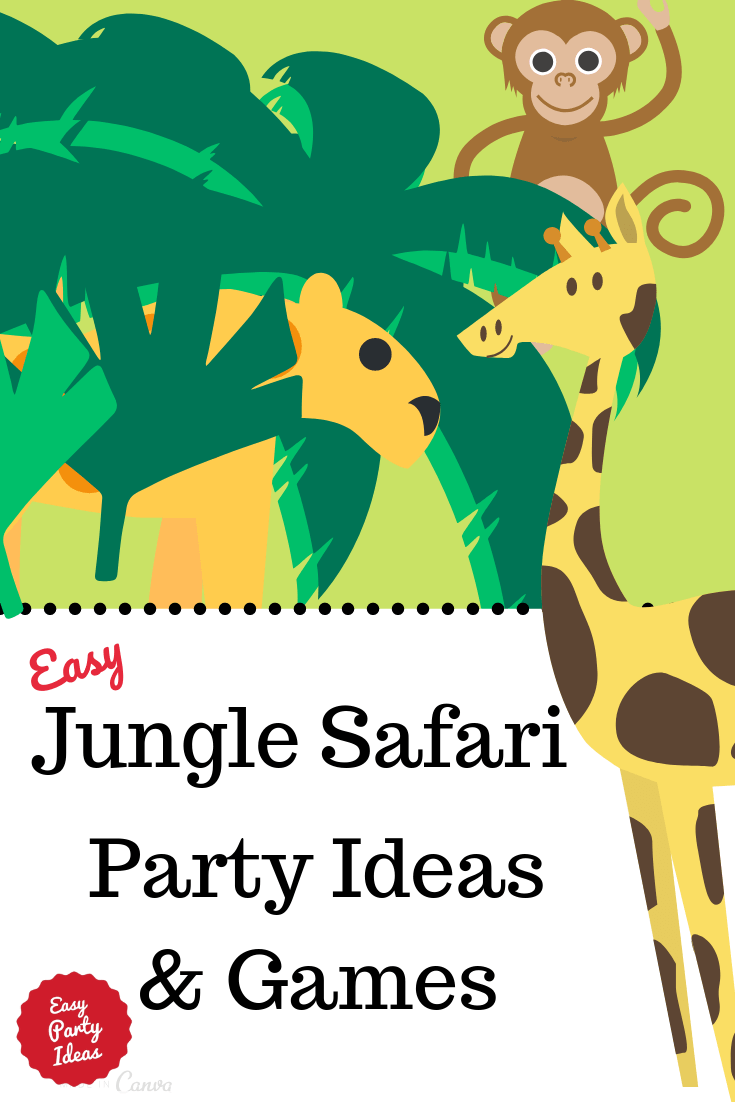 Easy Zoo Animal Party Invitations 
Make a map of the Jungle, with details included as part of the map legend.
Use an easily recognizable cutout shape of an animal, like a elephant, as your invitation.


Party Decorations
Lots of green and brown balloons, streamers, etc.
If inside, hang sheets of green butcher paper on the walls, Make vines out of twisted brown kraft paper or brown grocery sacks, and attach large green construction paper-shaped leaves.
Mix some rubber snakes and jungle stuffed animals into your décor
Create some jungle flowers (using these luau flowers as a guide)

For the Cake Table - Raffia Table Skirting!



Jungle Safari Party Arrival Activity
Face painting – have a helper draw tiger stripes or other fun details on each child's face.
Decorate a plastic pith helmet with animal stickers
Decorate binoculars with stickers
Make binoculars (if you have adult helpers who can oversee this) by decorating toilet paper rolls and taping them together. Punch holes in the sides for yarn so the binoculars can hang around their necks.



Favorite Jungle Safari Party Animal Games
Note: Most of the games listed have to do with a specific jungle animal. Set these games up in different areas of your party space. Play up the theme by going "on safari" with your binoculars to look for the animal that is the focus of the each game.
Animal Hunt – Have a helper hide stuffed jungle animals, or little plastic animal figurines in the party area. On "Go", the children must find the number that you specify (such as find 1, find 3, etc.) and bring them to you.


Animal Charades – Select one child to be "It" and stand up in front of the group. Tell "It" to think of an animal, and then act out what the animal does. The kids try to guess what animal it is. For young children, provide them with an idea of the animal.


Hot Animal – Play Hot potato, but with a stuffed jungle animal.


Bean Bag Toss – "Feed" bean bags to a tiger or other animal drawn on posterboard with a hole for their mouth.


Pin the Trunk on the Elephant – Draw an elephant on posterboard and make a "trunk" for each child to "pin" on the poster (use double stick tape).


Tiger, Tiger, Lion – played like Duck, Duck Goose, but use the words Tiger, Tiger, Lion instead!


Monkey See, Monkey Do – played like Follow the Leader. Select one child to be the monkey and either form a line behind this child or have him stand up in front of the group. The monkey will move around and all the children have to copy the actions.


Zoo Animal Tug of War - have a game of tug of war, with kids pretending to be differnt animals.


Lion, Lion, are you Hungry? - One person is the lion, and stands at one end of the yard. The kids are at the other end of the yard. The kids yell together, "Lion, Lion, are you hungry?" to which the Lion will say "No, not really, come closer". The kids will all come a little closer and ask the question again. This happens over and over, until the Lion finally answers "Yes"! At this point he tries to catch as many children as possible and they become lions too. The game starts over, with the new lions on one side of the yard and the other kids at the other side of the yard.


Need more games? Visit our party games page for more game ideas, and adapt them to your theme!


Jungle Safari Party Birthday Cake Ideas
Make a jungle safari party cake in the shape of the honoree's favorite jungle animal
Make a cake in the shape of your choice, frost with colored icing in brown and decorate the top with small plastic animal figurines. You can make a portion of the cake blue for water, and add some small plastic trees for that jungle effect.


Jungle Safari Party Favor Ideas

Stuffed jungle animals
Binoculars
Safari hats
Animal finger puppets
Anything with jungle animals on it



This site is a participant in the Amazon Services LLC Associates Program, an affiliate advertising program designed to provide a means for sites to earn advertising fees by advertising and linking to amazon.com.

Kid Party Ideas
Do you have a great kid party idea or game?

Share your ideas and photos here, and they will be added to this site to help other moms & dads everywhere!

You can leave comments and questions here too!
Let's

Connect

!

Important Info