Rock Star Party
This post may contain affiliate links. Read our full disclosure policy. 
A birthday is approaching…
Here are lots of great ideas for a rock star party theme.
Wanna be a star? We'll show you how!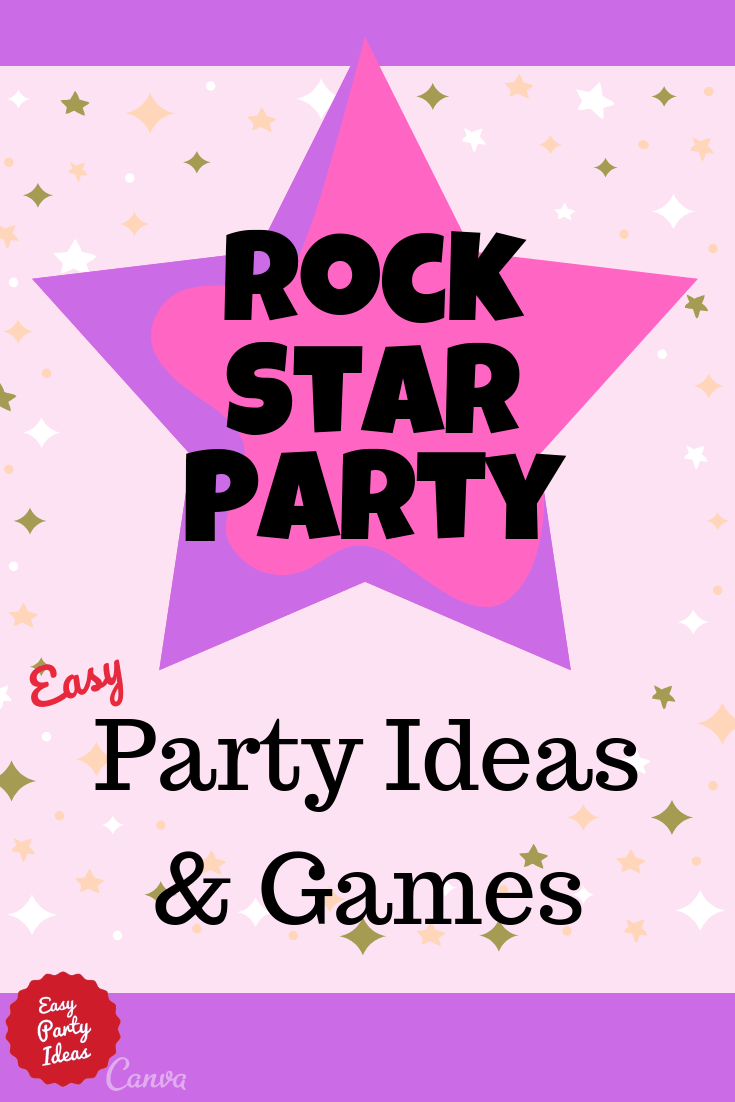 Make Your Own Party Invitations
Cut star shapes out of card stock and decorate with glitter.
Use a piece of card stock cut into a guitar shape with the details on the back of the guitars.
Create a fan magazine, with you and your rock star friends on the cover.
Create a pretend ticket stub to a rock concert, with you as the artist! These printable tickets make it easy to create!

Send a small blow up guitar with the invitation.  
Rock Star Party Decorations

Draw stars on the side walk leading to your house. Buy a large cardboard star cutout and then trace around it with sidewalk chalk. Use chalk in the colors of the party and inside each star write a guest's name.
Tie a bunch of helium balloons in the colors of your party to a dowel in the front yard.
Use crepe paper streamers and balloons in the colors of your party.
If you are doing the party inside, hang CD's from the ceiling, along with metallic star cutouts and cut outs of musical notes and guitars on the walls.
Hang a metallic fringe drape from the door at the entrance to the party for the guests to walk thru.
Cake and craft tables: use a metallic fringe table skirt.
Music is an important part of this party - play your favorite current hits!


Fun Pre-party Activities
These are things for guests to do as you are waiting on everyone to arrive...


Set up a "back stage dressing room". Have a table with glittery hairspray, nail polish, eye shadow and body glitter. Then take photos in front of a metallic fringe curtain holding a sparkly microphone. (use these photos with thank you notes!)

Set up a coloring station with rock star theme coloring pages

Decorate cardboard guitars


Favorite Rock Star Party Games
Telephone Game – Have everyone sit in a circle and one person whispers something to the person next to them, and so on, until the secret goes all around the circle. (You are "testing your ears" from the loud music rock stars hear when they are on stage all the time)


Button, Button, Who's Got the Button (with a star shaped button)


Thread the Microphone Relay – Take two toy microphones and tape a very long piece of yarn or string to each. Divide into teams, with each team member threading the microphone and it's "cord" (the yarn) thru their clothes and then pass it on to the next person


Tug of War – Have a tug of war with a rope (pretend it is a microphone cord)


Freeze Dance - Dance to music - when the music stops all the kids must freeze


Balloon Pop – Before the party, blow up a balloon for each guest (plus several extra, just in case). Tie a string to each with a slip knot. At the party, place these on each player's ankle. On "Go" everyone runs around the yard, trying to pop everyone else's balloon without their balloon getting popped


Limbo – Do limbo with a feather boa (instead of a stick). Take the boa lower and lower. When it gets too low, let the players "high jump" over it. Then take it higher and higher and higher. If someone touches the boa, don't count them out, let everyone keep playing!

Instructions for the following games can be found on our kids party games page.


Rock Rock Star - play the same as Duck Duck Goose, but use the words "Rock" and "Star"


Simon Says - …Do as Simon, from American Idol, says…right?


Pinata or String Maze - Look for a star shaped or guitar shaped pinata!


Rock Star Birthday Cake Ideas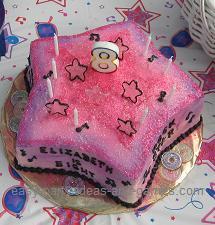 Use a star shaped cake pan to make a star shaped rock star party cake, and decorate with little silver CD's on the top. Don't forget to sprinkle with edible glitter!

Use a guitar cake pan to make a guitar cake or a music cake.

Another birthday cake idea is to make a cake that celebrates your favorite rock star, like a Hannah Montana Cake.



Shop for Resources:
This site is a participant in the Amazon Services LLC Associates Program, an affiliate advertising program designed to provide a means for sites to earn advertising fees by advertising and linking to amazon.com.

Top Rock Star Party Favors 
Music CD's of your favorite party mix
Bracelet Tattoos
Rock Star Party Supplies