Cute Tea Party Ideas 
This post may contain affiliate links. Read our full disclosure policy.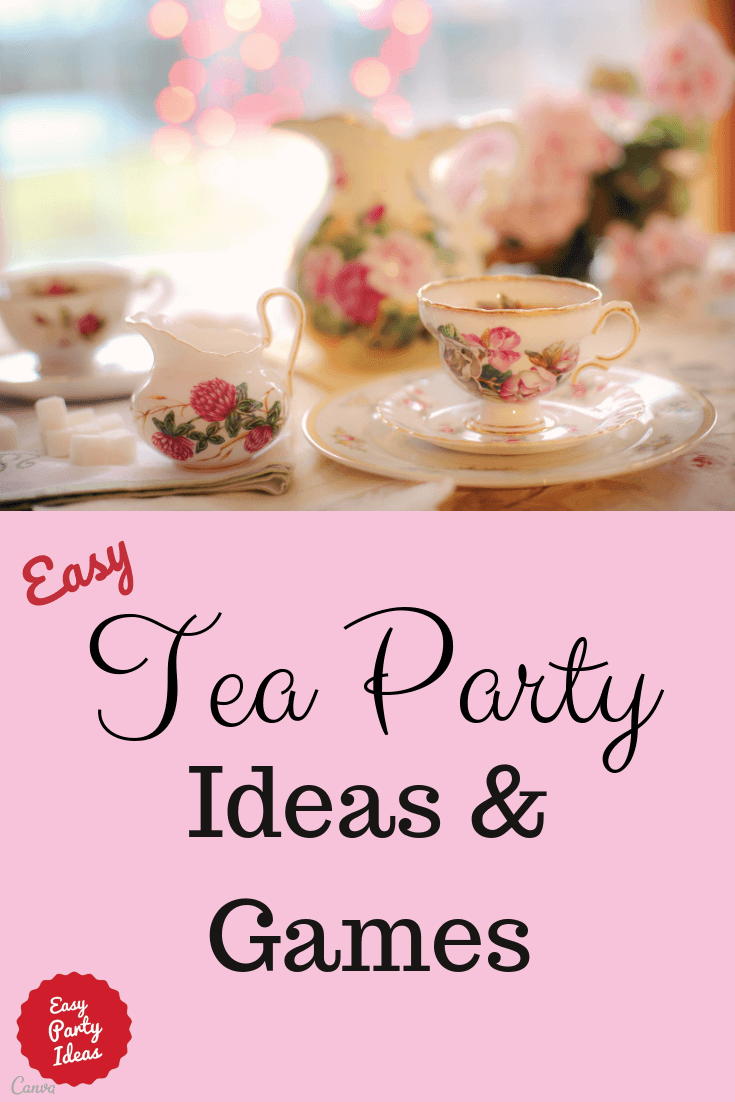 Every little girl loves a tea party!
One of my dear friends, Sandi, used this theme for her daughter's birthday. She asked everyone to come to the party wearing their best "dress-up" attire.

At the party, she had a large straw hat for each child, along with beautiful silk flowers, ribbons, and such. The kids each got to design their hats by placing the flowers on them, and then some adults hot glued the decorations in place. The girls then had their own beautiful self-designed tea party hats!

Top Tip! Sandi also shopped thrift stores before the party to find china cup and saucers in beautiful, delicate patterns. It didn't matter if they matched…all that mattered was the each little girl got one! The kids enjoyed drinking from real china cups. At the end of the party the cups were rinsed out and sent home for a party favor (along with the beautiful hats!).

Here are some more tea kid party ideas for you!

Tea Party Invitations
Cut a tea pot shape out of heavy paper or card stock, decorate and write the invitation details on the back.
Otherwise, anything beautiful, flowery, and elegant will do for an invitation!

Party Decorations
Remember that your guests will want to feel that they are true ladies, and since taking "tea" is one of the major events, make sure that the tea table is beautiful. Fresh or silk flowers as a centerpiece, real china (as Sandi used), and cloth napkins will make it all really special. If you don't want to use real china, there are beautiful paper options available that look like the real thing!

Arrange food on paper doilies for a fancy touch!
Place cards on the table are a fun touch.
Groupings of balloons in the colors of the party will add a festive touch.
Mix and match tea cups and saucers to have a colorful and unique table. 


Shopping Resources for beautiful decorations:
Tea Party Cups and Saucers
Tea Party Recipes
They may want elegance, but little appetites like what they like. Consider serving:
Little Peanut Butter and Jelly Sandwiches
Cream Cheese Sandwiches
Instead of tea, serve juice or chocolate milk (most kids won't want real tea!)
Kids Party Games & Activities
I love the idea of the children decorating a hat to wear at tea time. If you don't want to do hats, then have them decorate a crown by stringing pony beads on pipe cleaners or decorating a paper crown with stickers or press-on jewels.
You can also decorate paper fans
Create autograph albums and exchange autographs
Party guests will also enjoy stringing beads to make a beautiful necklace.
All your little ladies will want makeup! Set up a makeup station so they can get their nails painted, along with lipgloss, blush and eyeshadow (use cotton swabs to apply these things for sanitary reasons)
Either have guests wear their best "dress-up attire", as Sandi did, or have a collection of dress-up items available for the girls to wear.

If you are providing the dress-up items, a fun game to play is Musical Dress-up.

Have the guests bring their favorite teddy bear, stuffed animal or doll to the party. Set up a little table just for these "special guests", complete with their own plates, napkins, centerpiece, etc. The little girls will love serving them pretend party food (not the real thing – don't want any spills on these precious friends!)

Have a spoon race with sugar cubes on the spoons. You'll need a sugar cube and a spoon for each team. Divide the kids into two teams and have each team form a line. Have a member of each team race to a certain point, holding the sugar cube in the spoon, and then return so that the next team member has a turn.

Sing "I'm a Little Teapot" and other singing games.
Shopping Resources for Games and Activities:
Sugar Cubes
Super Cute Party Favors
Those china tea cups and saucers, left over from "taking tea" at the party!!
Hats, necklaces or crowns (whatever you chose to decorate)
Play makeup and nail polish.


Kid Party Ideas
Do you have a great kid party idea or game?

Share your ideas and photos here, and they will be added to this site to help other moms & dads everywhere!

You can leave comments and questions here too!
This site is a participant in the Amazon Services LLC Associates Program, an affiliate advertising program designed to provide a means for sites to earn advertising fees by advertising and linking to amazon.com.

Let's

Connect

!

More precious parties
Ladybugs, Butterflies and more! Garden Party