Campout Slumber Party Ideas
This post may contain affiliate links. Read our full disclosure policy. 
You can have a campout slumber party theme whether you actually campout in the backyard or in your den!
Here are some easy party ideas and games to help you plan your "camping" sleepover.

Campout Slumber Party Invitations:

Deliver invitations with a small box. In the box have the ingredients to make s'mores (pretty yummy, huh?).

Make a card in the shape of a tent, sleeping bag, or tree.

Purchase camping themed party invitations.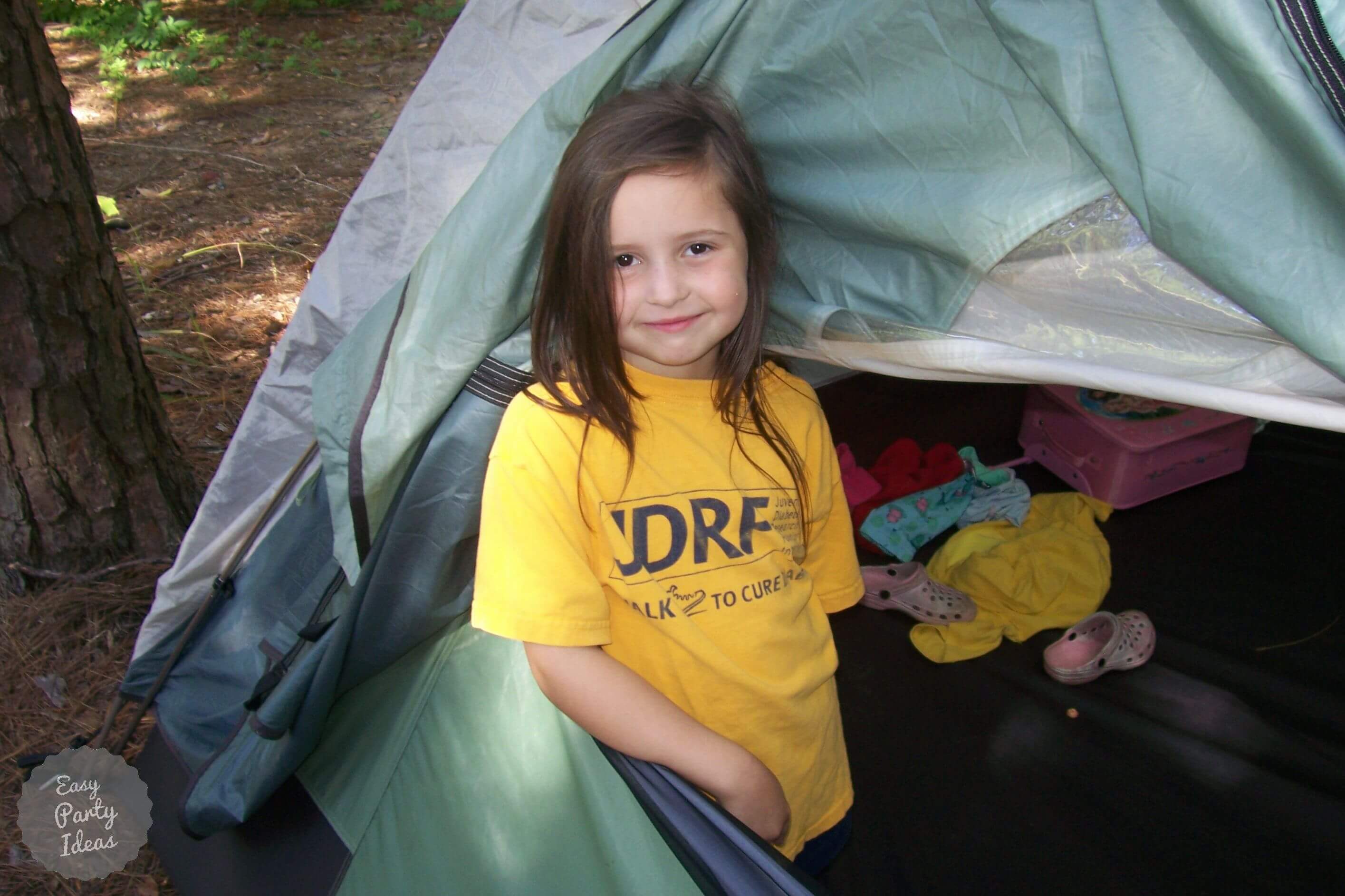 Camping Party Decorations:

If sleeping outdoors, set up a tent.
If sleeping indoors, set up a tent if you have room. And…you can still sleep under the stars! Place glow in the dark stars on the ceiling (you can either purchase or make) or hang them from the ceiling.
Make a pretend campfire by gathering a group of mini-flashlights together in a pile.


Camping Party Crafts and Activities:

Make s'mores. If there is no campfire or fireplace, you can still make them in your microwave or over the stove.
Make dream catchers.
Make pinecone bird feeders. Cover a pinecone with suet and roll in birdseed.
Do leaf rubbings
Decorate acorns
Sing camping songs

Campout Slumber Party Games:
Nature Treasure Hunt - You can bring a nature treasure hunt indoors by hiding leaves, twigs, pinecones, acorns, etc. around your party area.


Mosquito Game – Give each player a sheet of dot stickers (preferably red!) that will represent mosquito bites. Throughout the evening, try to get rid of your stickers by giving the others players "mosquito bites"! Do this by secretly placing stickers on other players. Be careful…if you are caught you have to keep your mosquito bite sticker. The first player to get rid of their stickers is the winner!


Flashlight Hunt - This is treasure hunt game is best played outside in the dark with your flashlights. Visit Flashlight Hunt Page


Keep Talking - You'll need a bowl full of words written on slips of paper. Use camping words like tree, bear, tent, etc., and a timer. To play, have a player pull out a slip of paper, which will be their "topic". Have them talk about their "topic" for two minutes, without getting off-topic! After their two minutes is up, have the next person take a turn!


Light as a Feather - Are you light as a feather or stiff as a board? A classic!!


Once Upon a Time… - Rather than telling a ghost story, make up your own! Sit in a circle and let the host tell a story. They'll start with a sentence to get the story rolling. Then the next person in the circle will tell what happened next in one sentence. Go around the circle 3 times to complete the story! (with a small group you may want to go around the circle more times than that)!


Shadows - Use your flashlight to make shadows on the wall with your hands in the shapes of animals, faces, etc.


Sleeping Bag Race - Line up the sleeping bags, have each person climb inside one, and race across the room by wiggling inside the bags.


Since your are going to be outside, it can be fun to add some relays and races. One that would be especially fun would be a silly relay, such as racing while kicking a ball and wearing a flipper!

Camping Slumber Party Favors:

Flashlights


Take-home s'mores kits

Your Turn! What made your slumber party great?
Did you have a great time at your slumber party? Tell us about it!
What Other Visitors Have Said
Click below to see contributions from other visitors to this page...

Movie Campout Sleepover Not rated yet
Basically, this sleepover party is a combination of a movie theme and campout theme. Good for all age groups, especially fun for teens. You can pick a …
Comments from other Site Visitors:
80's / campfire theme
By: Anonymous
I want my party to be an 80s/campfire theme. Me and my family are going to clear out my backyard and say its a dance floor. Our plates, napkins and decorations/activities are going to be 80s themed then we are going to have pizza and then roast smores and eat cake. The girls are going to spend the night indoors, but from what I want we will be spending a ton of time outside and having a blast doing it.


This site is a participant in the Amazon Services LLC Associates Program, an affiliate advertising program designed to provide a means for sites to earn advertising fees by advertising and linking to amazon.com.

Let's

Connect

!

Favorite Sleepover Themes