Planning a Peter Pan Party
This post may contain affiliate links. Read our full disclosure policy. 
Once upon a time I sat down and planned out a Peter Pan party because one of my all time favorite movies is Peter Pan!
This theme makes a perfect birthday party for kids. The story is so appealing because it has everything. Fairies, mermaids, pirates, Indians, a hero and villain, and above all magic. (Not to mention a funny crocodile!)
So, follow me to the second star on the right, and we're off to Neverland!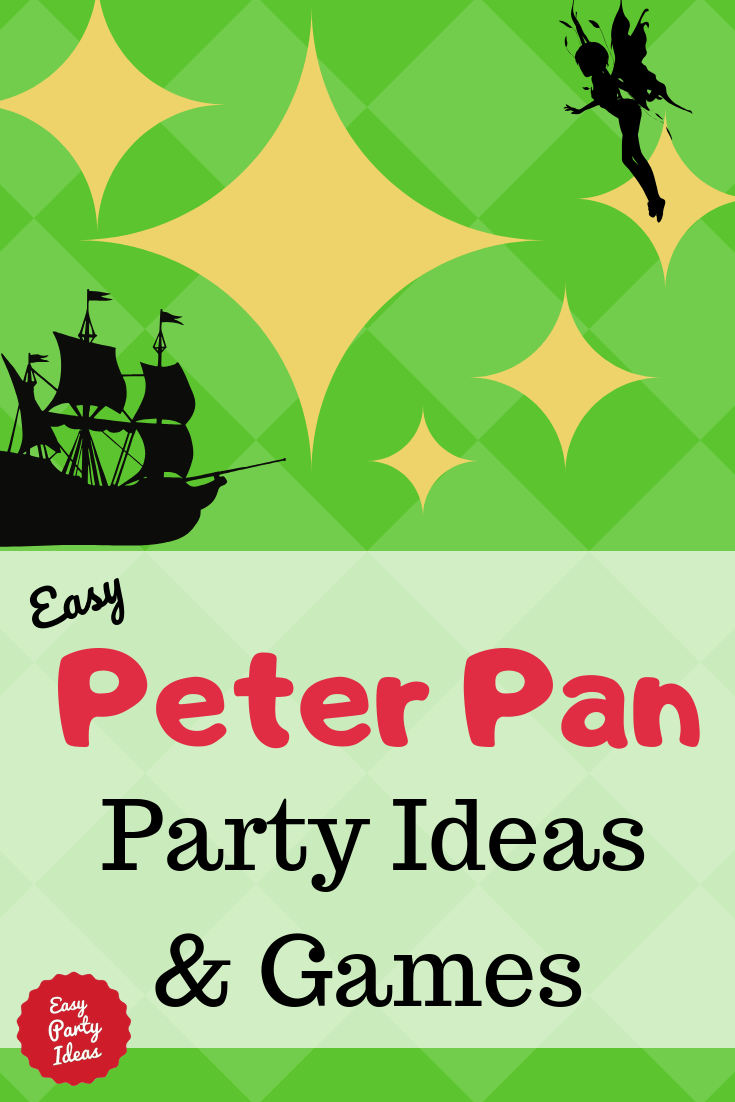 Peter Pan Party Invitations
I think that the perfect invitation for this party would be a map of Neverland, with a big "x" on the party spot. But you could also go with Pirate Invitations, Tinkerbell invitations or an Indian theme as well!
If you've ever seen Cathy Rigby's wonderful stage production of this story, you'll know that there is lots of Pixie Dust. LOTS of it. Include pixie dust in your invitation (sparkly confetti).



Peter Pan Decorations

Just like Neverland, make different areas of your party area represent the different areas of Neverland: Mermaid Lagoon, the Indian Encampment and the pirate's cove.


Party Icebreakers and Activities
Peter Pan, Pirate, Indian, Mermaid or Fairy coloring sheets.
As each guest arrives, let them dress up like a pirate, fairy, Indian or mermaid.
Have each guest lie down on a piece of butcher paper while you trace their body. Then have them decorate to look like their favorite character from the movie.
Make Wave Bottles - Fill a bottle with water, a drop of blue food coloring, glitter, some sea life confetti and then fill the rest of the bottle with cooking oil and hot glue the lid on.

Peter Pan Easy Party Games
Canonball Toss - Take turns tossing a black ball thru a hole, or try to keep black balloons afloat.
Pin the X ... - on the treasure, hangman's tree, etc.
Treasure Hunt - Go on a hunt for Captain Hook's treasure.
Walk the Plank - You can even do Follow the Leader on a blank or long wooden board set on the ground.
Tick Tock Clock Game - Hide a ticking clock in the room, and let everyone search for it before the alarm sounds. Whoever finds it gets to hide it next.
Musical Islands – If you've set up your party area as different areas from the story (mermaid, pirate, Indian), you can easily do this game. You'll need a dice and you'll need to designate six spaces in your party area as space #1, 2, 3, 4, etc. While music is playing, have the kids run around the party area. When the music stops, the kids should move to one of the six islands. Roll the dice, and the kids at the corresponding dice must do some action, such as 10 jumping jacks, running in place for 10 seconds, etc.
Kid Birthday Cake Ideas 
For a cute cake for a kids birthday party with a Peter Pan theme, try:A mermaid cake
A Tinkerbell cake
A cake which is a map of Neverland
Peter Pan Party Favor Ideas
Kids love to leave a party with a fun favor. For this childrens birthday party theme, party favors could include:
An alarm clock!
Mermaid Items such as sand pails or mermaid stickers
Pirate favors such as eye patches, telescopes, or golden coins
Fairy party favors such as fairy wings or flowers

Kid Party Ideas
Do you have a great kid party idea or game?

Share your ideas and photos here, and they will be added to this site to help other moms & dads everywhere!

You can leave comments and questions here too!
This site is a participant in the Amazon Services LLC Associates Program, an affiliate advertising program designed to provide a means for sites to earn advertising fees by advertising and linking to amazon.com.

Let's

Connect

!