Purple Balloons>
Purple Partyware


---
Great Party Games and Activities...Purple Style
Have everyone wear purple
Have a purple bubblegum blowing contest
Supply everyone with a purple t-shirt (how about tie-dying some with a purple tiedye kit?)
Have a scavenger hunt for purple items
Watch a movie and count how many purple things you see. Any ideas for a good movie?
Have a Dare Contest and then auction off prizes the way we described at the Pink Party
Have purple makeovers, with purple eye shadow, purple lipstick...all kinds of purple makeup
For younger kids, do purple facepaint

If this is a party for kids, teach them the song Purple People Eater - it is pretty funny!
Party Favors might be a CD of songs that you make about purple, such as Purple Rain, Purple People Eater, Purple Haze...

---
Celebrate Purple Day
That is right.
Did you know that March 26th is Purple Day?
Purple Day is for Epilepsy Awareness. This is a great reason to have a Purple Theme Party. Add in "Change" for Epilepsy - collect change & donate it to the Epilepsy Foundation.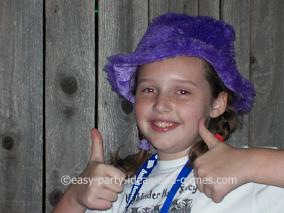 Do you like purple like this little girl? Have a purple theme party!

Have A Great Birthday Party Idea?
Have you planned the perfect party? Be a friend and share your birthday party ideas!
What Other Visitors Have Said
Click below to see contributions from other visitors to this page...

Purple Food for a Purple Party

Grape Jello Raisin cookies Cupcakes with purple icing Grape icecream
Positively Purple

The name of the party is Positively Purple - the theme is purple!
Purple Food Not rated yet
Put purple food coloring in eggs or pancake mix for breakfast and serve purple eggs and pancakes. Lisa Says: Thanks so much Gina for your ideas! …
Yellow Party Not rated yet
Forget about purple...have a Yellow Party instead!
Pink Party - Ideas for an adult pink party theme. 


This site is a participant in the Amazon Services LLC Associates Program, an affiliate advertising program designed to provide a means for sites to earn advertising fees by advertising and linking to amazon.com.

Let's

Connect

!

More Party Planning Ideas