Wizard of Oz Party
This post may contain affiliate links. Read our full disclosure policy. 
Fly over the rainbow with Dorothy and her friends at a Wizard of Oz Party!
This is a fun and popular theme, even those who haven't seen the movie will probably be familiar with Dorothy and her little dog Toto.
Wizard of Oz Invitations
There are licensed invitations available, but you can also use any party invitations that include a rainbow! Or make your own invitations and have fun coloring or painting the rainbows on each yourself.
Wizard of Oz Party Decorations
On the sidewalk leading to the house draw the outline of a yellow brick road with yellow sidewalk chalk
Make an rainbow arch of balloons
Have a curtain of silk flowers in rainbow colors hanging in the doorway for kids to walk thru. (look in the Luau section of your party store)
Have a pair of witches legs coming out from under the house. Make by stuffing tights with tissue paper and then painting black rings around the tights (to look like the witch's legs), add an old pair of red sparkly slippers.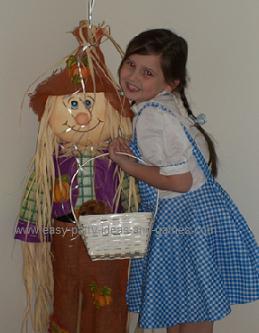 Balloons and streamers in all the colors of the rainbow (red, orange, yellow, green, blue, purple)
If you have access to a bubble machine, hook it up and blow bubbles during the party
Giant tissue paper flowers (easy to make!)
Hang red balloons in the trees to look like apples, and set apples on the cake table in a basket.
Pull out that scarecrow that you have tucked away with your fall decorations
A lion (large stuffed animal or draw one on posterboard)
A tin man - make out of poster board, covered in aluminum foil and then just rolled up – two sheets long ways for his legs with a dowel in each leg for support, one sheet sideways for his body and head, and 2 half sheets longways for his arms. Cut out a piece in a circle to make a cone for the top of the head and a rolled up piece on top to resemble a funnel. Very easy and inexpensive to make, but time consuming. Make in advance of the party!

Our Wizard of Oz party happened in December and it was C-O-L-D outside, so we held the party in our garage. You could do the same thing with a basement if you have one available. We used colored balloons and streamers - red, orange, yellow, green, blue and purple - just like the rainbow.

---
Wizard of Oz Kid Birthday Party Arrival Activity
Here are some things for guests to do as you are waiting on everyone to arrive...


Paint a rainbow on each guest's check
Set up a "Dorothy Beauty Bar" - a table with nail polish, hair accessories such as blue and white gingham ribbon
Provide blue and white gingham aprons for any female guests to wear
Make up Wizard of Oz trivia sheets, a word find or a maze
A fun Wizard of Oz craft (that can double as a party favor!) is to make an hour glass. Just take two clear, clean plastic bottles. Fill one 1/2 way with craft sand. Tape them together with clear tape. Now you have an hour glass!
Have a great spot for a photo op at your Wizard of Oz party! The kids will love getting their picture taken, and a printed copy will be a great momento or something nice to include with their thank you note.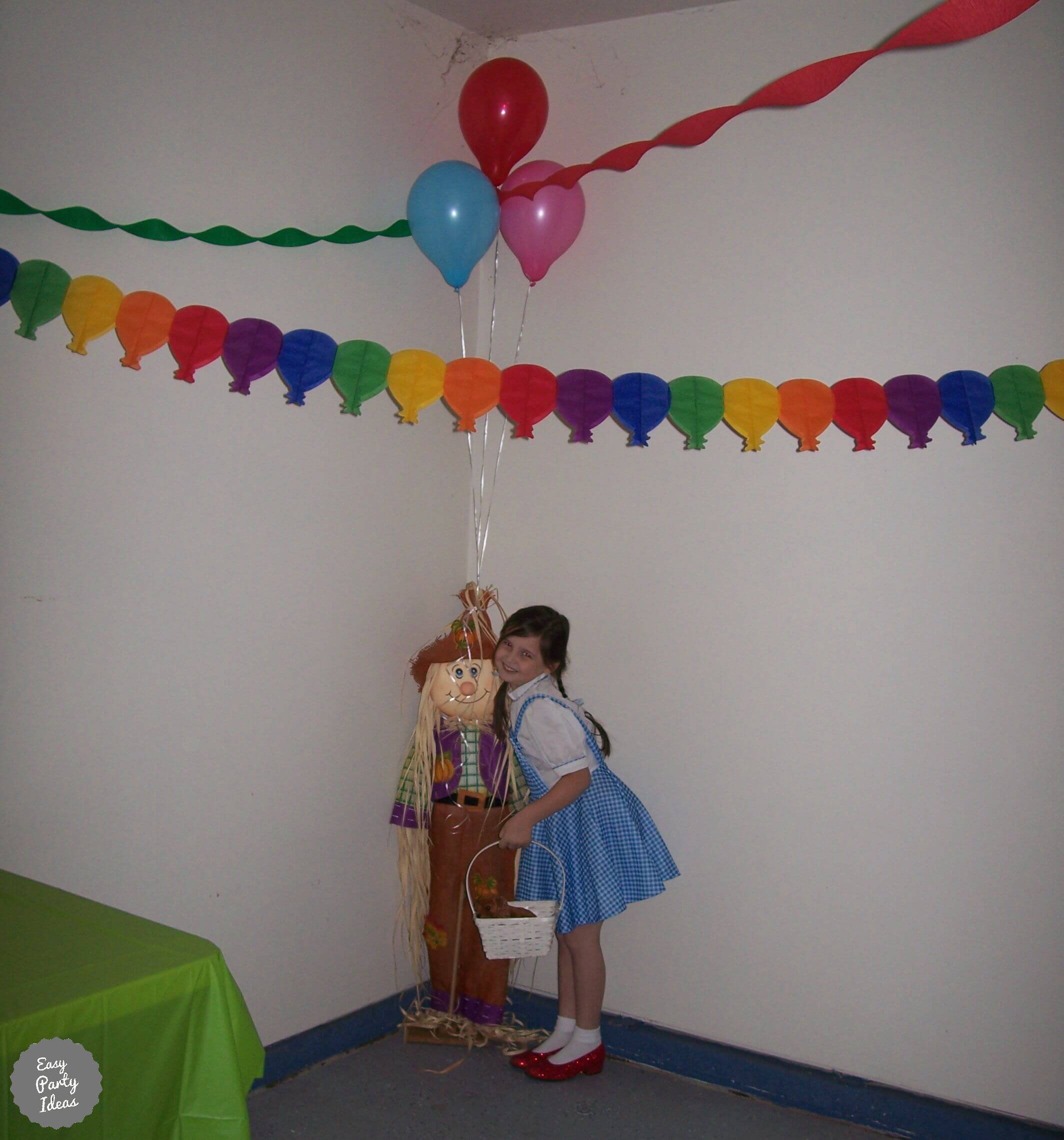 ---
Wizard of Oz Party Games
These are the games we played at our party, along with some photos to get a better idea of what we did...

Wizard of Oz Obstacle Course

For our obstacle course, players each took a turn doing something that Dorothy would do on her farm. There were three tasks - 1) Feed the chickens (put some pieces of corn in a bowl sitting in front of stuffed animal rooster), 2) walk a straight line (representing when Dorothy walked on the fence rail of the pig pen), and 3) take a grey or black balloon, put it between your legs, and hop back to the starting point. The gray and black balloons represented the tornado!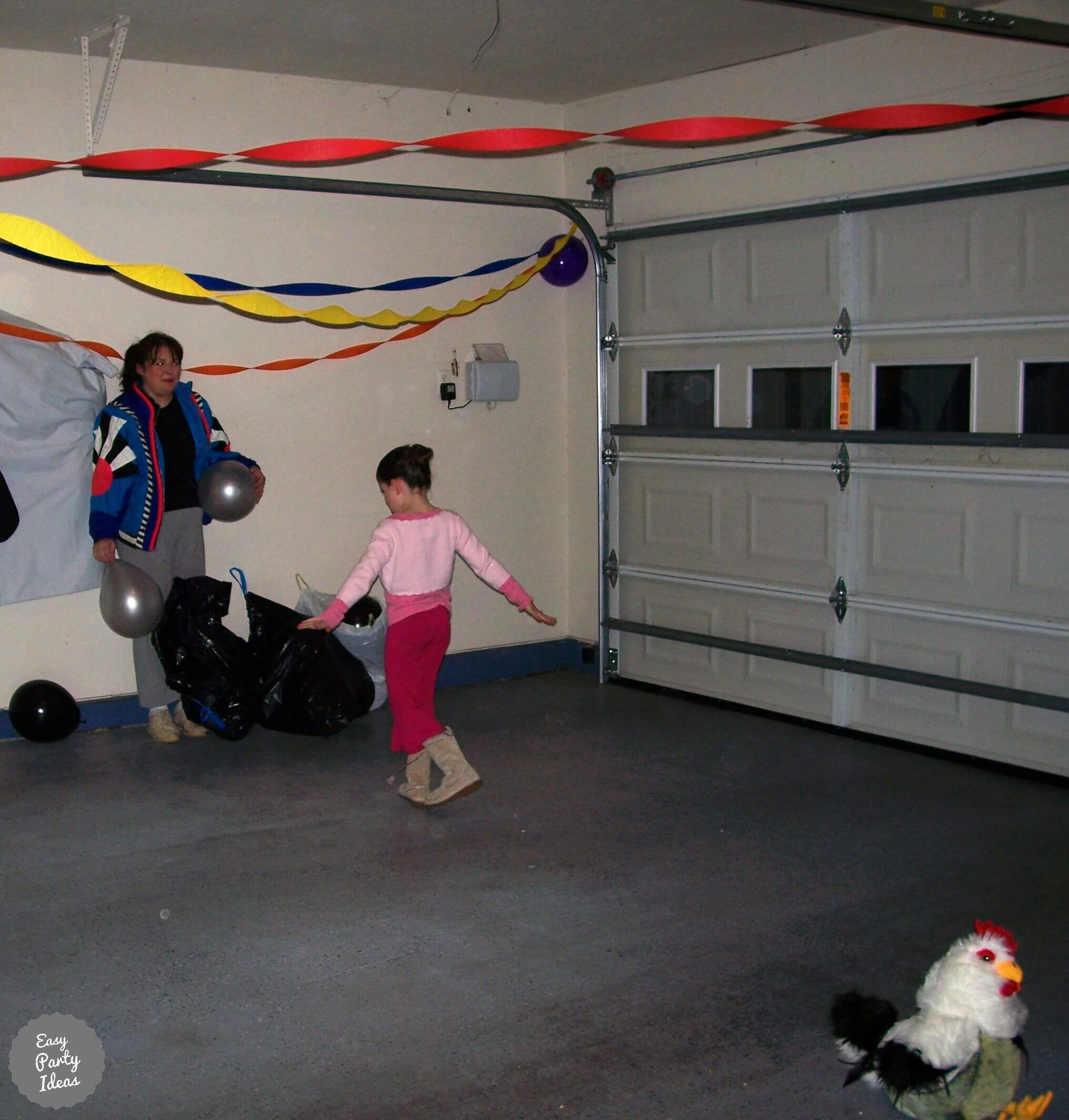 Wizard of Oz Tin Man Heart Game
Next we did a "Minute to Win It" type of challenge. Each girl had a group of heart shaped pony beads, and raced to move all of their beads into a cup using only wooden sticks!

Wizard of Oz Parachute Game

I happen to own a parachute in rainbow colors, and the kids always love playing with it! If you don't have one, they are pretty inexpensive, and if you are like me, you will use it at parties over and over again!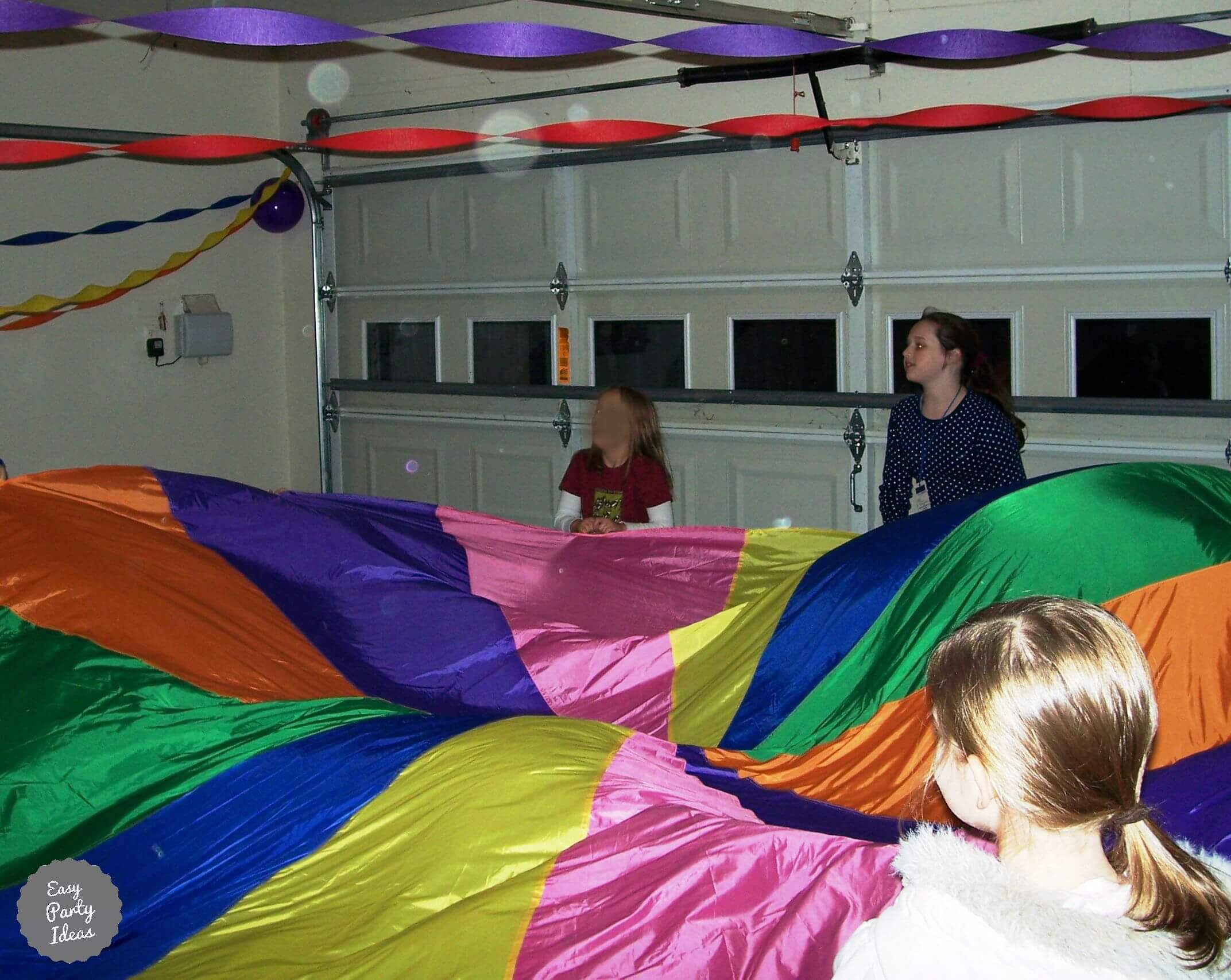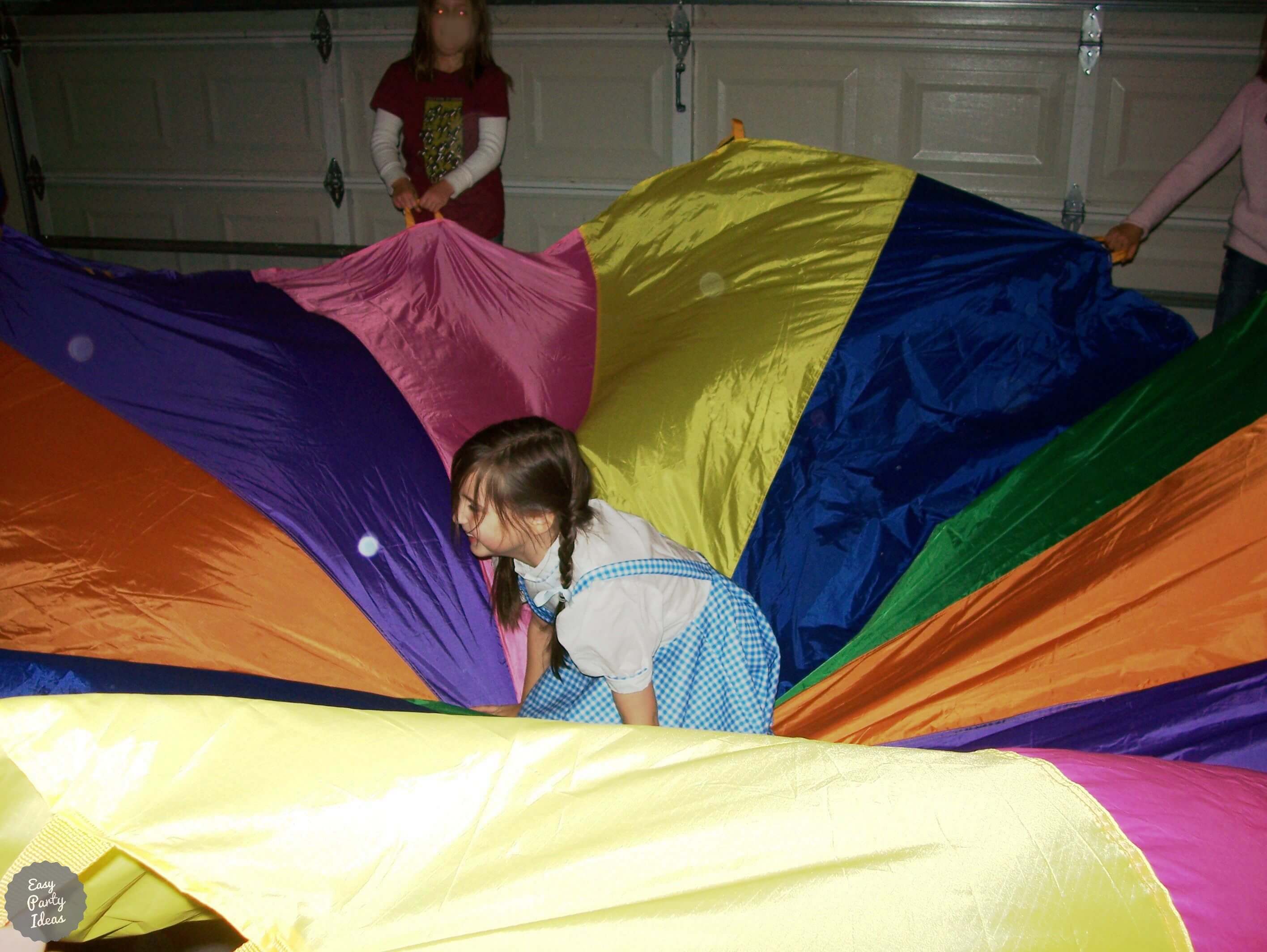 Wizard of Oz Dress the Scarecrow Game

I happened to find little stuffed bears that had a set of clothes to go with them, and the clothes were a pair of pants, vest, boots and hat. We divided into teams and one person dressed the bear with their eyes shut, while their partner directed them with what to do (they couldn't help other than describing what to do - they had to keep their hands behind their back to make sure!)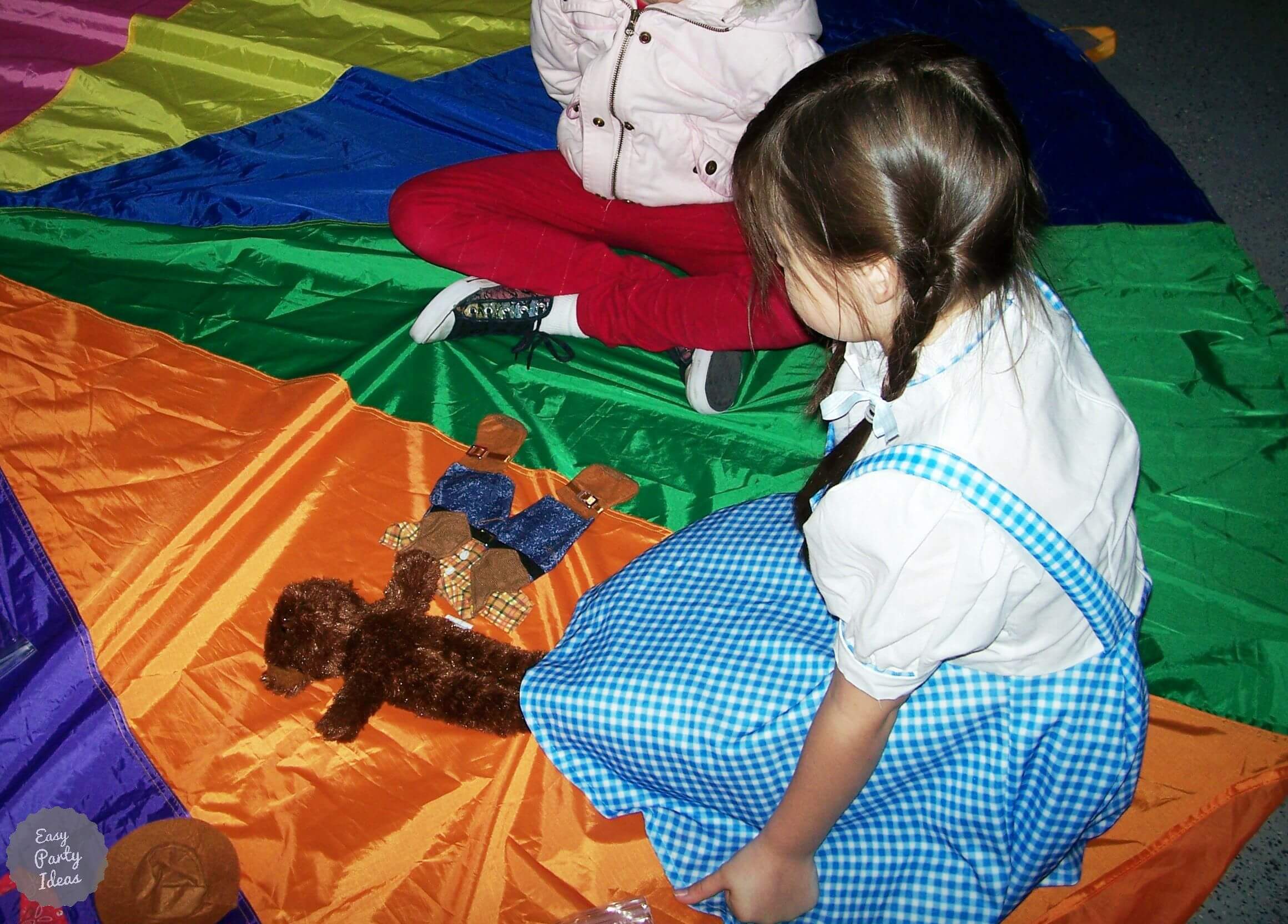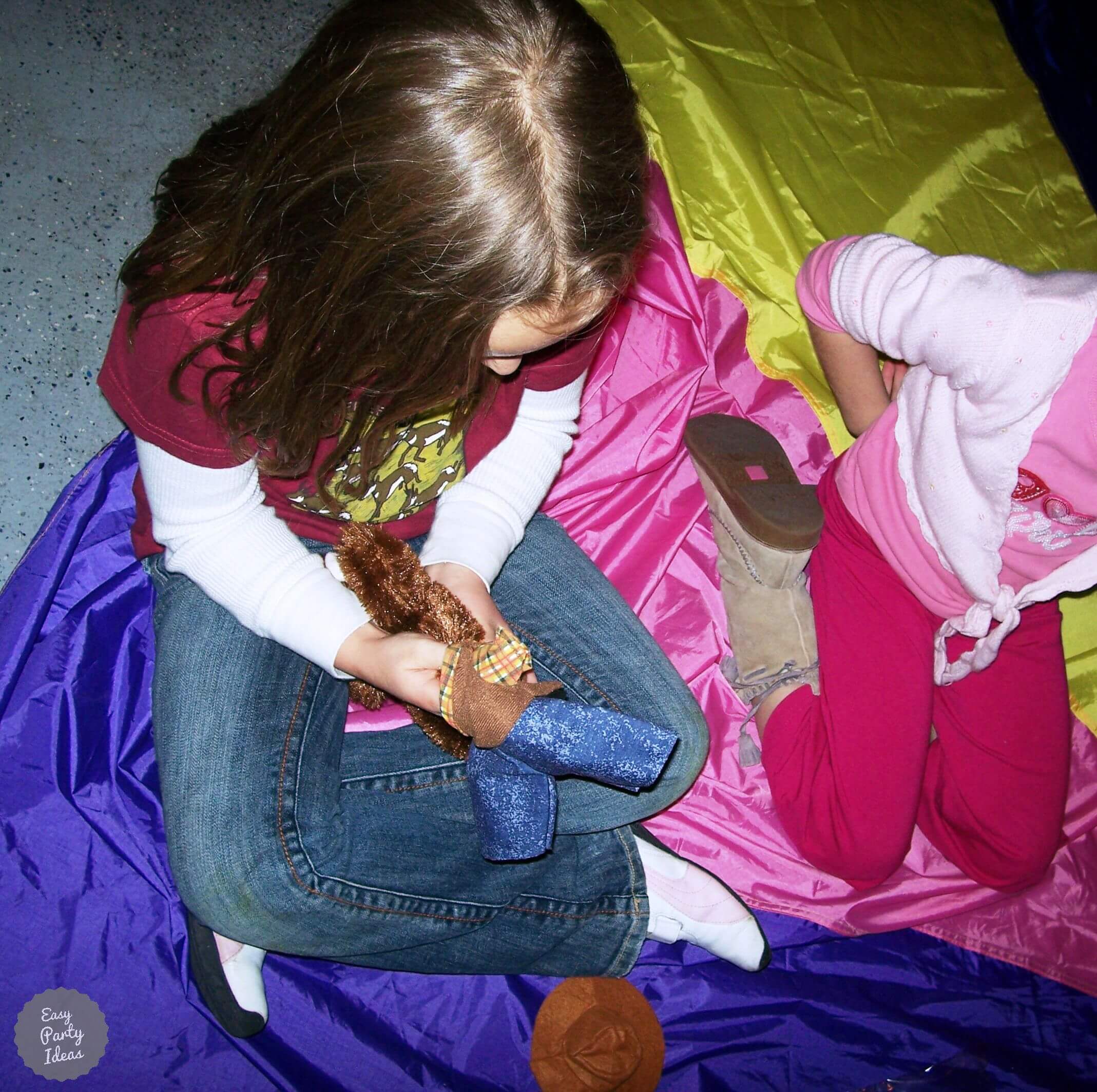 Take a Break for Cake!

Treasure Hunt and Wizard of Oz Pinata

Oh no! The witch has hidden the pinata!
Everyone divided into teams and followed clues to help find where the witch had hidden the pinata! Then we busted it open!
The pinata was so easy to make and was in the shape of a hot air balloon. Need help making a pinata? Read my How to Make a Pinata Tutorial and you'll see step by step how this pinata was made.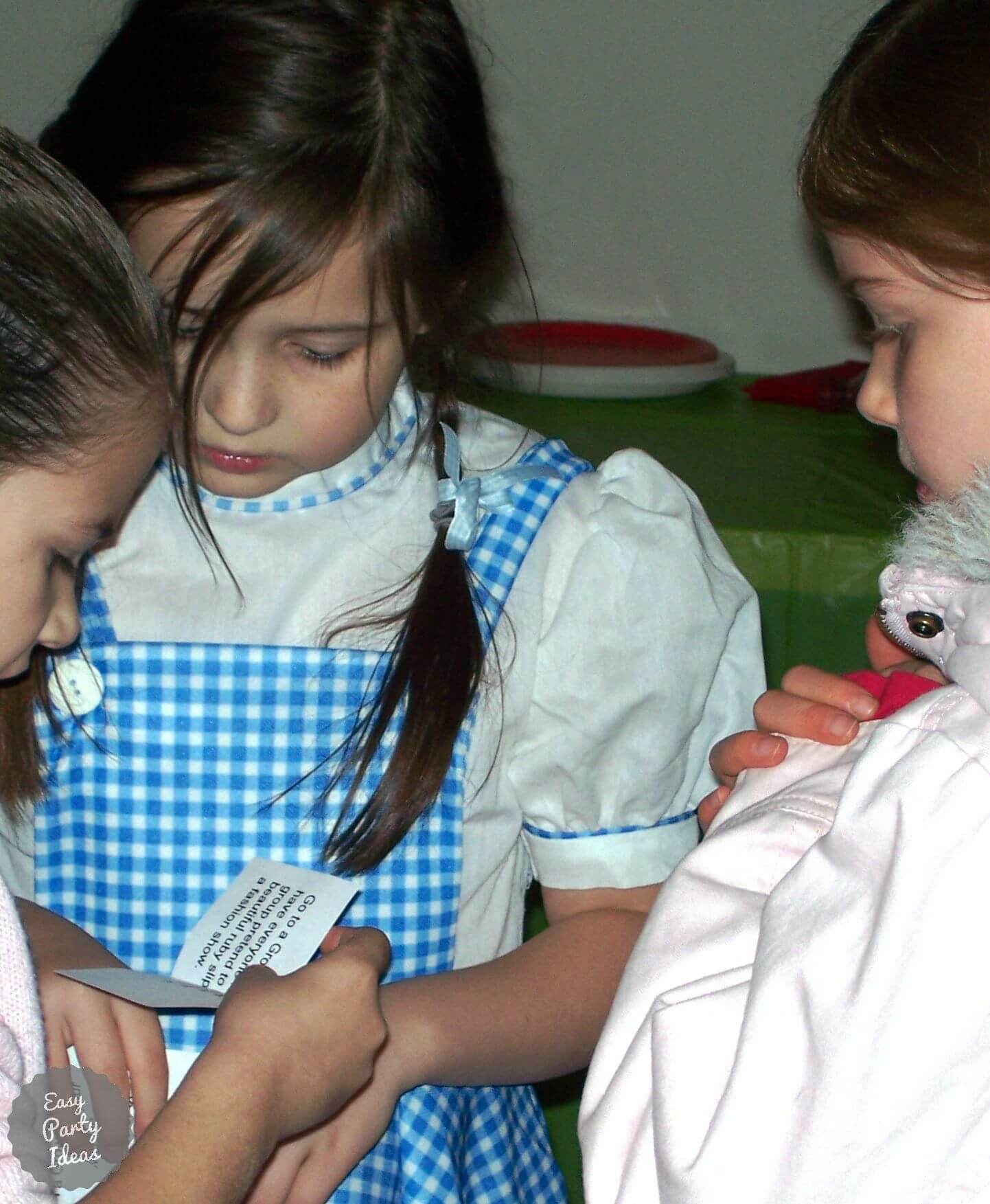 ---
More Favorite Wizard of Oz Party Games
Here are some more of my favorite kids party games with an Oz theme to play at a children's birthday party:

Feed Toto - Have a bean bag toss into Toto's dog dish


Sticker Tag – Give a sheet of round colored stickers from the office supply store to each child. On "Go" they have to run around and tag as many players with a sticker as possible. Make a rule that you can not put two stickers in a row on someone, and no removing stickers! See who is most successful at avoiding getting tagged with stickers!


Hula Hoop Ring Race – Divide players into two lines, with players in each line holding hands. The teams then race to pass a hula hoop down the line without letting go of hands


Obstacle Course Relay Race -Divide players into teams and have them do a relay race doing Wizard of Oz related activities. Some suggestions: walk several paces on "ruby slippers" (large pieces of red posterboard decorated with red glitter – you can only step on the "slippers" to walk so with each step they must pick one up and move it forward to take the next step), jump over a witches broomstick, stuff a scarecrow with some hay, melt a witch by throwing a water balloon at a picture of the witch which was drawn in waterbased markers (the witch will "melt!")


Catch the Lion's Tail - Players holds hands in a line and the person at the front of the line tries to catch the person at the back of the line!


Pinata!
You can make a hot air balloon pinata like mine, or you can try your hand at making a rainbow pinata!
Need more Wizard of Oz party games? Visit our kid party games page, select some games and adapt them to your theme!
---
Wizard of Oz Cake Ideas
I've made my share of Wizard of Oz theme cakes!
Here is one of my favorite Wizard of Oz Party Cake that includes figurines of some of the characters.
I also LOVE the idea of the inside of the cake being a rainbow cake!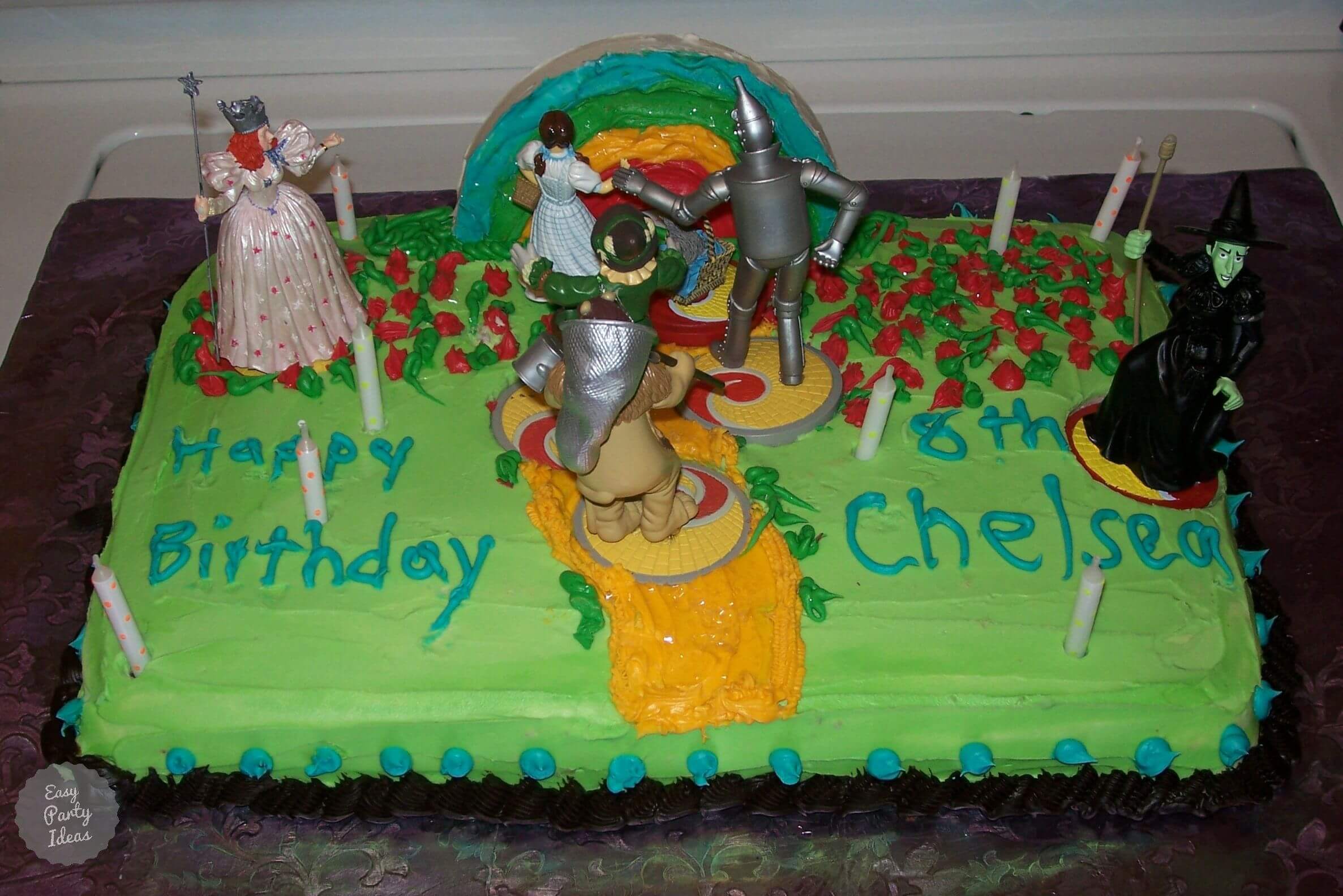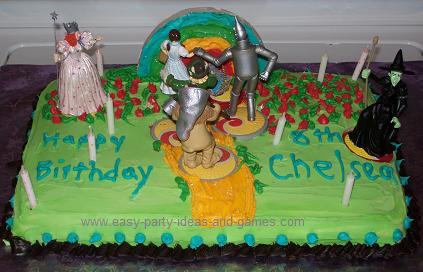 ---
Wizard of Oz Party Supplies & Favors
Finding party supplies with the Wizard of Oz characters can be hit or miss.
An easy alternative is to stick with rainbows for the colors of your invitations, decorations, and more.
Other ideas for favors include...

Giant rainbow swirled lollipops
This site is a participant in the Amazon Services LLC Associates Program, an affiliate advertising program designed to provide a means for sites to earn advertising fees by advertising and linking to amazon.com.

Let's

Connect

!

Kids Party Planning Resources
If you already have some themes in mind, but need party games, check out our kids party game page.

Everyone wants to save money! Discount Party Supplies
A fun cake design for everyone party theme!  Birthday Cake Ideas