Teen Party Games
This post may contain affiliate links. Read our full disclosure policy. 
Teen Party Games are fun whether for a teenage birthday party, slumber party or "just because."
One thing to remember when planning teenage party games and teenage birthday party games is that the guests want to have lots of fun, but still want more sophistication than a children's party. For this reason, several games listed on our adult party game page could be included in your party plans.
We also have included some of the party games on this page on our super slumber party page, along with a few others specific to sleepovers.
When selecting teen party games, find ways to adapt them to your party theme. For example, if you are planning a Hollywood party, use games with names of celebrities.
We think it is also important to find games where everyone can participate, and where everyone has fun whether they are the "winner" or not.
You'll find on this page a nice long list of some of our favorite party games for teenagers which have the "seal of approval!" At the end of the page you can add to the list!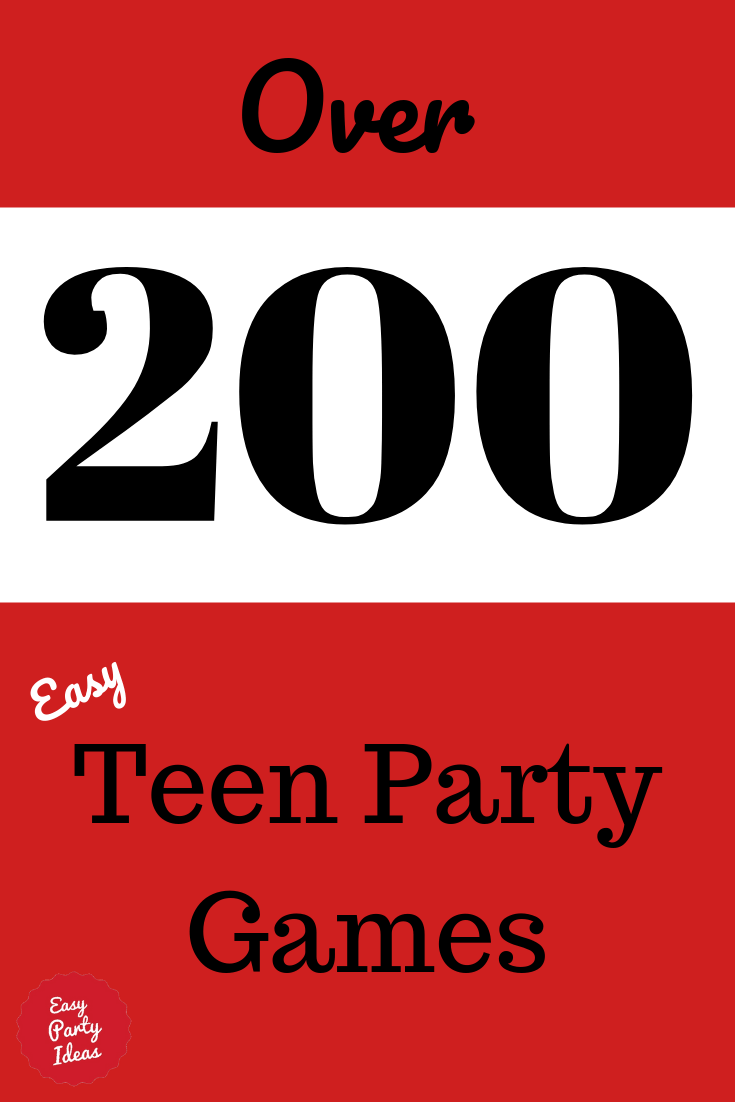 ---
Favorite Teen Party Games

Around the World Grammar Game – Sort of like Madlibs teen party games, but with a twist of coming up with words that start with a certain letter (and you don't have to write anything down!). Using the alphabet, come up with phrases that follow the pattern: Verb, noun, place. The first person says "Ate Ants in Alaska", the second person will have the letter "B" and could say something like "Buy Butterflies in Biloxi", the next person does "C", and on and on! Keep going thru the alphabet over and over. If a player can't think of a phrase they are out. Keep going until you have only one person left, or until you get tired of it!
Birthday Party Games - Favorite Teenage Birthday Party Games
Board Games - Select some board games that a group can play, such as Trivial Pursuit, Bingo, Twister, Cranium, Catch Phrase, etc.
Bocce - Set up your own version of this favorite Italian game.
Bunco!- When you have the right number of people at your party (8 or 12) this game is lots of fun and can be played for hours!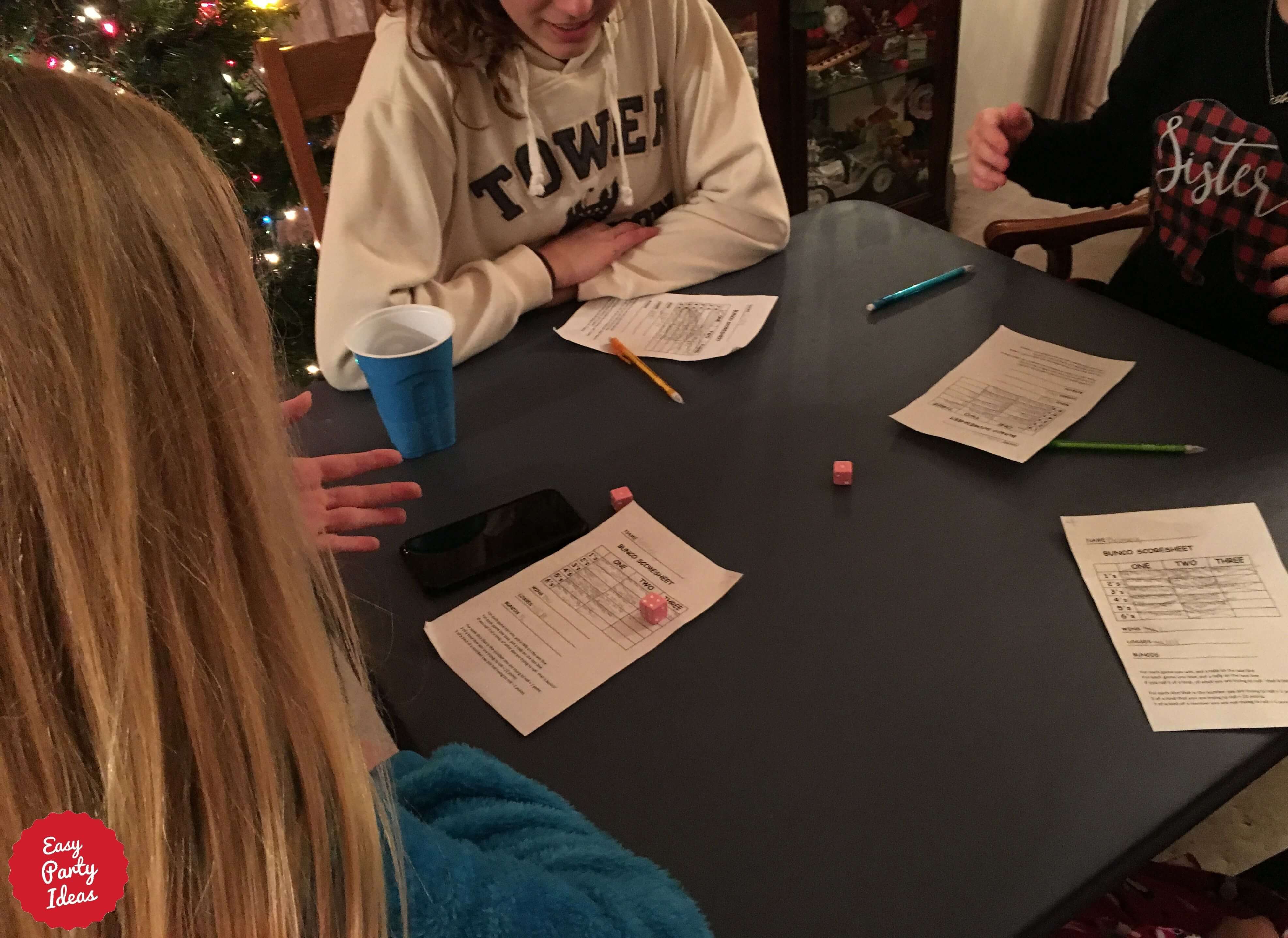 Bunco Game with Friends
Capture the Flag - Playing a game of Capture the flag can be the entire party. This is great because it works for large groups too.
Celebrity Twenty Questions- A really fun version of 20 questions, celebrity-style! Do you know enough about celebrities to answer questions about them? Great for any party, but particularly those that are Hollywood or star-themed.
Challenge Game- Challenge your guests to complete stunts within a certain amount of time. This teenage party game is fun to do and fun to watch!
Drawing Game- A fun game to play in pairs! One of the really fun teen party games because everyone can participate at the same time.
Duct Tape Crafts - Making cool duct tape crafts is a really fun and different idea. Somethings you can make are clothing, sandals, containers, wallets, purses - even a prom dress! Tape even comes in patterns and colors.
Escape Room - How to create your own escape room, and it works for any size of group, rather large or small! 
Fast Charades - A much easier (and faster) version or the old charades game, this one uses a single word, rather than a phrase or title.
Find the Leader Game- This is a great groups game - as a matter of fact, the larger the size of the group, the better!
Flashlight Hunt - Played outside, in the dark, with flashlights - a good old-fashioned treasure hunt, but in the dark!
Group Games - Perfect for a youth group or anytime you have a large group together!
Halloween Party Games for Teenagers - great Halloween teen party games, decorations, songs and food ideas.
Henna Tattoos - Use this link to find a kit to give everyone cool tattoos.
Inflatable Games - Inflatables aren't just for little kids...here are the top teen picks.
Karaoke - Need we say more?
Limbo - A classic party game. Mix this in if your party includes dancing.
The Match Game - This is great for getting everyone mixing and mingling! In the Match Game, everyone with be visiting around the party until they find their famous match!
M&M Hunt Game - One of our favorite games - this scavenger hunt can be played at the party location and is always a hit!
Off Limits! - A standard party game...this keeps your guests talking, as long as they don't say the word that is off limits. For teens, pick the latest "it" word!
Pass the Hat - Play the old Pass the Orange game, but with a hat. Pass the hat from head to head without using your hands!
Pool Games - If you are having a party at the pool, you won't want to miss seeing this list of great pool games.
Printable Party Games
- It doesn't get any easier than printing out your party games!
Scavenger Hunt- One of the most popular teen party passtimes, whether for a teen birthday party or teenage slumber parties. Visit our page for tips and ideas to plan a great hunt!
Slumber Party Games - A big list of slumber party games that will be fun at any sleepover.
Steal a Sticker- Can you steal a sticker without the other party guests knowing it? You'll find out when you play this!
Stroke of Fun - A great party ice breaker where the activity becomes a gift! Perfect for special parties like birthdays, graduations, etc.
Talent Show - Let your guests put on a wacky talent show (be sure to videotape so you can bribe them later!)
Tie Dye - Look for a tie dye kit that uses strings - less mess than all the buckets and bottles.
Truth or Dare- Our version will keep the game fun for everyone. We've included a link to some clean truth or dare questions, along with some suggestions for dares! Or you can purchase truth or dare games - to help out so you never run out of good questions and dares.
TV Voices Game – Before the party, make recordings of the voices of TV characters. At the party, listen to the recordings and have everyone try to guess who they are hearing.
Virtual Games - Stock up on Virtual Games that will fit the theme of your party. For example, if you are having a James Bond party, use games like a ski simulator or a 007 Shootout.

Water Games- our big list of water games, including games with water guns, sponges, and water balloons. A great way to stay cool when it is hot outside!
Who Am I? Game- A teen party game that can be played by large or small groups!
---
What is your Favorite Teen Party Game?
What is the best party game you've played? Give us all the details so we'll know what to do!
What Other Visitors Have Said
Click below to see what others have said...
MORE Teen Party Game Ideas
Thank you! There have been so many submissions, we have started a second page! Click here for MORE Teen Party Games.

This site is a participant in the Amazon Services LLC Associates Program, an affiliate advertising program designed to provide a means for sites to earn advertising fees by advertising and linking to amazon.com.

Let's

Connect

!

Trending