Teddy Bear Party Ideas
This post may contain affiliate links. Read our full disclosure policy. 
Kids love teddy bears, especially young children! Celebrate with a teddy bear party, which work great as ideas for kids birthday parties for both boys and girls!
These are the best Teddy Bear themed games I have found!! Thank you!! - Rachel in Colorado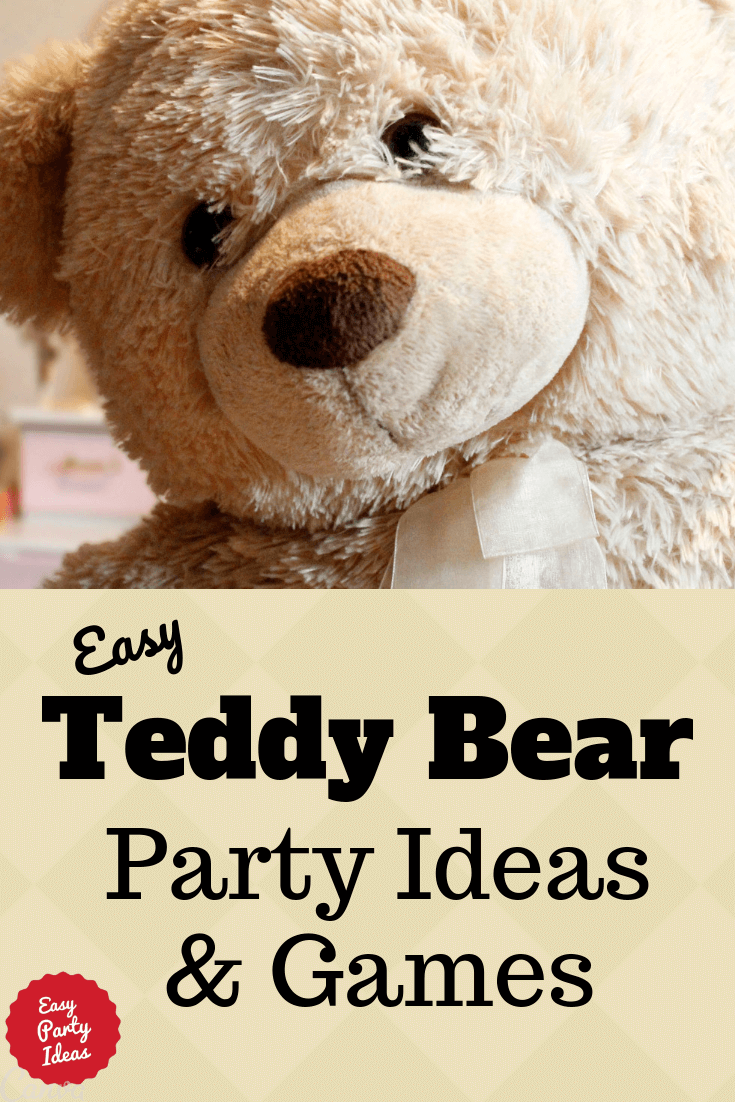 Easy Party Invitations & Decorations
Children's party ideas aren't complete without a cute invitation and fun decorations!
For an easy party invitation, using card stock or heavy paper, cut out the shape of a teddy bear and write the party details on it.
Decorations are easy! Just have lots of balloons and streamers in the colors of your choice. Then, anchor groups helium balloons with teddy bears. A beautiful color combination is brown, blue and white.

Adorable Teddy Bear Party Supplies available on Amazon.com
Teddy Bear Party Games & Activities
Here are some fun ways to entertain your guests!

Arrival Activities - Have something fun for guests to do when they arrive at the party and you are waiting for the rest of the guests to get there. Some easy ideas are to color Teddy Bear coloring sheets, or make a necklace, bracelet, or other item for their bear.
Special Guests - Have guests bring a teddy bear or favorite stuffed animal to the party. Have a table all set up just for the bears! Before the party, make party hats for the bears. Have tables set up with plates, napkins, and little cups (caution: Don't fill the plates and cups though – make all food and drink "pretend" – otherwise you are sure to have a spill and someone's precious baby will get ruined!)


Create a Cave - Make a "cave" with a tent, table covered with a sheet, or a large cardboard box. The kids will have fun climbing in and out of it!


Goldilocks and the Three Bears - If you'll have younger guests at the party, reading this story, doing the story as a puppet show or having older kids act it out as a skit will be fun!


Cake! - Serve a Teddy Bear Party Cake
Follow the Bear (played like Follow the Leader).


Bear Says

(played just like

Simon Says).


Berry or Honey Hunt (played like a treasure hunt).


Hot Teddy (like Hot Potato) - While the music is playing, pass a Teddy Bear around. Whoever is caught with the Bear when the music stops is either "out", or if you want to keep everyone in the game (that is what we like to do!) instead of being "out", have the person who is holding the item do a silly stunt, make a silly face, etc.


Buzz Buzz Bee (like Duck, Duck Goose) - Have children sit on the ground in a circle. One child is "It". "It" goes around the outside of the circle, patting each child on the head and saying "Buzz" for each child. "It" will say "Buzz" over and over until unexpectantly saying "Bee!" when giving a pat. The "Bee" must then hop up and run around the circle while chasing "It". If "It" makes his way back to his seat before being tagged, he is safe, and the "Bee" becomes "It". If "It" gets tagged, he remains "It" for another round.


Bear Obstacle Course – Guests can pretend to be bears and do an obstacle course – crawling thru a cave (a big cardboard box), jumping over a log, crawl over an object, etc.


Big Bear, Big Bear, are you hungry? - One of our family's favorite easy party games. An adult is the Bear, and stands at one end of the yard. The kids are at the other end of the yard. The kids yell together, "Big Bear, Big Bear, are you hungry?" to which the Bear will say "No, not really, come closer". The kids will all come a little closer and ask the question again. This happens over and over, until the Bear finally answers "Yes"! At this point he tries to tag as many children as possible and they become Bears too. The game starts over, with the new Bears on one side of the yard and the other kids at the other side of the yard.

Teddy Bear Party Favors:

If you didn't have the guests bring their own bears, then give them a small stuffed bear as a party favor. Otherwise, give bear stickers, pencils, gummy bears.
More ideas...
If you'd rather use plain plates/napkins, pick a color to go with the bears and use it to tie everything together. For example, if you used a soft blue you could use balloons, plates, napkins, etc. in that color. You could have a big teddy bear as a table decoration for the cake table and tie a big blue bow around his neck in the same shade of blue. For a cake, you could also do a Teddy Bear Cake, with a brown bear and a blue bow drawn around his neck!
If your teddy bear party is a care bears party, try making this cute Care Bears Cake. Of course, you can adapt the design of this cake to look like your teddy bear of choice too!

Kid Party Ideas
Do you have a great kid party idea or game?

Share your ideas and photos here, and they will be added to this site to help other moms & dads everywhere!

You can leave comments and questions here too!
This site is a participant in the Amazon Services LLC Associates Program, an affiliate advertising program designed to provide a means for sites to earn advertising fees by advertising and linking to amazon.com.

Let's

Connect

!

Popular Parties
Ladybugs, Butterflies and more! Garden Party

Princess Birthday Party