Garden Party
This post may contain affiliate links. Read our full disclosure policy. 
A Garden party theme can be it's own theme, and is a popular choice, especially if it is held during the time of year when the garden is blooming, beautiful and fragrant. 
Another great thing about this theme is that ideas from this party idea can be used with other parties that have to do with nature.
Butterflies, Bumblebees, Ladybugs, Inch Worms, Caterpillars...they all can be enjoyed too!
Even maybe a flower fairy or two could make an appearance! (Fairy party ideas can be found here.)

Here are a few kids party games and fun ideas to make your birthday garden theme party special.


---
Garden Party Invitation Ideas
A quick easy way to get the garden spirit going is to include a packet of flower seeds with your invitation.
Have you ever heard of plantable paper? It is paper that has flower seeds as a part of the paper. After reading it, you can plant it!
Best of all...it is so easy to do! How to make plantable paper

Garden Theme Party Ideas
Wondering what unique activities you can do and games you can play at your party? Read on...

Plant flowers as a party activity. Use little flower pots. Have a few extra flowers on hand for any that get "damaged" during the planting process. This also makes a cute party favor!

Decorate flower pots with paint.

Make tissue paper flowers.
Go on a nature hunt.
Use a flower theme cake pan.
Make your own Twister type game - but instead of spots, use flowers. You can create your own twister mat and paint on the flowers, or you can also create a twister mat in the grass by spray painting the dots onto the grass.

If you didn't use garden flower seeds with your invitation, you can give them as a party favor.
Love tea parties? Make your garden party a tea party.

Take your kids party ideas to the next level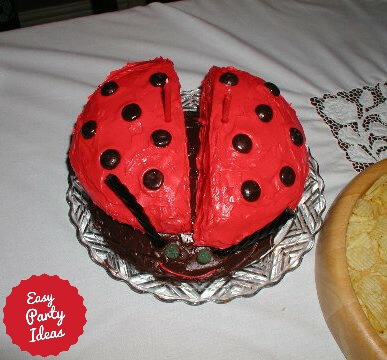 When I think of gardens, I think of all the wonderful insects that can be found living in a garden.
Adding butterfly and lady bug kids party games to your party will just add even more fun.
One of my favorite games is to play the "mummy" game, where team divide up and wrap someone from their team in toilet paper, racing against the other teams. You can pretend you are a caterpillar spinning a cocoon!
Use ideas from the following parties to complete your theme!

Ladybug Party
Butterfly Party
Fairy Party


This site is a participant in the Amazon Services LLC Associates Program, an affiliate advertising program designed to provide a means for sites to earn advertising fees by advertising and linking to amazon.com.

Let's

Connect

!

More Ideas You'll Want to Check Out