It's a Kid's Hawaiian Luau Party!
This post may contain affiliate links. Read our full disclosure policy. 
A Hawaiian Luau Party is perfect for summer, the beach, the pool, or even a "pick me up" in the winter!

Enjoy these easy and fun kids birthday party ideas! (If you are looking for ideas for an adult luau, click here.)

Hawaiian Luau Party Invitations
Write the party details on inflated beach balls and deliver.
Make Hawaiian shirts from tropical themed scrapbooking paper and write the details on the back.
Send your invitation as a message in a bottle.


---
Kid's Party Hawaiian Luau Decorations

The decoration ideas on this list will really help set off your party, adding a visually fun and inviting atmosphere. Along with links to other pages of this site, I've included affiliate links to Amazon and other vendors for your shopping and planning convenience! 

Lots of beach balls (can double as a party favor...)

Decorate with ocean colors: Blue, Purple, Teal Crepe Paper Streamers and Balloons, or with fun tropical colors: hot pink, lime green, yellow, turquoise, and orange. Streamers and Balloons are a great way to add a lot of festive atmosphere to your party very cheaply!

Hang up fish shapes that you have cut out of construction paper (let the birthday child decorate in advance!)
Have access to a Bubble Machine? Hook it up during the party! The kids will love it.

Cake Table: Beach, Ocean or Tropical items, such as pirate booty and coins, tropical fruit (pineapple, coconut, etc.), plastic fish – use your imagination!  Honestly, most of the time the kids won't care about this, it is really more for the other moms to enjoy, a "beautiful display" if you will. But can be a something fun to plan and decorate if you have time.

DIY? Here are some examples of some great under the sea homemade party decorations to transform your party area!
Set the mood with music - kids will love tunes from the Beach Boys
Go the extra mile and build your very own volcano. It's easy! DIY - my instructions on how to build a volcano!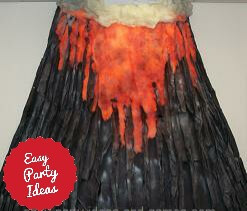 ---
Hawaiian Party Ice Breakers and Arrival Activities
I always like to provide kids with something to do at the beginning of a party while waiting for everyone to arrive. Here are some ice breakers for a Kid's Luau Party:
Decorate construction paper fish shapes
Make wave bottles – fill empty small water bottles half full of water. Add a drop of blue or green food coloring, some glitter, and sea life confetti. Fill remainder of bottle with cooking oil and hot glue on lid.
Sand Art – Give kids 5 – 7 pixie sticks in different colors and have them pour into empty baby food jars as sand art.
Dig in a sandbox to find gold coins or jewels
Do some face painting - how about a hibiscus flower on each person's cheek? Or a beach ball?
Let the kids play with beach balls or Hula Hoops
Bring in some sand and build sand castles!
Decorate flip flops
---
Luau Party Games
It is fun to include themed kid party games at your luau! Here are some of my favorites for this party:

Limbo!
Circle Games - Play Pass the Coconut (like Pass the Parcel) or Hot Coconut (like Hot Potato)!
Dive Under the Sea - Gather everyone around a blue sheet and have plenty of bean bag fishes, stuffed animal sea creatures, etc. under the sheet. Have everyone stand to hold and shake the sheet (like a parachute) while adult says "Under the Sea, Under the Sea, Jack and Lucy, dive under the sea". Jack and Lucy go under the sheet, grab a sea creature, and then toss it onto the top of the sheet. It is fun to watch the fish get tossed around!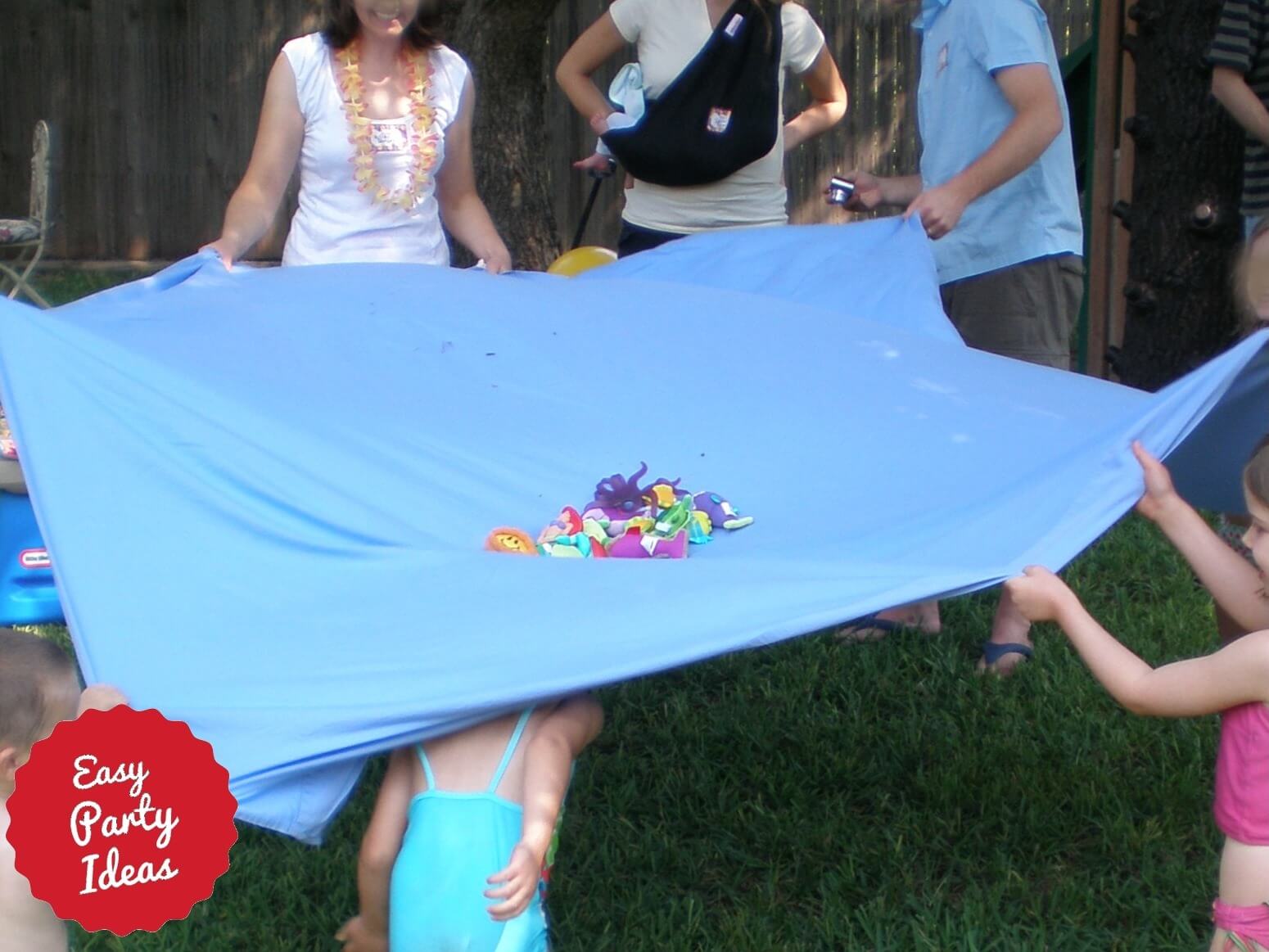 Dive Under the Sea with this fun and easy kid's Hawaiian Luau party game
Monster Monster Game - This game is perfect for a Sea Monster!!
Musical Islands – Great for a big group of kids, this version of musical chairs doesn't leave anyone out. To play, you'll need some hula hoops. These will be your "islands". Place them on the floor around the room. When the music starts, everyone must walk around the hoops. When the music stops - they must jump into a hoop. At the end of each round an island is removed. At the end, you have everyone trying to squeeze some part of their body into a hoop. If you don't have enough hula hoops, you can do this with towels.
Water Games - If the weather is right, water games are always fun! Games on this include pool games, water balloon games, water gun games, and as well as general water games.

Hula Freeze Dance - Site visitor Mone in Texas shared this Hawaiian luau party idea: Play hula music and every one does the hula until music stops everyone must freeze if not they're out!!!

---
Hawaiian Luau Party Birthday Cake Ideas
Any ocean themed cake could work for a Luau Party. Some ideas for the cake section of our website...

A mermaid cake
A cake to look like a pair of flip flops
A cake with tropical flowers

Cake can be served on blue plates (or any tropical color - mixing and matching colors is fun!) If you want to go "all in" with your theme, there are adorable luau themed cake plates at Birthday in a Box.
A site visitor recommended serving "Lava Pudding." She makes it by having vanilla pudding in three different colors - orange, white and a teeny bit of red, with yummy chocolate chips.

---
Hawaiian Luau Party Favors
A list of the favorite kid luau party favors:

Small bag of plastic jewels, chocolate treasure coins, or ring pops
Tropical fruit candy
There are lots of children's Luau themed party supplies and favors from Birthday in a Box.
Items from our Pirate and Mermaid Party Ideas
Kid Party Ideas
Do you have a great kid party idea or game?

Share your ideas and photos here, and they will be added to this site to help other moms & dads everywhere!

You can leave comments and questions here too!
This site is a participant in the Amazon Services LLC Associates Program, an affiliate advertising program designed to provide a means for sites to earn advertising fees by advertising and linking to amazon.com.

Let's

Connect

!

More Party Ideas You'll Want to See
Hawaiian and Moana plates, napkins and other party supplies at BirthdayinaBox.com
Fun Pool Games for a Hawaiian Luau Party