SLUMBER PARTY
THEMES AND IDEAS
FOR THE PERFECT SLEEPOVER!
"The best collection of slumber party ideas
on the internet!"

This post may contain affiliate links. Read our full disclosure policy. 
The Slumber Party...what a happy memory!!
The favorite slumber parties from my youth included late night tv, games, pizza and talking with my friends for the whole night!
These activities are geared toward tweens, young teens and older kids.
If you'd like to plan some activities for your sleepover, such as a game or a craft, here is a great collection of ideas for you! We've collected every idea we could find, and have LOTS of ideas shared by site visitors, so be sure to visit all our of pages devoted to slumber parties to find inspiration for activities, themes and more! 
For a first slumber party for little ones, visit our first sleepover page where you'll find activities and party ideas specificially to help you get started!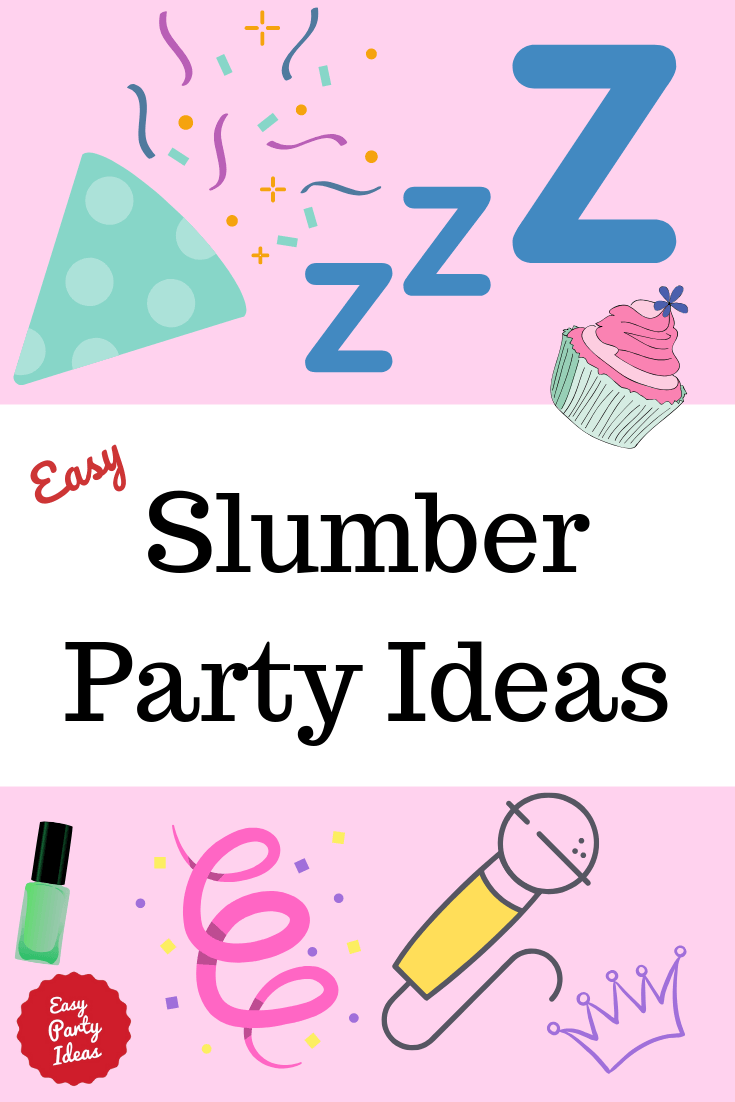 ---
The Basics
Before the party, the party girl and her parents should decide on the role the parents will play. Will they be close at hand, or just nearby in case you need them? Also, decide what siblings will do that evening.
You may want to decide, in advance, on a "code word" in case a situation comes up and the party girl wants her parents to step in and help. If there is a conflict going on or something gets out of hand, the parent can be the "bad guy," but it also keeps the party girl from looking like they are running to mom & dad for help in front of their friends.
Have a collection of music to listen to, as well as stacks of magazines, board games, etc. That way if someone isn't interested in an activity they don't have to participate if they don't want to.
And be flexible...a big part of the fun of this type of party is just seeing what happens!

---
Slumber Party Games
You can make your party fun and unique by adding a few games!
Some of our favorite games for sleepovers are:
Makeup Artist - You'll need makeup: lipstick, loose powder and blush. Stay away from things that could injure an eye, such as eye shadow (unless applying with a cotton ball) and no mascara (too scary to try to do!). Divide players into teams. One player is the model, and their teammate is the make up artist. The makeup artist has 2 minutes to put makeup on their model. But must do it blindfolded! The other players who aren't taking their turn can yell out directions on what to do – "higher, lower, over to the left," etc.!
Photo Fun - Divide players into teams, with each team using a digital camera or phone camera. Give each team a list of photos to take. Some ideas are...the team pretending to sleep, of the team dancing, of the team doing yoga, etc. Whatever you can think of that will make a crazy photo! Make sure the different players take turns being the photographer so everyone gets a turn to be photographer and models!
Ticking Clock Game - Have players leave the room (or hide their eyes) while you hide an alarm clock in one sleeping bag. At some point in the evening, have the clock set to go off. Tell your guests that the alarm will go off, but don't tell them when it will go off - that will be a surprise). When the alarm rings, whoever can find the clock first wins!
Check out our huge list of more girl slumber party games including Light as a Feather, Fortune Teller, Scavenger Hunts and Truth or Dare.

---
Popular Sleepover Party Themes 
---
And What about a Guy's Sleepover?
One of our visitors submitted this great idea for a guy's sleepover, a Halo Paintball Marathon Party.

More boy sleepover party ideas for you to choose from.

---
Fun Sleepover Party Links

How about fruit smoothies for breakfast? Smoothie Handbook.com has lots of wonderful fruit smoothie recipes that you can enjoy!

---
Slumber Party Ideas Central

Slumber Party Themes - So many themes to choose from!
Sleepover Games - Your complete source for games!


Sleepover Party Food - We've gathered a list of favorite easy party foods to help you plan your menu!


Party Cakes - Cute slumber party cake and cupcake ideas!


Sleepover Party Crafts - Fun, easy and popular ideas for sleepover party crafts.


Sleepover Party Movies - Movies and popcorn make the party! We've listed some of our (and our visitors) favorite movies for sleepovers.


Hotel Sleepovers - Traditionally, slumber parties have been held at home. This allows you to do lots of decorating, make all the noise you want, and start (and end) the party at the time you choose. But hotel sleepovers are gaining popularity. When going to a hotel, you still do all the normal activities, but it all takes place at a hotel. We'll give you tips on how to have the best hotel sleepover party ever!


Party Invitations - Looking for the perfect invitation? We've rounded some up for you!


Slumber Parties Supplies - Invitations, Decorations, Favors and more!


Pranks - One of my most often asked questions is for fun ideas for slumber party pranks. Here are some that are fun and hold the element of surprise!
First Slumber Parties Planning - Is this your first slumber or sleepover party? We'll help you plan it!


Adult Slumber Parties - Big girls want to have fun too! Here are some great ideas for you!

---
Your Turn! What made your slumber party great?
Did you have a great time at your slumber party? Tell us about it!
What Other Visitors Have Said
Click below to see contributions from other visitors to this page...

There have been so many TERRIFIC contributions to this page, that they are continued on a separate webpage!
Click here to read more Visitor Submitted Slumber Party Ideas.

This site is a participant in the Amazon Services LLC Associates Program, an affiliate advertising program designed to provide a means for sites to earn advertising fees by advertising and linking to amazon.com.

Let's

Connect

!

Slumber Party Secrets