Yee Haw! A Cowboy Party!
This post may contain affiliate links. Read our full disclosure policy. 
A western, cowgirl or cowboy party was a party I always planned to have for my kids, but somehow we ran out of years to use these ideas before we used all the themes I had thought out!
My loss, however, is your gain!
Round up your friends and head on over to the party corral!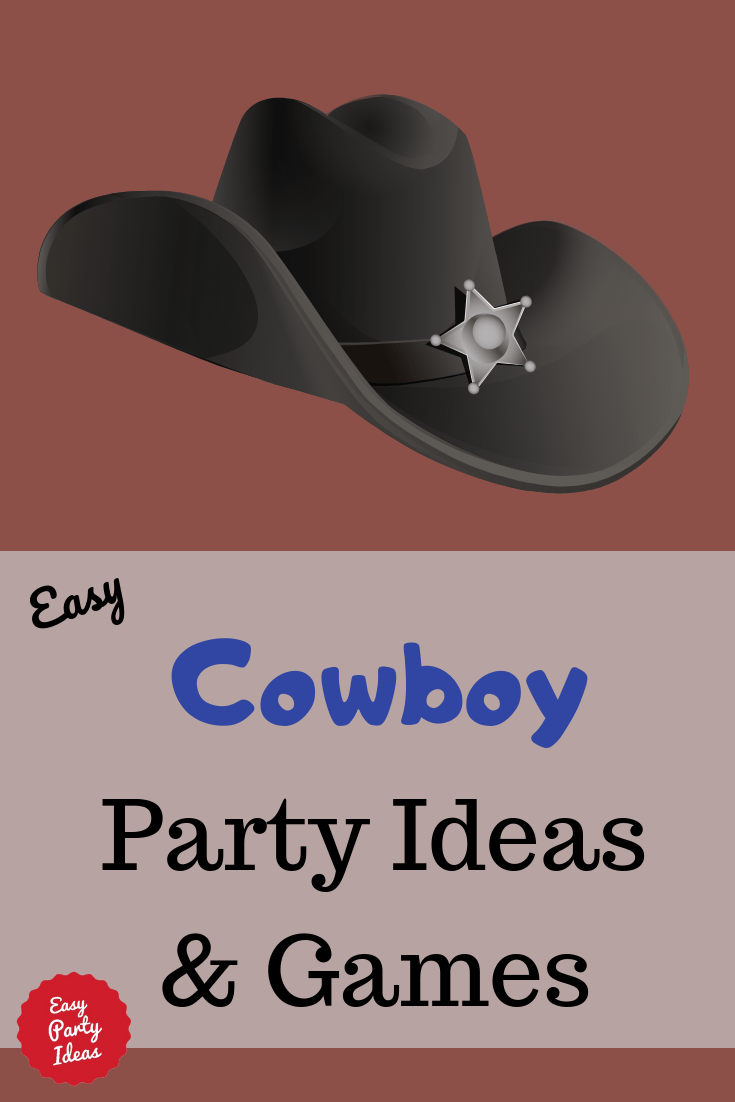 Cowboy Party Invitation Ideas
Make a sheriff's badge with party info on the back
Make wanted posters with the party info listed - Wanted: You!!
In a hurry? Purchase cute cowboy party invitations online.
My friend Christine threw a rodeo party for her daughter. I'll tell you that Christine is the go-to girl for birthday party invitation wording! This is what she put on her birthday party invitations:
Howdy y'all!
Round-up for some fun!
We're having a rodeo with events to be won!
Rop'in, rac'in, paint'in and more,
Balloons, cake, and ice cream galore!
Join the stampede.
Let's here you cheer!
______'s birthday is finally here!
Western Party Decorations
It is easy to create a fun western atmosphere. Here are some suggestions to set the mood:

Hay Bales
Wagon Wheels
Western Theme Scene Setters

Wanted posters, with your friends as the "wanted" ones. Make up fun nicknames for these wanted folks.
Make "cactus" plants out of green construction paper and place on the walls
Red checked tablecloths
Serve drinks out of mason jars
Serve food on tin plates (aluminum pie tins work great!)

Cowboy or Cowgirl Party Activities and Ice Breakers
It is always a good idea to have something for everyone to do as they arrive and as you are waiting on the rest of the guests to come. Some theme activities...
Play horseshoes
Decorate vests made out of paper bags
Make wanted posters
Decorate Horseshoes
Give everyone a Cowboy Hat and/or Sheriff Badge as they arrive
Turn everyone into horses - headbands with pony ears and a tail for everyone
Decorate stick horses made out of yard sticks with poster board heads

Cowboy Party Games
 Have a rodeo inspired relay races, such as a stick horse race
Have sack races
Pan for gold or have a hunt for gold (rocks that you have spray painted gold!)
Hit a pinata shaped like a horseshoe, cactus or any other western themed item. Read here for How to Make a Pinata

Make sure you talk like a cowboy at the party. Say things like "howdy pardner", call the food "chuck", and the party a "shindig".

Big budget? Hire a pony for pony rides.
Drop rubber snakes into a cowboy boot (sort of like the clothespin drop game.)
Play a Pin the Badge on the Sheriff Party Game.
Try to rope a cow with a hula hoop. Make the cow out of poster board.
Try to milk a cow. No, not a real cow (unless you have one!) Attach a latex glove (filled with water) to a poster board drawing of a cow. Put a tiny pin prick in each finger of the glove, then let everyone take a turn "milking" the cow.
Fun Idea: You can set up the games as part of a set of tasks with the ultimate prize of earning a sheriff's badge - similar to the "set up" described on the superhero party page.

Cowboy Birthday Party Cakes
Make a cute cowgirl cake (or cowboy cake) with a drawing of the cake being lassoed.
Make a rectangular cake and put cowboy and horse figures on top.
Make a horse cake.
Cowboy Party Favors
Rather than putting your favors in a bag, place them inside a Bandana and tie it into a little sack.
Bags of "gold" (spray painted rocks)
Shopping for your Party!