Luau Party Ideas
This site contains affiliate links, meaning if you click on the link and make a purchase, I may receive a small commission (at no cost to you!) I only recommend products I've personally used or would love to use myself! Get the scoop here.
Home -> Adult Party Ideas -> Luau Party Ideas


Throwing a theme party has never been easier, especially with the great luau party ideas collected on this page.
You'll also find that party supply stores and online merchants have LOTS of fun things to choose from for invitations to decorations, so that makes this an easy party to shop for.
There are some themes that are just a classic. Everyone loves them, no matter what age - kids, teens, adults.
A luau or Hawaiian theme is one of those party themes that is always a hit.
This party theme instantly brings to mind fun, relaxation, and good times with good friends, old and new.
Aloha!
Luau Party Invitations
If you don't find any pre-made invitations that you like, make Hawaiian shirts from tropical themed scrapbooking paper and write the details on the back.

Luau Party Decorations
With a luau party theme, the more decorations the better to help set the mood!

Table covers in tropical colors: hot pink, lime green, yellow, turquoise, and orange.
Raffia table skirting
Seashells
Sand Pails and beach toys
Blow up beach balls
Fish Nets
Pink Flamingos
Parrots
Palm Trees (real, inflatable, or made from butcher paper)
Flowers (Hibiscus, orchids, palms)
Fresh Fruit (pineapples, coconuts, bananas)
Tiki Torches
Make your own
Paper Lanterns
Use real hollowed out coconuts as candle holders
Travel posters to the islands (maybe you can get for free from a travel agent!)
If you are looking to buy decorations, Tikimaster.com has an incredible selection of just about anything you could ever imagine!
Try making some easy homemade party decorations of tiki torches, hibiscus flowers, and sealife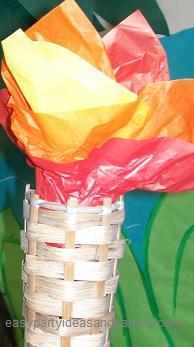 Luau Food and Beverages
Other than the usual chips/dips, etc...
If serving a meal, try kabobs, Caribbean jerked chicken or shrimp (coconut shrimp is great!)
Fruit salad (use tropical fruit)
Margaritas
Mai Tais
Rum Punch
I love the ideas of serving drinks with those cute little drink umbrellas!

Luau Party Music
Jimmy Buffett
Beach Boys
Reggae
Fun Beach/Hawaiian/Luau Music Compilation CD

Luau Party Ideas Games and Activities
Have guests dress for the occasion: luau, beach, tropical wear. Award prizes for the best.
Give each guest a lei to wear when they arrive. If they didn't come dressed "tropical" for the party, then this will help get them in the mood. (If your budget allows, give everyone a grass skirt too!)
Hula Hoop Contest
Pass the Orange Game (two teams form a line…each team has an orange and passes it from person to person under their chin – no hands allowed! The first team that passes the orange all the way down the line wins!)
Prior to the party look up the Hawaiian name of each of your guests and include it on a name tag
Limbo!
Hire a hula dancer to come do a show and teach a dance
Hit a Luau themed pinata
Play some games off our water games list to keep cool!

Party Favors and Prizes
If you passed out leis at the beginning of the party, then those can be a party favor.

Margarita Glasses

Beach Towels

Beach Bag filled with sunscreen, beach towels, etc.

What else?
Other party ideas that are similar to the Luau party, at least in outlook and feel, would be:
Return from Luau Party Ideas to ADULT PARTY IDEAS


This site is a participant in the Amazon Services LLC Associates Program, an affiliate advertising program designed to provide a means for sites to earn advertising fees by advertising and linking to amazon.com.

Let's

Connect

!