Gilligan Party
Oh sit right back and you'll hear a tale...
This post may contain affiliate links. Read our full disclosure policy. 
That's right. You know it. You love it! So you'll love a Gilligan Party too!
I once heard that every minute of every day Gilligan's Island is being broadcast somewhere in the world.
I grew up watching Gilligan's Island, and absolutely love it. We have the Gilligan's Island DVD Collection and watch it over and over again.
So, naturally I once had a Gilligan's Island party. It was really pretty simple to get together, and it was fun - everyone really go into it.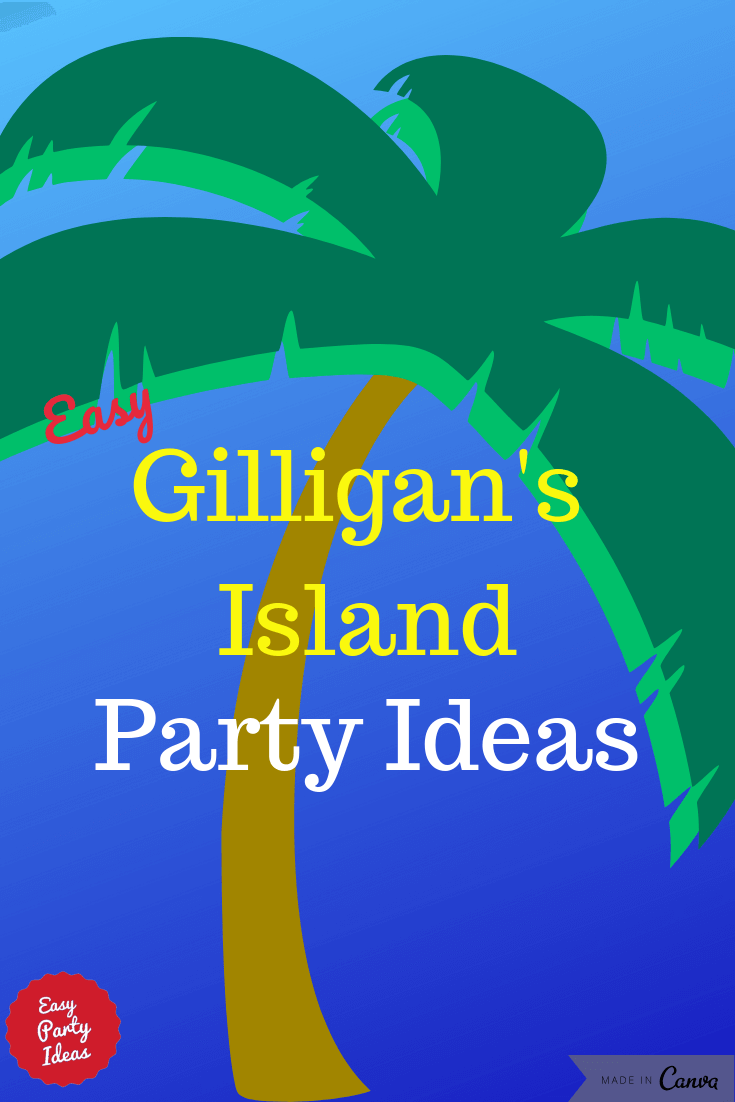 My Gilligan's Island Party
For decorations, we made homemade party decorations. We were just out of college, and money was very tight. It is easy to create great decorations for this theme very simply. See below for more ideas.

We served the standard assortment of easy party food, including tropical food items. Make sure you include the girl's Coconut Cream Pie.

We played episodes on the TV screen throughout the party, but the best part that made this one of my favorite adult party ideas was the fact that just about everyone came in a costume.
We encouraged guests to "Come as Your Favorite Castaway". We had lots of Maryanns (I came as Ginger - I even died my hair auburn red and stitched up a evening gown like hers!). Guys came as all the characters - Professor, Mr. Howell, the Skipper, and of course Gilligan.
We had a costume contest and our friend Daryl won. He came as the professor, which is a pretty easy costume, actually, but it was what he did with it! He carried a physics textbook around with him, drank from a science flask (and had test tubes on hand as well) and was "in character", often heard saying things like "those natives over there are not indigenous to these parts!" It was hilarious.
For those few who didn't dress up, we had leis for them so everyone could get into the act.
Gilligan's Island Costumes

One of the best things about a Gilligan's Island party is dressing up in costume! You can select from the Skipper, Gilligan, Ginger, Mary Ann, the Professor, or Mr. and Mrs. Howell. You can also come as a gorilla, a native, or as any one of a number of visitors that appeared on the island! Note the framed photo of Ginger on the fireplace!

Tropical Gilligan Party Decoration Ideas
Recently, our school auction used a Gilligan's Island theme. It was a big hit. How to hold a Gilligan Party as a fundraising party.
Here are some photos from our event, along with more decoration ideas for a Gilligan party: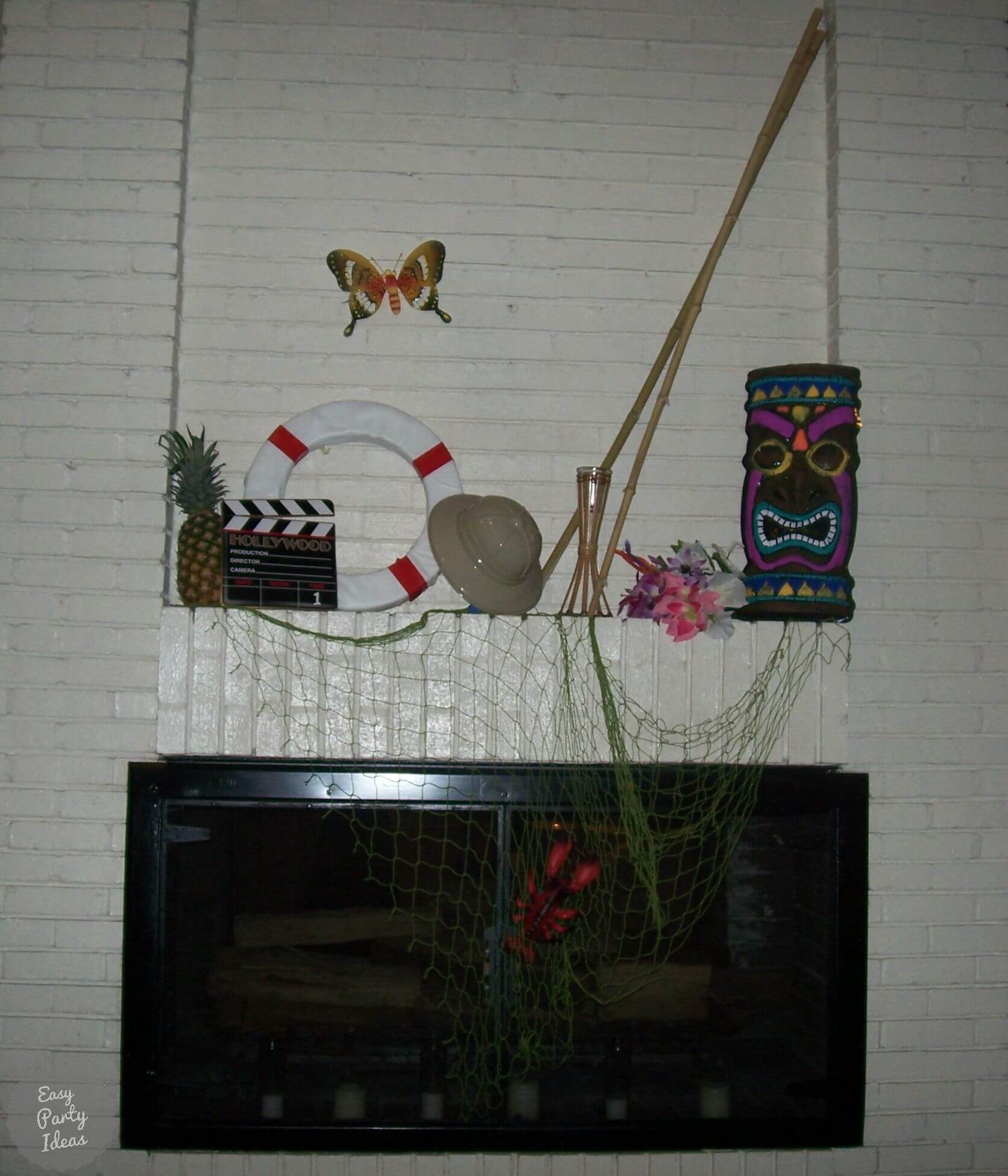 This fireplace mantel included items associated with different episodes of the TV series - fishing poles, movie stars, tiki carvings and butterflies...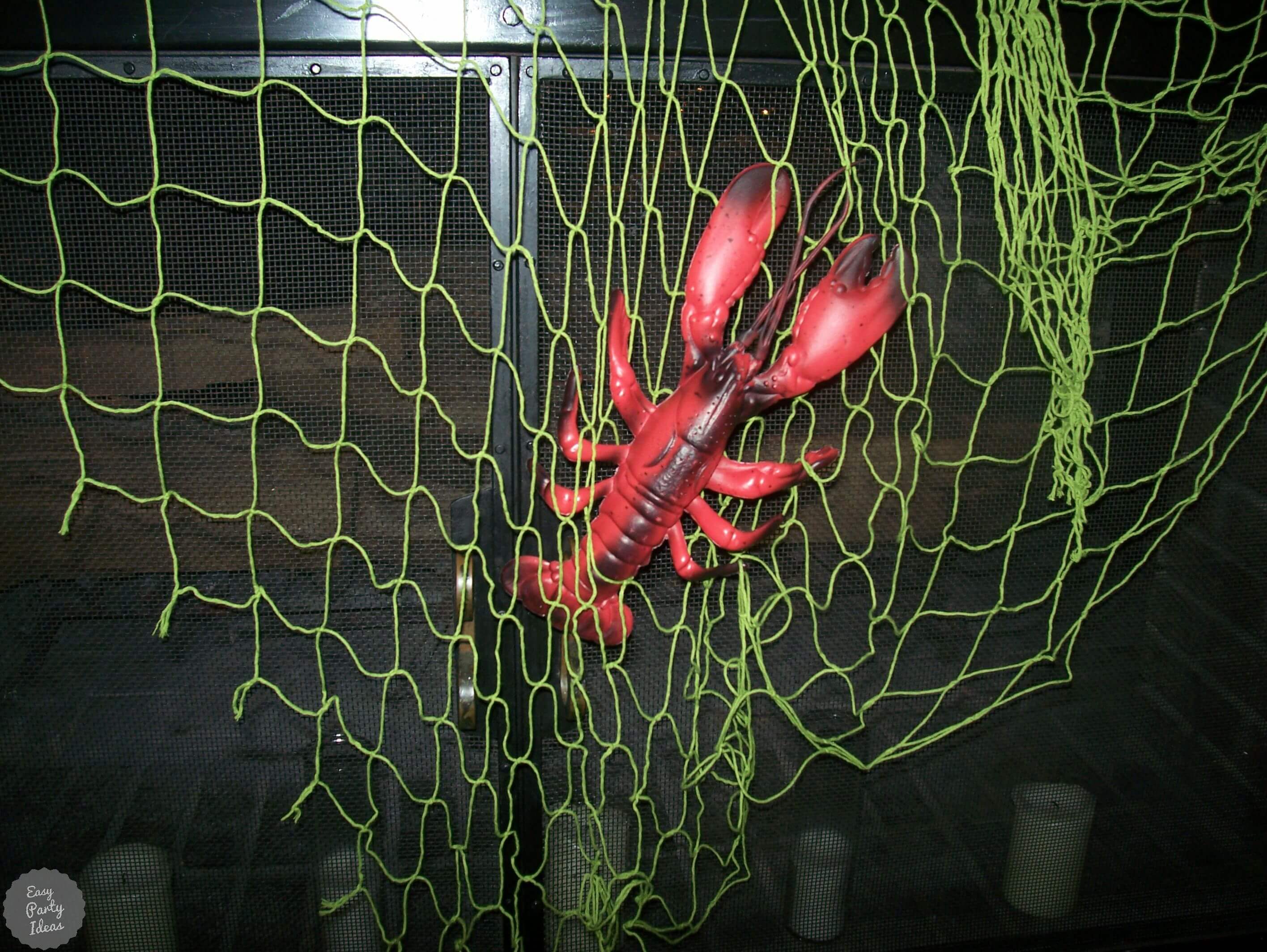 This party is actually quite easy to decorate - anything have to do with the ocean, the beach, tropical, island and luau themes will work nicely!

It's always nice to have a bit of sparkle! Metallic palm tree centerpieces like this one added the perfect fun touch!

Candles are always nice too! These easy centerpieces were made a little more special with sprinkles of colorful metallic confetti (tropical theme!) on the tables.

For music, play some Luau Music, and maybe mix in the Gilligan's Island theme song periodically.
Serve food out of hollowed out coconuts and shells like in the TV Show
Palm Trees (real, inflatable, or made from butcher paper)
Flowers (Hibiscus, orchids, palms)
Fresh Fruit (pineapples, coconuts, bananas)
Use real hollowed out coconuts as candle holders
Gourds
Items to represent different characters, such as stacks of textbooks and science experiments (professor), movie magazines (Ginger), stacks of paper money (Howells), etc. Luau Invitations
Luau Party Games Pack from PrintGamesNow.com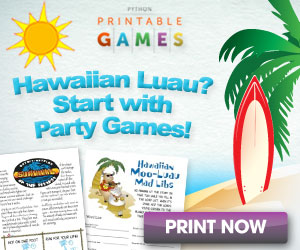 ---
Have A Great Party to Share?
We want to hear all about it!
This site is a participant in the Amazon Services LLC Associates Program, an affiliate advertising program designed to provide a means for sites to earn advertising fees by advertising and linking to amazon.com.

Let's

Connect

!

Make Your Own Party Decorations
Make Tropical Flower Party Decorations