Tacky Party
This post may contain affiliate links. Read our full disclosure policy. 
One of the funniest parties of all – a Tacky Party!!
And Talk about Easy!
…Don't clean the house. Go ahead and make a mess before the party. It is OK!!
…Don't set a pretty table. Just toss the food out there.
…Don't get dressed up. As a matter of fact, the worse you look…the better!
Seriously, I've been so busy lately, this is my kind of party! I can totally get up for putting this together!
Best of all - this is a cheap party to throw! (always good!)
Tacky Party Invitations
Do you have some old invitations laying around for previous parties that you didn't use? Now is the time! They don't have to match! Just cross everything out and rewrite your party info.
If not, Pick up any invitations at the store you can find. Make sure they don't match the event. For example, if it is a birthday party, pick up baby shower invitations and cross out the details.
Or, you can just use a piece of paper as your invite, add some coffee cup stains on your invitations, fold up and send.

Tacky Decorations
Make table cloths made out of newspaper that has been duct-taped together
Plastic flowers, if you can find them. Otherwise…dead flowers
Duct tape on everything. If your couch won't be damaged, go ahead and put a strip across it here and there to give the appearance that it is being "held together"
String a clothes line across the room (make sure it has some great laundry on it too – underwear, dirty socks, use your imagination…)
Hang your Christmas lights and any other odd decorations (Easter, Halloween, 4th of July) that you have available.
Have things sitting out, like fly swatters, toilet plungers, etc.
Centerpieces made out of old beer cans (how about a beer can pyramid?)
Miss-matched paper napkins - the really cheap kind from the store
Can you get your hands on an old toilet? Put it in the yard and turn it into a flower planter, with plastic flowers...or if you are adventurous enough bring it into the house and use it as seating

Offering a seated meal? Make chair covers out of trash bags
Use sheets as curtains
Mudflap girls
Pink lawn flamingos
Visit garage sales, thrift stores and dollar stores to find any odd items that you can purchase cheaply that would be out of place at a party

Tacky Food
Remember to serve everything on the cheapest paper plates!
Open bags of chips and just lay them out, open, on the table
Open cans of dip and just set them out
Hot dogs
Pork Rinds and Beef Jerky
Have some really bad, cheap beer and wine sitting out (even if it is just for show, of course you could serve it, but you wouldn't carry it that far…would you?)
For cakes, I sued to say...let's think auto sports here (not that they are tacky, but going along with a bit of a redneck sterotype...) How about a monster truck or racetrack cake?
But now I've got something even better! How about a Kitty Litter Cake? This page has all the instructions on how to make it!

Tacky Party Activities
What people are wearing is a VERY important part of this party. Have your guests come in costume and crown a Tacky Queen and King.
Have everyone wear a name tag with a new, pretend funny name, such as "Bubba"
Tacky Gift Exchange – Tell your guests to bring the tackiest gift they can find and have a Tacky Gift Exchange. Some ideas…toilet plunger, yarn, old soap, pens out of ink, in other words, things that no one would want!
Have a Spitting Contest
Have a Spam carving contest
Have a "male" wet t-shirt contest
Play shuffleboard, but with brooms and cow patties.

Maybe seeing who is willing to eat that kitty litter cake (see above) might be a contest!
Play "Redneck horseshoes" - where you play the game of horseshoes but by tossing toilet seats around plungers

Host a beer tasting - but with really bad, cut-rate beer

Play some printable games centered around beer, like Beers of the World Printable Trivia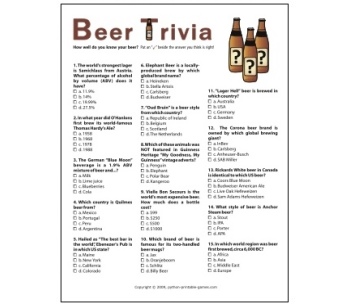 Tacky Party Favor and Prize Ideas
Rolls of cheap toilet paper
Plastic Flowers
Duct Tape
Gag gifts
---
Have A Great Party to Share?
We want to hear all about it!
Here are some ideas from visitors to this page:
Redneck Mardi Gras Party - click to read about this party - it sounds like a hoot!

Tacky Party Wine By: Marsha From: Columbus Ohio
New bucket. New toilet seat. Duct tape seat on top of bucket. Pour wine and ice in. Use an old soup ladle. Give it a French name like "eau de toilet"
Like this page?
Please help me grow this website by telling your friends!

This site is a participant in the Amazon Services LLC Associates Program, an affiliate advertising program designed to provide a means for sites to earn advertising fees by advertising and linking to amazon.com.

Let's

Connect

!

Other Great Parties