How to Throw a
Budget Office Party
This post may contain affiliate links. Read our full disclosure policy. 
In the past, an office party was often catered, held in ballrooms or in private restaurant spaces.
All this can be fun, but also involves a lot of money! Sometimes employees enjoy getting that money on their paycheck as a Christmas bonus and instead have a fun, no frills party.
But what to do for that employee party that won't break the bank?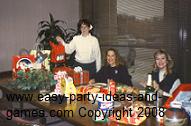 Sometimes employees will have a suggestion for you. Talk to them about it (so they won't be surprised - especially if they are used to a big fancy shindig!) and get their input. Going in together on the planning can actually make it more fun for everyone because they will have a part in it too.
Just in case, here are some ideas to get you started:
Instead of having a meal catered, have a potluck. If you do this, have the company pay for the cake, drinks, etc. The company should contribute something special.
Spice it up! Have a chili cookoff!
Have a movie night and show a film that will appeal to everyone
Have an Ugly Sweater Contest
Have a White Elephant gift exchange
When to party?
When are you planning your party? If during the holidays, make sure that the employees want to do anything at all!
Everyone is so busy, especially at the Christmas season...perhaps giving the money that would have been spent on a party to the employees as a Christmas bonus, with a simple party such as fun games along with a cake served on the last day of work before the holiday would be welcomed!

Sometimes parties at a time that isn't during the busy Christmas time of year are the best of all because everyone has an opportunity to get more excited about your unique event!
At a different time of year you could have a picnic, company night at a water park or amusement park or similar event for the whole family.
One of my favorite corporate events is to have a casino night for all the employees. You can even dress up Vegas style, and award prizes for the best costumes.
For a large office, you can also plan a western party theme, complete with dancing (if you space) and a BBQ buffet.

Most important
Don't limit your employee party to the holidays.  Party games and celebrations at the office are fun at any time. Show the employees that they are special and appreciated throughout the year, and mix in fun whenever you can.

This site is a participant in the Amazon Services LLC Associates Program, an affiliate advertising program designed to provide a means for sites to earn advertising fees by advertising and linking to amazon.com.

Let's

Connect

!

Office Party Games