Fabulous 50's Party!
Let's Rock around the Clock Tonight!
This post may contain affiliate links. Read our full disclosure policy. 
Here are some great ideas for you to use when planning your 50's party or sock hop!
This is also a great idea for a 50th Birthday Party!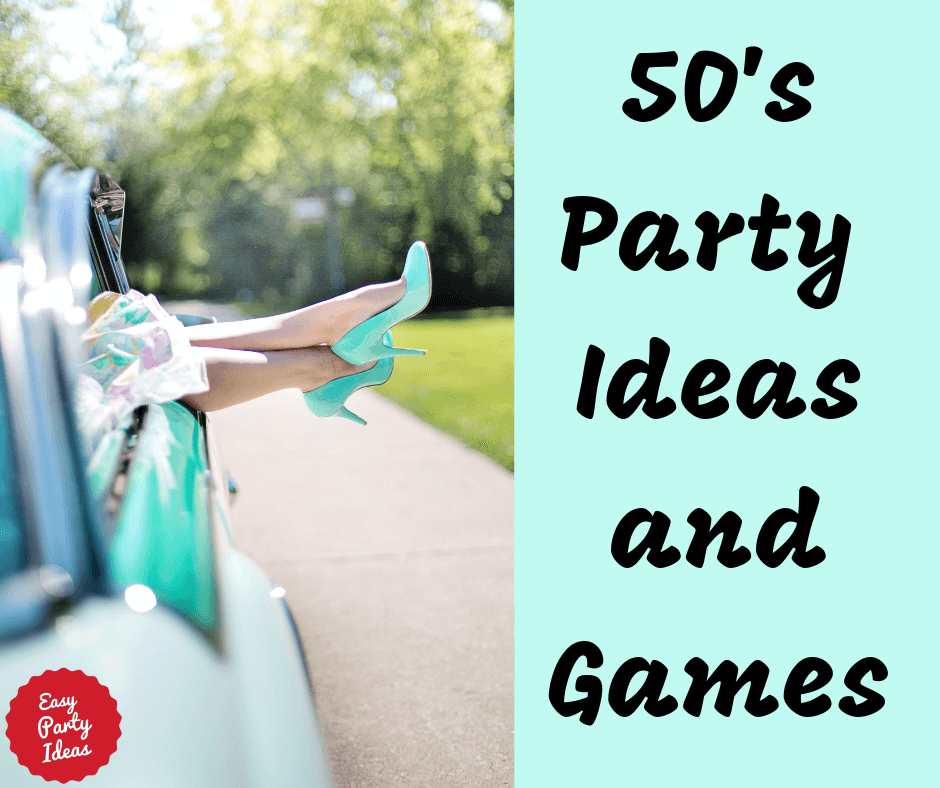 There is something special about the 1950's. Even people who weren't born yet seem to feel an affinity for it.
Perhaps it was the birth of rock and roll, or perhaps it was a coming of age for much of the country.
The US enjoyed much prosperity during this time, and Americans lived the "American Dream."
No doubt about it, the 1950's is a favorite time in history, and is always great for adult party ideas!

50's Party Invitations
Cut out a poodle skirt shape from pink card stock, add a black poodle sticker. Write your invitation details on the back.

Cut out black card stock to look like a 45 record. Create a label and put your invitation details on the label.

Shop a complete line of 50's theme invitations available to purchase. These are some of my favorites:



Fifties Party Decorations
Fuzzy Dice - makes a great party favor at the end of your party too!
45 Record Cut-out Decorations, or cut black card stock in the shape of 45 records, decorate with glitter and hang on the walls or from the ceiling.
Music Note Decorations

Looking for something not suggested already? These pages have 50's party items already pulled up for you to view!

Collection of 1950's Party Decorations & Favors at Shindigz
Don't forget about a great place for photos! This one is so fun!:

1950 Era Party Music
What are the 1950's without music?

Elvis

American Graffitti Soundtrack

Jerry Lee Lewis

There are some great compilation CD's available or you can create and download your own playlist.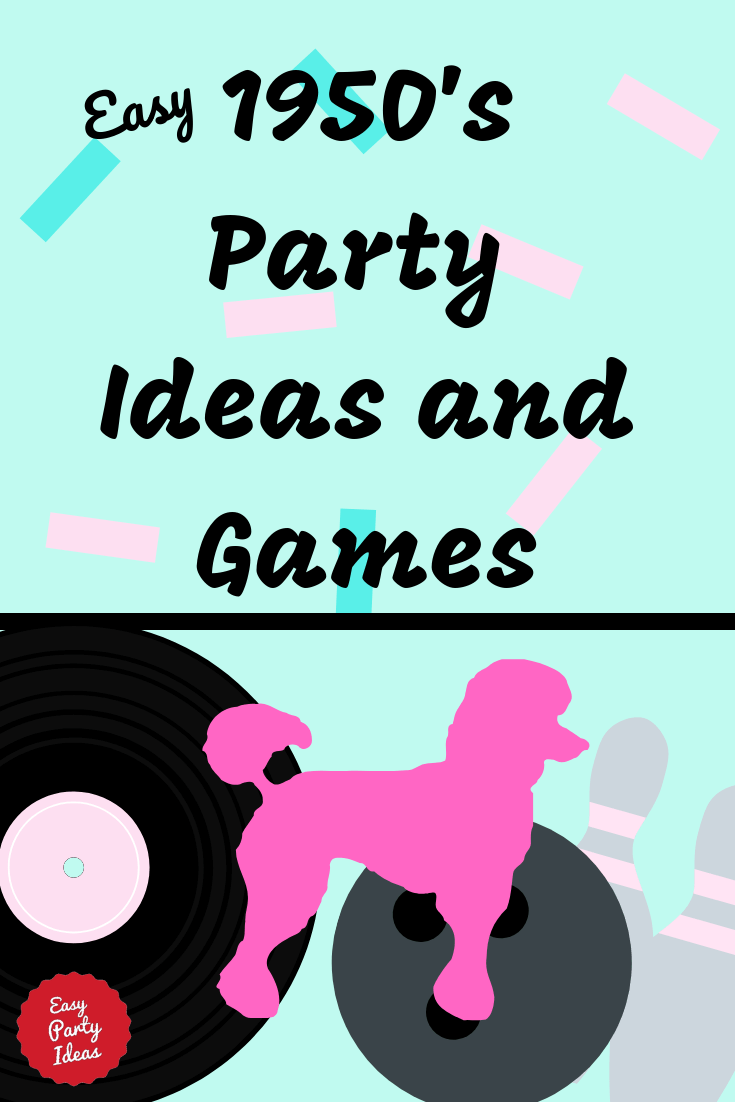 Perfect Party Food
Think...carhops/soda fountains...
If serving a meal, hotdogs and hamburgers (serve in red plastic baskets)

Ice Cream Floats (see below on how to make one)

How to Make an Ice Cream Float
You'll need:
Tall Glass and a Straw
Ice Cream (vanilla is traditional)
Coke (or soda of your choice)

Optional: Whipped Cream
Optional: Nuts, Sprinkles, Cherry
To make, it's very simple! Pour the soda into the glass until it is 2/3 full. Gently add ice cream on top. If you wish, top with whipped cream, then nuts, sprinkles and cherry. Add the straw and enjoy!
Fun 1950's Activities
Have guests wear costumes (Poodle Skirts, bowling shirts, preppy) and award a prize. A great place for 50's style clothing is BowlingShirt.com.

Want to make your own costume? Hire an Elvis Impersonator (1950's version Elvis) or have a friend dress as Elvis and perform

Hula Hoop Contest

Bubble-Gum Blowing Contest Stock up on Bubble Gum!
I Love Lucy Trivia Contest (Give an I Love Lucy DVD as a prize)

Have a Sock Hop with dancing

Have someone teach how to do the popular dances from the 1950's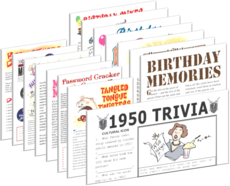 1950 Birthday pack + FREE Party Games
Party Prizes and Party Favors
I Love Lucy DVD
Happy Days TV Show DVD
1950's Music CD
Small bags of Bubble Gum
Anything with an icon from the 1950's on it, including celebrities such as Lucy or Elvis
Fifties Party Costumes
A great place for poodle skirts, bowling shirts, satin jackets and more is
BowlingShirt.com
They have a long history of making customers happy and even ship internationally. Their products aren't just made to be costumes, but are made to last, and are priced very competitively with an authentic look! Don't hesitate to contact them for your outfit!
Have A Great Party to Share?
We want to hear all about it!
This site is a participant in the Amazon Services LLC Associates Program, an affiliate advertising program designed to provide a means for sites to earn advertising fees by advertising and linking to amazon.com.

Let's

Connect

!

Other Decade Theme Parties