An Elegant Champagne Tasting
This post may contain affiliate links. Read our full disclosure policy. 
I once had an opportunity to attend a champagne tasting.
Wow! Talk about an elegant idea!
It would be a great party idea for a wedding shower or anytime you wanted to do things up extra nice.
At this particular tasting, we tasted 4 or 5 different champagnes - getting a taste of each. For food, we were served fancy chocolates. I don't think tasting parties get much better that that!
Another great option to serve at a champagne tasting would be cake - there is nothing like champagne and cake as a delicious combination!
When else could you use this idea? A great time to include it would be for a New Years Eve Party, Valentine's Day Party or even an Oscar Party. Really, it could be included as an activity anytime you might be serving champagne, BUT it is a strong enough idea to build your entire party around.

You could easily turn this into a champagne tasting fundraising party by getting bottles of champagne donated and charging an admission fee. You could make it a very elegant affair, and have everyone dress up for it. Lots of possibilities with champagne!

---
Champagne Tasting Party Activities
Did you know that there are Printable Champagne Facts Trivia Games available?
You could also adapt any of wine tasting party ideas to this concept! Some favorites include:
Price Point Tasting - Serve champagnes within a certain price point.
Blind Tasting Contest - Serve the champagnes, but cover the labels. Have everyone vote during the night for their favorite. Use tasting bottle covers to cover the labels - just make sure you get some that will accomadate the size and shape of champagne bottles.
A fun thing to do for your guests would be to have decorate champagne glasses that they could use at the tasting and then take home as a party favor. Provide ribbons and bows, beads and wire, and or let them create their own "wine charms" for the stems of their glasses.
Another idea for a party favor is to give champagne candles, champagne jelly beans, and even champagne jellies. It may sound like something you haven't heard of before, but I was once given a set of champagne jelly and it was delicious!! Books for collecting champagne bottle labels, such as a wine label and tasting journal, are a good and memorable option as well.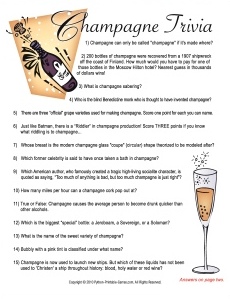 This site is a participant in the Amazon Services LLC Associates Program, an affiliate advertising program designed to provide a means for sites to earn advertising fees by advertising and linking to amazon.com.

Have A Great Party to Share?
We want to hear all about it!
Let's

Connect

!

Unique Tasting Party Ideas