A Dinner Party
This post may contain affiliate links. Read our full disclosure policy. 
"At a dinner party one should eat wisely but not too well, and talk well but not too wisely"

~ William Somerset Maugham
Does hearing terms like "Dinner Parties" conjure up ideas of a black and white movie – with everyone in tuxedos and evening gowns sitting at a long, formal table with butlers and the like? Or maybe something your parents did in another time?

You aren't alone!
That is what many people envision – but it can be as formal or informal as you like.
Actually, a dinner party is one of the best ways to get to spend time with your guests and allow everyone to get to know each other better, and it is one of the easiest and potentially least expensive parties to throw.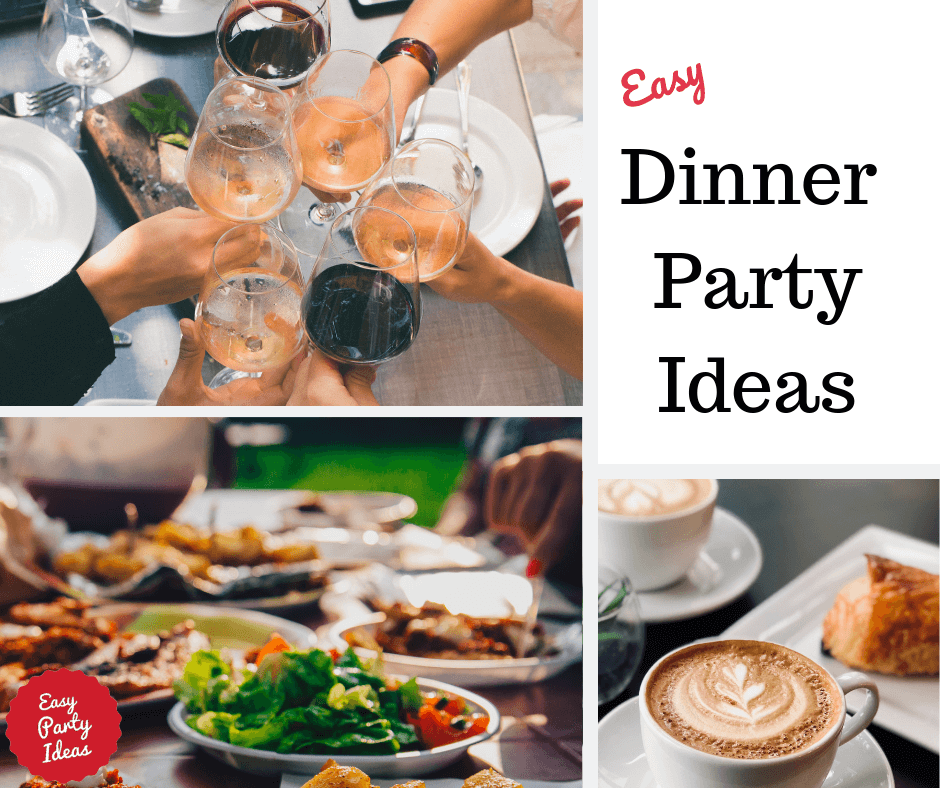 Planning your Dinner Party
What is the occasion?
Is this a celebration? A promotion, engagement, or a gathering of old friends? Or it is simply for an enjoyable evening? This will dictate your theme for the invitation, centerpiece and menu.
Invitation
Because a dinner party is usually a more intimate gathering, you could conceivably invite everyone by telephone. For informal gatherings, email or an online invitation service could be used.
Whether informal or formal, you can always send an invitation in the mail. I think that the invitation sets the tone for the entire event. There are so many options today at the stationary and party stores, or you can make something yourself! The possibilities are truly endless.
Be sure to include all the necessary information on the invitation, such as date, time, location, and RSVP. For more details on what the perfect invitation should include, visit our invitation information page.

The Guest List
Of course, your guest list will be limited to how many people you can seat for dinner.
You should invite guests to your dinner party who will get along and have common interests. You'll spend much of the evening sitting around a table together. You will want to select your guests carefully so that they will enjoy each other's company.
Centerpiece
Because the focus of the evening will be on dinner, you'll want to have a great centerpiece. A seasonal flower arrangement or arrangement of candles is always nice, but depending on the theme, you could do lots of different things.
Is the party to honor someone special? Collect things of interest to the honoree and build a centerpiece around that.
Try elevating the height of the centerpiece to give it a wow factor! Simply place something under the centerpiece to elevate it (phone book, etc.) and cover with a cloth that matches your table cloth (if you have napkins that match your table cloth they work perfectly!).
Whether you use flowers, candles or a collection of items for a centerpiece, make sure you don't have it too high – your guests need to be able to see each other over the table!
Also, remember that anything that gets used on a table could be destroyed. Food could be spilled on it, a glass could tip over, anything could happen! So when choosing items to decorate your table, keep this in mind.
As an example, at a father's day dinner, use neck ties, golf balls, and such. Not wanting to use dad's pricey neckties, purchase an assortment at the dollar store or a thrift store.
Taking a walk down memory lane? Add photographs to your centerpiece – actually add copies of photographs add tuck the originals back in the photo album where they will be safe and sound.
While you are thinking about your table, you can make other special touches such as folding the napkins in an unusual way. Check out this napkin folding guide for great napkin folding instructions.
Menu
If you are lucky enough to be able to hire a caterer AND have the caterer or a staff serve your meal to your guests, then the sky is the limit! But what about the rest of us?
Even though this is a dinner party, keep in mind that part of being a good host or hostess is to spend time with your guests – not slaving over a stove! If you are preparing the food yourself, select items that you can make ahead of time and serve straight from the oven.
If you are using a catering service, but will be serving the food yourself, you'll still want to keep these items in mind. Spending time in the kitchen heating and reheating is no fun. Instead, choose something that can be kept warm until it is time to eat (or better yet something that requires no preparation.)
Italian food, a Mexican Dinner and BBQ are great examples of foods that are easy to serve and everyone loves.
A memorable evening
Your food is ready, your table is dazzling and your guests are arriving. What do you do with them?
Have a few appetizers that compliment your meal available for your guests and offer a beverage as well. Nothing puts a guest at ease like having something to do with their hands!
When everyone arrives and has had a minute to visit, serve the meal that you've arranged. You can have dessert at this point or wait until later in the evening. One great ice breaker is to play inexpensive printable party games.

If you'll be using the table again later for dessert, clear the dishes, but just put them aside. Don't worry about washing them or putting them away until later. This is your party – spend it with your guests! But if not using the table again that evening, just walk away and let the dishes wait. As a matter of fact, our pioneer forefathers (actually pioneer foremothers!) would just cover the table with a cloth to get them out of view until the party was over.
When I throw a dinner party, as soon as we finish eating I always like to adjourn to a room with comfortable seating for conversation and coffee. If conversation lags, have a plan – either some topics of conversation to bring up, or a fun game. Visit our Adult Party Games page for ideas.
And you can always include a theme as part of your dinner party, such as a Hollywood Theme or Murder Mystery Dinner. You'll have lots of choices to read about when you return to our Adult Party Ideas page.
If you want to do something special, but aren't quite sure if you'd like to do a dinner party, consider doing a dessert party instead.
Don't forget your favorite background music to set the mood. Have fun!!
Bon Appétit!

This site is a participant in the Amazon Services LLC Associates Program, an affiliate advertising program designed to provide a means for sites to earn advertising fees by advertising and linking to amazon.com.

Have A Great Party to Share?
We want to hear all about it!
Let's

Connect

!

More handy info for you:
Share your favorite Dinner Party recipes