Flower Power Brunch
This post may contain affiliate links. Read our full disclosure policy. 
Celebrate Spring with a Flower Power Brunch or Luncheon with the girls!
I held this party the first spring after I had gotten married. My husband and I had transformed our backyard by laying a brick patio (we did it ourselves!) and planting a very ambitious flower garden.
To show it off to my girl friends, I planned a brunch where we could sit around the flowers that were blooming so beautifully.
Here are some ideas so that you can have your own flower or garden theme party....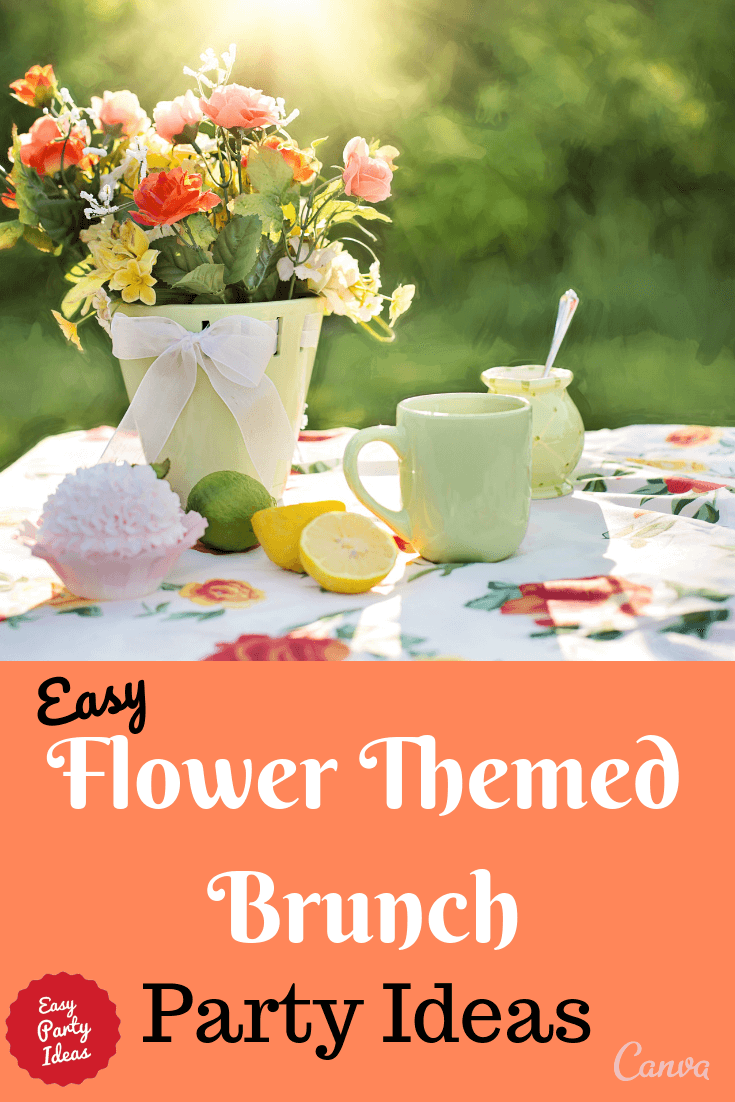 Floral Invitations
Enclose a packet of flower seeds with your invitation
Deliver a flower with your invitation
Make your invitation out of plantable paper. Here's info on how to make it!
Garden Party Decorations
Flowers
Topiaries
Anything nature inspired
Anything gardening inspired (cute watering cans, spades, hats, etc.)
Spend extra time on your table setting. This is the time to bring out beautiful linens and dishes.
I have found the best book for arranging flowers at home. You'll find lots of things in this book that you can make. They give you step by step instructions, and you'll have everyone saying "oooh" and "aaah"! The book is called A Year Full of Flowers: Fresh Ideas to Bring Flowers Into Your Life Everyday (Amazon Link)
Floral Photo Booth Backdrops
Here is a beautiful floral photo booth backdrop from a recent party I attended. I had to snap a photo to share with you!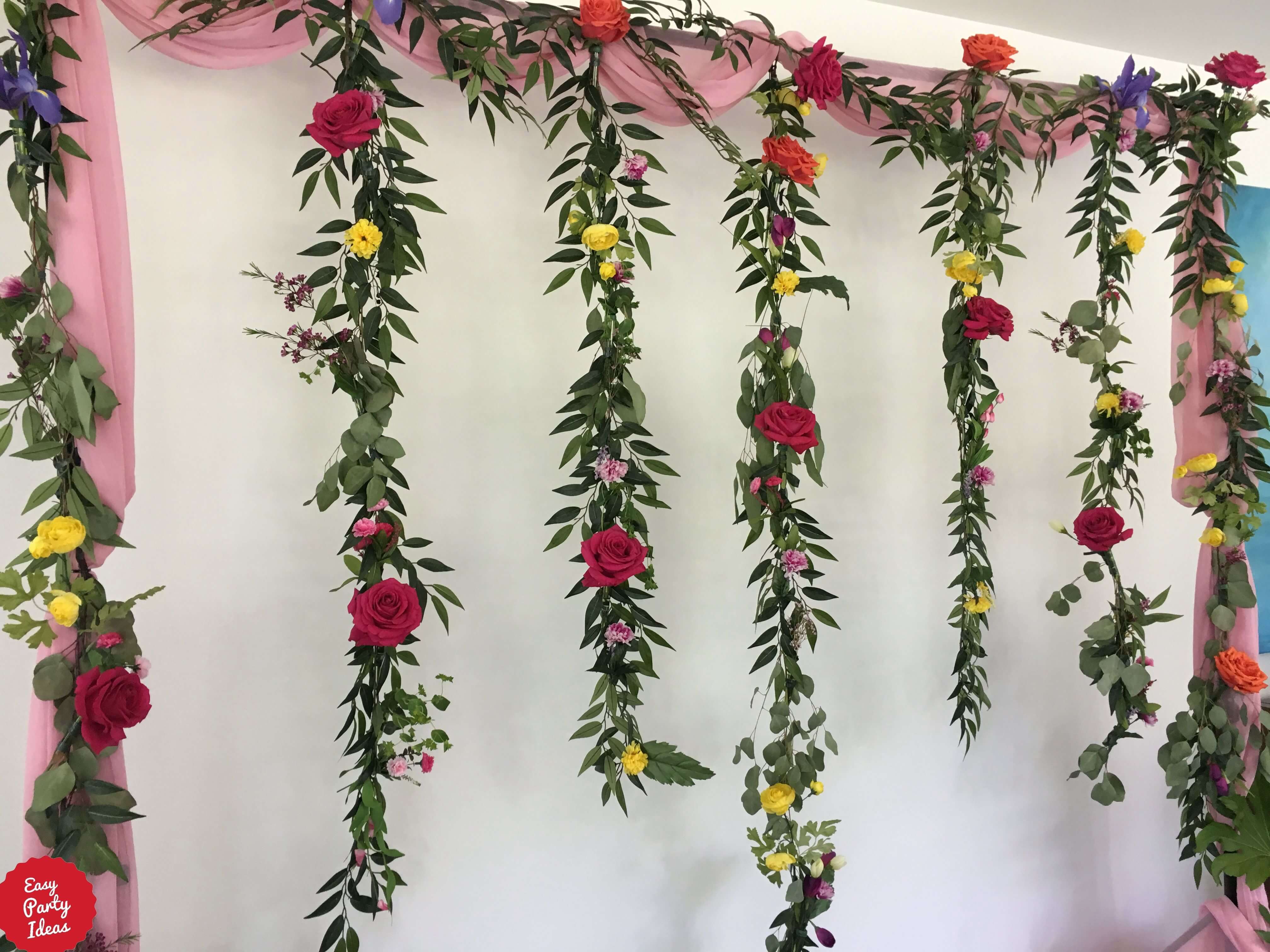 What to serve at a Flower Power Brunch
Salads with edible flowers (pansies and beautiful and colorful!)
Garnish other dishes with edible flowers
NOTE: Some flowers are toxic and care should be taken that you are gathering something that is edible. Allergic reactions can occur. Make sure you wash to remove pesticides, dirt and insects.  
Serve a daisy cake or other flower themed cake
Serve with floral dishware and linens
This Daisy Party was fun and festive with yellow and white tables, daises, and even daisies on the little cakes!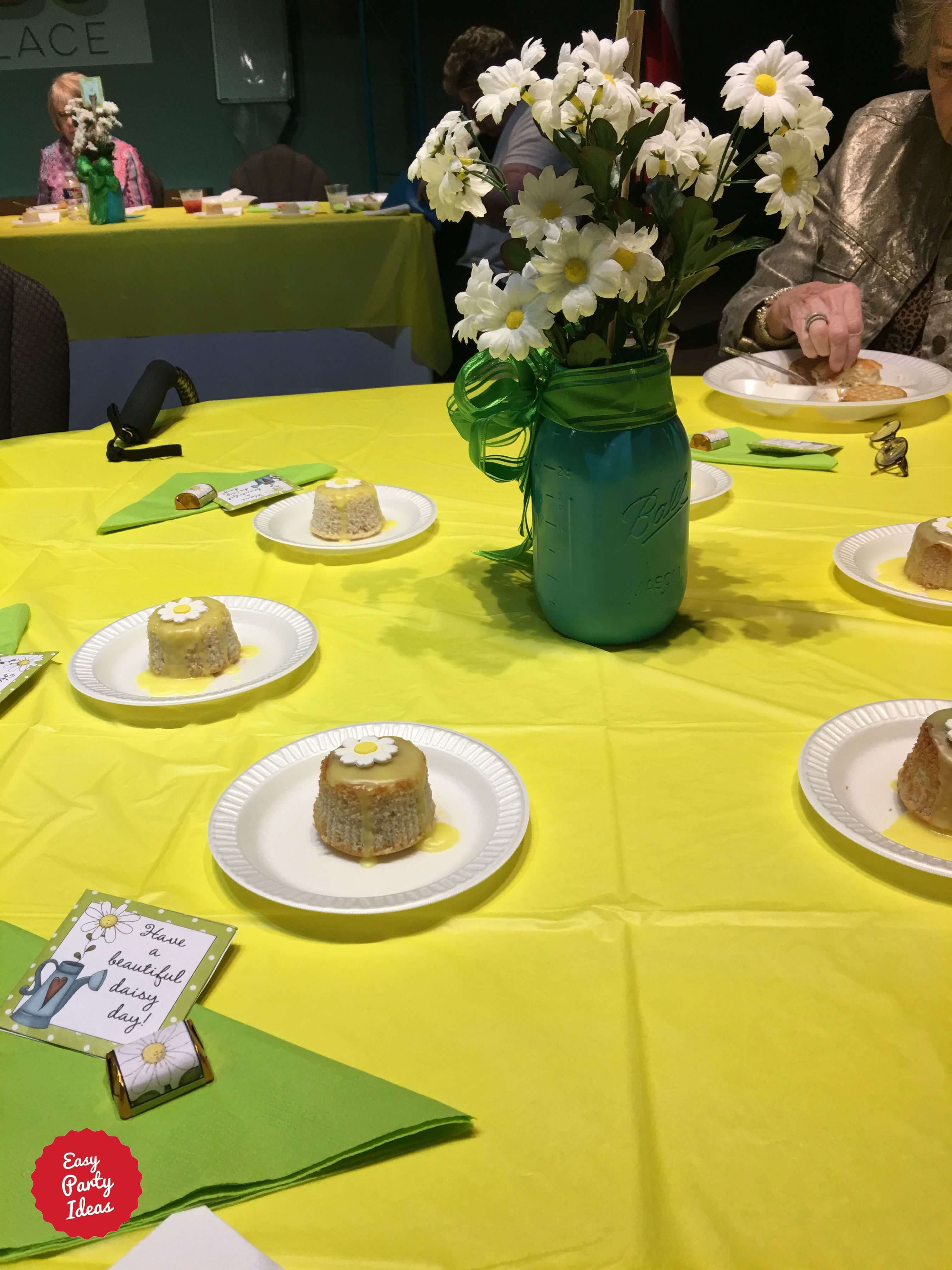 Party Favor Ideas
Potted flowers, succulents or topiaries
Gardening Items
Books are always a nice gift, and don't have to be gardening themed... Think outside the box, such as a poetry book with poems about flowers
Personal Care products made from natural ingredients, such as soaps and lotions
Packets of flower seeds

Making it a 60's Flower Power Party
If you landed on this page looking for "Flower Power" as in an awesome 1960's theme party,
click here.
If you'd like to include some 1960's fun, a great place for theme items is
Shindigz
This site is a participant in the Amazon Services LLC Associates Program, an affiliate advertising program designed to provide a means for sites to earn advertising fees by advertising and linking to amazon.com.

Let's

Connect

!

Don't Miss!
For other brunch ideas, how about a Muffin Madness Brunch?
It's Groovy Baby! A Flower Power Brunch, 60's style
Make Your Own Flower Decorations