Sports Party Ideas
Cheers for your Favorite Fan!
This post may contain affiliate links. Read our full disclosure policy. 

Here are some ideas and games for a sports party theme...whether you are celebrating a specific sport or event, or a salute to all sports.
Some people choose a sports theme to coincide with a special event such as the Super Bowl, World Cup or the Olympics
Other times this party theme focuses on a specific sport, but it can include a salute to all sports just as easily.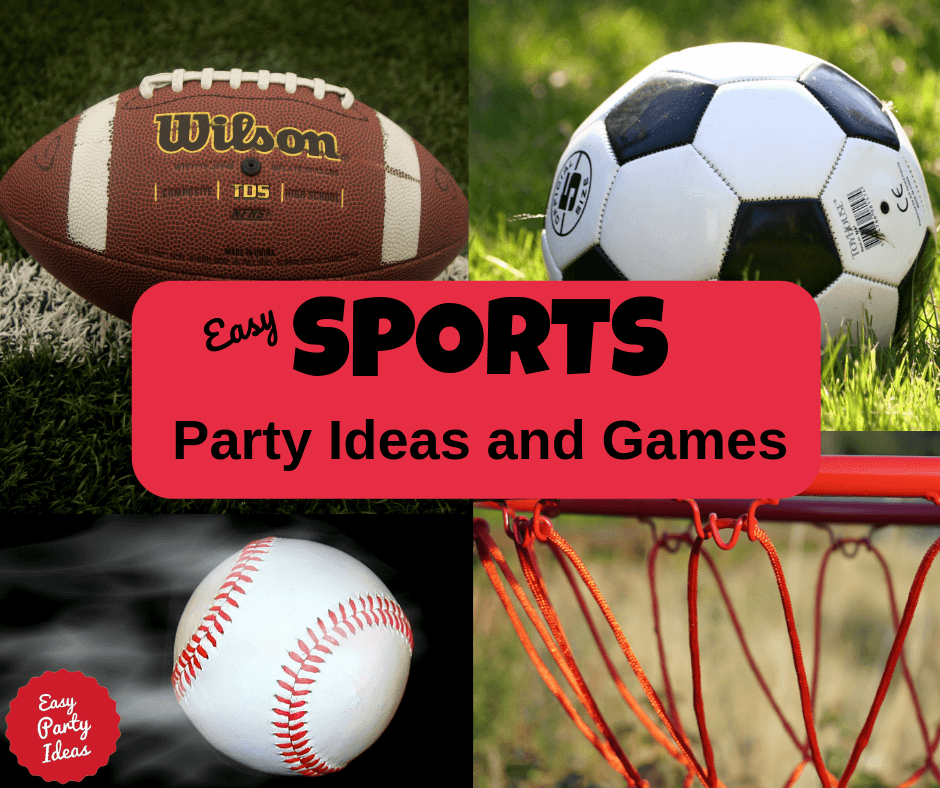 Sport Party Invitations
Any sport theme invitation
An invitation attached to a pompom
A megaphone, with invitation information printed on it
Make a fake sporting event ticket
Make a Coach's "playbook", with the big play being your party!
If going for an Olympics theme, make a card with the Olympics rings
A fun idea is to ask everyone to come in a shirt, jersey, hat, or whatever of their favorite team. Be sure to include it on the invitation!



---
Sports Party Decorations
Anything sports themed
Old sports uniforms
Posters of sports heroes
Sports Magazines
Mix in some helium balloons in your favorite sports team's colors
If going for an Olympic theme, hang a poster of the Olympic Rings as well as flags from other countries.
For music, be sure mix in the Rocky Theme and the Olympic Theme
---
Sports Party  - Active Games

Take it outside! A sports theme party isn't complete without some sports! You can have your own "sporting event" fashioned after good old fashioned field day events. Consider it an "Outlandish Olympics!"
Egg and Spoon Relay - Divide players into two teams and have each team form a line. Have a member of each team race to a certain point, holding a hard-boiled egg in a spoon, and then return so that the next team member has a turn.
Play soccer - If there are kids, try using a balloon instead of a ball for extra fun!

Panty Hose Race - the craziest race ever!


Hula Hoop Contest
Obstacle Course - Design something that is just the right challenge for your guests!


High Jump - Jump over an obstacle.


Scooter Pull Relay - Have players lie on the stomachs on a flat cart and pull themselves to a finish line.


Balancing Race - Players race with a book balanced on their heads. If the book falls, the player must return to the starting line.


Darts
Bean Bag Toss, Ring Toss, or Horseshoes
Putting contest
Pinata - use a sport theme piñata
---
Sports Fan Menu

No sports party is complete without food! These sports stadium staples are sure to be a hit!
Hot dogs
Popcorn
nachos
cotton candy
Anything you would eat at a sporting event
A sports related cake, such as a hockey cake. football cake, or a soccer cake.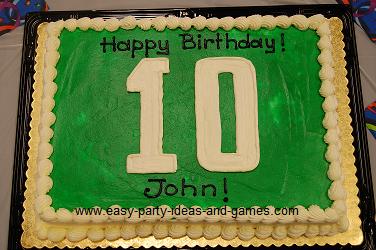 Sports Cake, shared by my friend Christine
---
Favors and Parting Gifts
It is always fun to leave a party with a memento of the event. This can be as simple or elaborate as you like. Some fun party favor ideas include...

Water Bottles
Team t-shirts for the 'party team"
Medals
Sports Trading Cards
Have A Great Party to Share?
We want to hear all about it!
Site Visitor Cliffee in Chicago, IL did this party, and says "at this party we got to wear our favorite team jerseys! And we also get to mingle and enjoy conversations with others who may like wearing the same teams as you."
This site is a participant in the Amazon Services LLC Associates Program, an affiliate advertising program designed to provide a means for sites to earn advertising fees by advertising and linking to amazon.com.

Let's

Connect

!

Suit up for top party ideas!