Dog Party Ideas
This site contains affiliate links, meaning if you click on the link and make a purchase, I may receive a small commission (at no cost to you!) I only recommend products I've personally used or would love to use myself! Get the scoop here.
Time to gather up some party ideas for dogs!
A growing trend in the U.S. is having a party for your favorite pet! According to the American Pet Products Association, 7% of dog owners have a dog holiday party or dog birthday party (and that number is growing every year!).
There are even venues that cater to having dog birthday parties.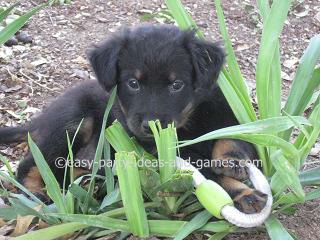 What can you expect from a dog party?
Well, dog parties can take several different forms, just like a party for a human! From a theme, to a cake, to activities, invitations, favors...there is lots of planning to be done.
Consider your guests as you would any other party too. Make sure all dog guests are ones that your dog (and the other dogs) will get along with. So now is not the time to bring new dogs into the mix.
You may decide that at your dog party you'll only have your pet, along with humans who love it. That is OK! What better way to show your pet love than have several people there devoted to showing it love for the afternoon!
Some fun ideas for a dog party include:
Create your own spa! Have a selection of spa, grooming and wellness products on hand
Serve hot dogs to the people attending
Have a pet trick contest with a prize for everyone who participates
Have a customized dog bowl for each dog
Instead of gifts, collect items for an animal shelter

Remember to keep out plenty of water.
This site is a participant in the Amazon Services LLC Associates Program, an affiliate advertising program designed to provide a means for sites to earn advertising fees by advertising and linking to amazon.com.

---
Have A Great Party to Share?
We want to hear all about it!
Let's

Connect

!