Dog Party Ideas
This post may contain affiliate links. Read our full disclosure policy. 
Time to gather up some dog party ideas so they can celebrate too!
A growing trend in the U.S. is having a party for your favorite pet! According to the American Pet Products Association, 7% of dog owners have a dog holiday party or dog birthday party (and that number is growing every year!).
There are even venues that cater specifically to having dog birthday parties.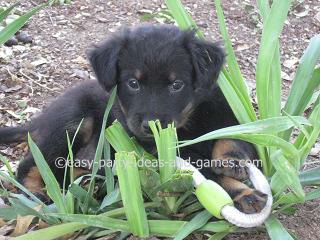 This is my dog, Cookie, when she was a little puppy. She is very smart.
Best Dog Party Ideas
What can you expect from a dog party?
Well, dog parties can take several different forms, just like a party for a human! From a theme, to a cake, to activities, invitations, favors...there is lots of planning to be done.
IMPORTANT: Consider your guests as you would any other party too. Make sure all dog guests are ones that your dog (and the other dogs) will get along with. Now is not the time to bring new dogs into the mix.
You may decide that at your dog party you'll only have your pet, along with humans who love him. That is OK! What better way to show your pet love than have several people there devoted to showing him or her love for the afternoon!
Some fun ideas for a dog party include:
Create your own spa! Have a selection of spa, grooming and wellness products for dogs on hand
Serve hot dogs to the people attending, and be sure to only serve food that would be safe for a dog to eat too

Have a pet trick contest with a prize for everyone who participates
Have a customized dog bowl for each dog
Instead of gifts, collect items for the local animal shelter, foster program or charity
Remember to set out plenty of water
Have poop bags available for your guests - someone will need one at some point!
For a fun activity, set up a doggie obstacle course. Let each dog take a turn running thru it with their master.

Set up a cute photo booth and have someone available to snap photos of the guests.

You're probably planning to have the party outside. Make sure the area is well-fenced. But what happens if it rains? Many dog care facilities will rent indoor space for parties. This can be a great option, especially because their facility is created to be clean, dog-friendly, and escape-proof.

This is my dog, Daisy, when she was a little puppy. She is about 55 pounds now!
This site is a participant in the Amazon Services LLC Associates Program, an affiliate advertising program designed to provide a means for sites to earn advertising fees by advertising and linking to amazon.com.

Have A Great Party to Share?
We want to hear all about it!
Let's

Connect

!

You may also like:
Dog Party Ideas for kid theme parties
Cat Party Ideas for kid theme parties