Mexican Dinner Party Fiesta

This post may contain affiliate links. Read our full disclosure policy. 
A Mexican Dinner Party is always a hit! Easy to plan and serve, and oh so delicious! Talk about great and easy dinner party ideas!
I live in the great state of Texas, and this land used to be part of Mexico. We share a border, and share a heritage (including culinary heritage.) While a lot of the food we enjoy is more "tex-mex" the decor and spirit of an event like this is the same.

How to Throw a Festive Mexican Dinner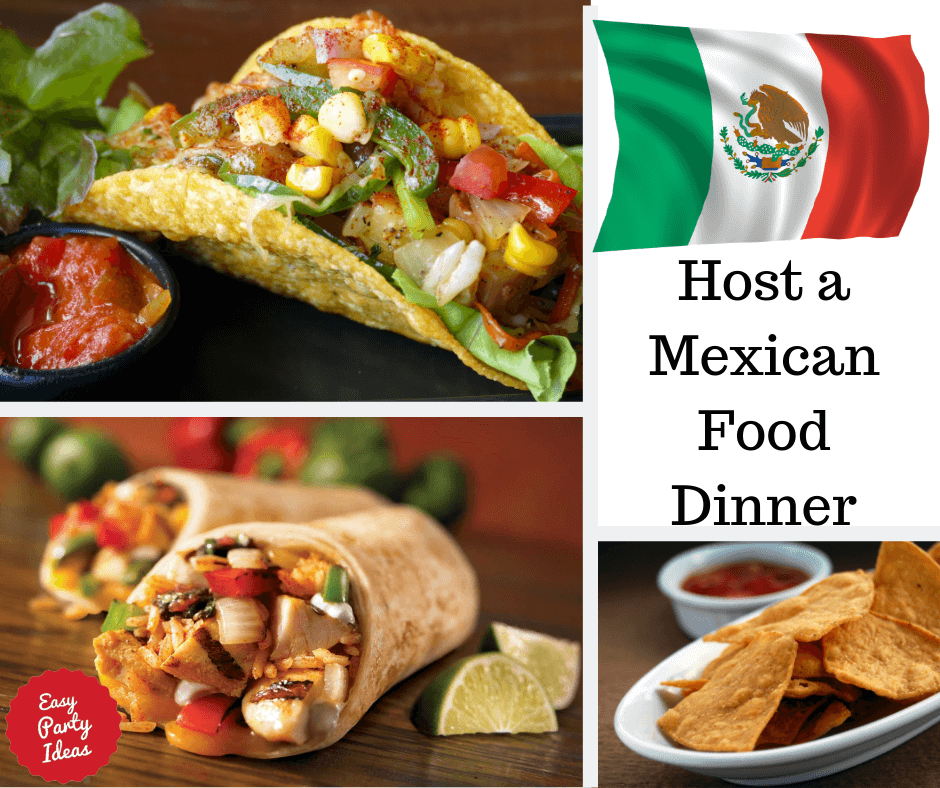 Decorate with bright colors. Cover a serving table with a Mexican blanket. A centerpiece can be made from a collection of maracas, sombreros, etc. You can even mix in some tropical fruit such as pineapples, mangoes and limes to fill in your centerpiece.
Play some mariachi music in the background, or perhaps the Gypsy Kings or Jimmy Buffet. Anything fun and relaxed will do!
For your Mexican menu, you can either have a Mexican restaurant prepare the food for you (check to see if your favorite provides catering) or make it yourself. Below is a menu for an easy Mexican meal that you can prepare yourself.

Fiesta Photo Prop
Mexican Food Dinner Party Menu
For appetizers, tortilla chips along with hot sauce, queso sauce and/or guacamole is always a hit. You can purchase all of these items already made. Another great and attractive item is a seven layer dip, incorporating beans, cheese, sour cream, etc.
For dinner, enchiladas are easy to prepare. I personally prefer to serve plain old cheese enchiladas with a queso sauce. There are many varieties, but just about everyone loves the cheese kind, so this should please all your guests. A corn casserole, made ahead of time, and a pot of pinto beans (make in a crock pot and they'll stay warm for your party) complete the meal.
For dessert, offer a key lime or lemon ice box pie. You can purchase these ready made in your grocery store freezer – I love to serve the Edwards brand pies. Of course, if you love to prepare food and have time, you can make these yourself.
Another dessert idea is to serve a cake that looks like the Mexican flag.
Now, I have a friend named Tita who makes an out of this world flan! You're in luck, because she has shared her flan recipe with us! Thanks Tita!
Don't forget...Margaritas and Sangria are a must! Ole!
This site is a participant in the Amazon Services LLC Associates Program, an affiliate advertising program designed to provide a means for sites to earn advertising fees by advertising and linking to amazon.com.

Have A Great Party to Share?
We want to hear all about it!
Let's

Connect

!

Picked just for you!
Plan an Around the World Party

Need more info on planning the perfect Mexican dinner party?