Halloween Party Ideas for Teenagers
This post may contain affiliate links. Read our full disclosure policy. 
Halloween Party Ideas for Teenagers are fun because you get a chance to " be a little kid" again for the night. Nothing kiddish about this though…just lots of fun!

Halloween Party Games for Teens
Apple Race - You'll need an apple for each player. Players race on hands and knees while pushing apples with their noses to the finish line.


Balloon Stuffing Game – If your guests don't come in costume, this is a fun game to play. Before the party, blow up lots of orange and black balloons. Divide players into teams, with one person on each team putting on a large sweatshirt or sweatsuit. On "Go", both teams try to stuff their sweatsuit as full of balloons as possible. 

Balloon Sweep Relay – You'll need an orange or black balloon for each team and a broom. Divide players into teams. On "Go", have them run a relay race by sweeping the balloon around the course and back to the next player for a turn.


Bobbing for Apples - In a large bucket or container, float apples in water. Players try to grab an apple, using only their teeth! Another version of this game is to try to eat a donut, hanging from string, using only their teeth. Good for all ages, not just Halloween party ideas for teenagers!


Costume Halloween party ideas for teenagers
Bobbing for Worms – who bobs for apples when you can bob for worms? Place a worm on a paper plate (one plate for each player), and then cover with lots of whipped cream. Have players find the gummy worm(s) while keeping their hands behind their backs!
Candy Corn Guess – Fill a jar with candy corn and let everyone guess how many pieces are inside. The player with the closest guess wins when you use this Halloween party ideas for teenagers!
Candy Corn Toss – You'll need: a timer, candy corn, and two plastic trick-or-treat pumpkins. Divide your guests into teams. Have each team stand behind a line drawn on the ground, and place a trick-or-treat pumpkin for each team a short distance away. On "Go" each team tries to toss candy corn into the pumpkin. Whichever team gets the most candy in the pumpkin in two minutes wins! Another variation is to have a team member hold the pumpkin and try to catch as much candy corn as possible. 
Ghost Bingo – make your own Bingo cards, but instead of numbers, put Halloween images on the cards: a black cat, a ghost, a bat, a witch, a broom, a pumpkin, etc. Have someone draw for images, use candy corn or candy pumpkins as markers, and when someone gets a bingo, yell "boo!" Lots of fun to include on your Halloween party ideas for teenagers list if you'll be sitting and playing games.
Ghost in the Graveyard - Site visitor Saoirse from Ireland shares this game: Someone hides (The ghost) And then the other players try find the ghost. The first to find the ghost can't be caught. The others then try to get back to a point decided earlier in the game without the ghost tagging them. If they get tagged, They are the ghost for the next round. The ghost is on again  if they don't catch anyone.
Halloween Charades – Play this just like charades, but with Halloween items (witch, cat, monster, etc.)
Halloween Who Am I? - Play the who am I? game, but with Halloween characters.
Halloween Word Scramble, Mazes, Crossword Puzzles – Have some of these at your party for an arrival activity or for a quiet activity or include on your Halloween party ideas for teenagers list if you'll be sitting and playing games.
Hangman - A fun game for a large group to play, also perfect for a slumber party!
Mr. Hal O'Ween's Body Parts - This game goes by many names, but the general idea is the same. You can have the guests sit in a circle in a darkened room to pass the "body parts" around so everyone gets a feel, or you can let guests feel one at a time inside boxes (without looking). Afterwards let kids try to guess what they are touching. Some ideas:
Hair – yarn, corn silk or a wig
Brains - cooked spaghetti
Heart – peeled tomato
Eyeballs - grapes
Tongue - banana
Teeth - popcorn kernels or small gravel rocks
Fingers - carrots or hot dogs
Nose - Carrot
Fingernails - almond slivers

Murder Mystery – For older kids, a murder mystery as one of your Halloween party ideas for teenagers might be fun!
Pass the Apple - Just like Pass the Orange, but with an apple!
Pass the Pumpkin - Played just like Hot Potato, but with a pumpkin
Pinata - Select a piñata in a Halloween theme.
Printable Games - An instant activity, it is easy to "print and play" with these easy and inexpensive Printable Halloween Party Games Pack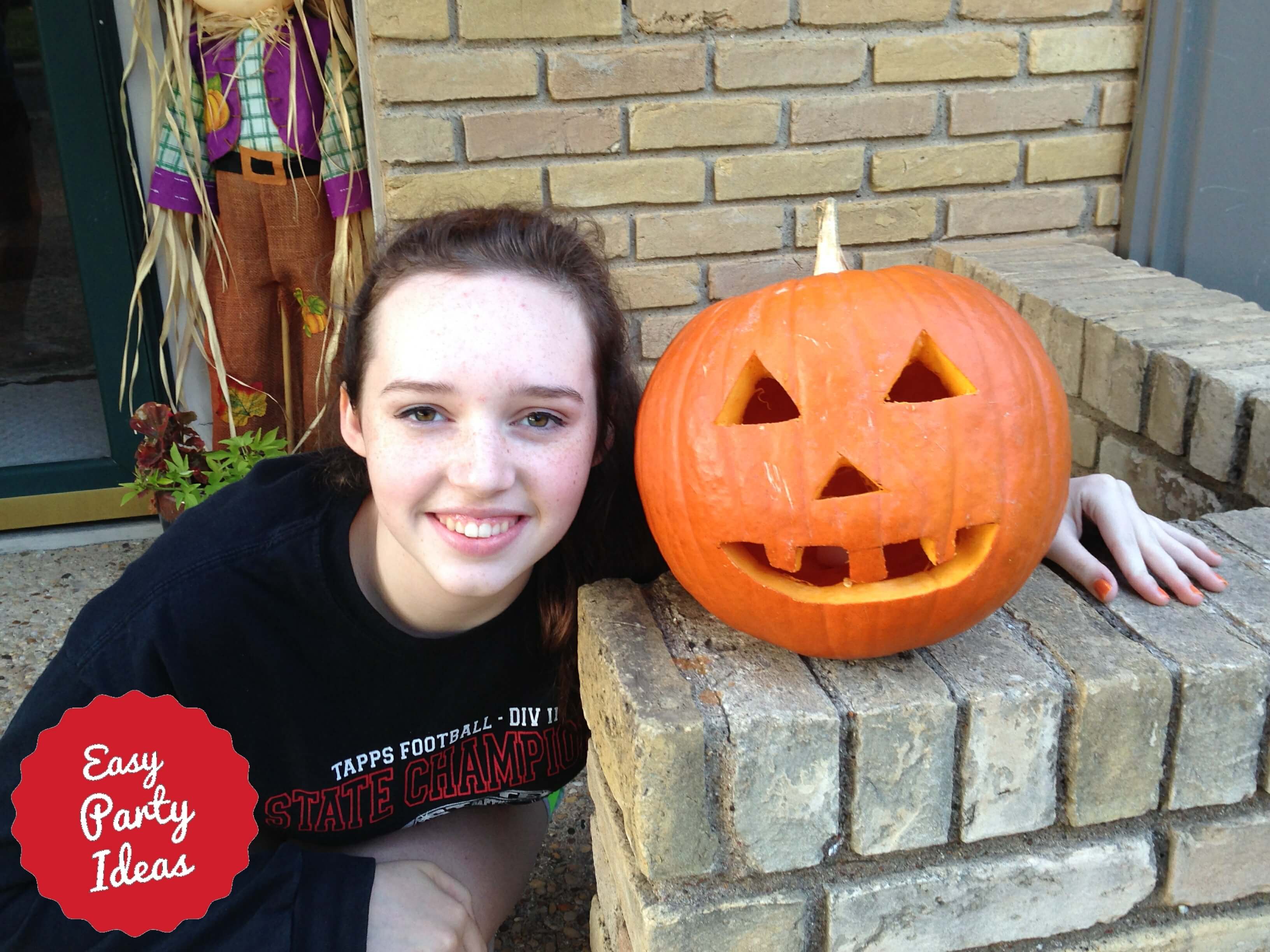 More Halloween Party Ideas for Teenagers
Pumpkin Toss - Visit a pumpkin patch and purchase their old pumpkins (they may give them to you in exchange for your hauling them away!). In a long driveway, set up a throwing line with a target (such as a trash can) a certain distance away. Take turns throwing pumpkins, trying to get them to land in the trash can. Pumpkins will break, so expect this one to be messy!
Scavenger Hunt - Plan a Scavenger Hunt with a spooky theme!

Spider Web Maze - Test the players' teamwork as they try to untangle their strands of yarn to get to their prizes. This is sometimes also called a String Maze. You'll need several skeins of yarn in different colors. This is very time consuming to set up but fun to do! You'll need to set it up in an area away from the rest of your party, because you won't be able to use this area at all until the string hunt is over. To set up, make a starting point for a string of yarn. Then thread the yarn all over the available area. Loop around, over and under objects, with a note or prize at the end. Create a string of yarn that loops around for each player. You don't have to have a different color of yarn for each player, but it is nice to at least have a few different colors to help players be able to tell their strings apart from each other.


Tell a Spooky Story - Sit in a circle and let the host tell a story. They'll start with a sentence to get the story rolling. Then the next person in the circle will tell what happened next in one sentence. Go around the circle 3 times to complete the story! (with a small group you may want to go around the circle more times than that)!


Truth or Dare – Before the party, insert pieces of paper with age appropriate truth or dares on them inside black and orange balloons. Blow up the balloons and at the party give each child a balloon. Have them pop, one at a time, and then tell the truth or do the dare, as listed. We've already come up with some great (and safe!) questions and dares for a truth or dare game. Fun for your sleepover Halloween party ideas for teenagers list.


More fun activities at Halloween parties - ideas for teens
Decorate Halloween Cookies
Go on a Hayride
Wear your costumes!
Have a "spooky" makeover party and make everyone over into something really crazy! (Make up one person as a clown, one as a princess, or go with all spooky characters)
Go "Boo-ing" or "Ghosting" friends or neighbors
Anytime in October would be a great time for a sleepover girls Halloween party or sweet 16 Halloween party as well.

Teen Halloween party ideas should start with invitations that tell your friends whether they should dress in costume or not. Costumes are fun, and you can award prizes for the funniest, scariest, etc. Include cheap printable Halloween games with your invites to make them even more fun.

Make or purchase Halloween party decorations and play some fun Halloween party songs.

Don't forget the Halloween party foods too! Teen Halloween parties require lots of snacks and you'll want to plan for including some great Halloween party recipes.

Sometimes Halloween party ideas for teenagers include scary Halloween party ideas.  Keep in mind your guests and decide what they will enjoy. That will help you know how scary or spooky to make your party.


Have A Great Halloween Idea?
Do you have a great idea for celebrating Halloween? Share it!
What Other Visitors Have Said
Click below to see contributions from other visitors to this page...

Pumpkin Bashers

So its kinda like a mini piñata, you make it just like you would a regular piñata or any-other craft like that. You fill balloons with candy and or small …
Ideas shared by other visitors to this site - more Halloween party ideas for teenagers:
Teen Party Ideas for any occasion...
This site is a participant in the Amazon Services LLC Associates Program, an affiliate advertising program designed to provide a means for sites to earn advertising fees by advertising and linking to amazon.com.

Halloween Party Decorations
Great decorations can really help make a party work! Here are links to some of the most popular Halloween Party Decorations:
Flameless Candles
Black Lights
Strobe Lights
Fog Machine
Cobwebs
Candleabra
Stuffed Crows
Halloween Scene Setters
Tombstone Decorations
Spider Decorations
Halloween Potion Jars
Halloween Skull and Skeleton Decorations
Halloween Pumpkins
Scary Sounds CD
Download these Halloween Party Songs
Let's

Connect

!

More Halloween Fun