Teen Luau Party Ideas
This post may contain affiliate links. Read our full disclosure policy. 
A teen luau party is fun whether at home, at the beach or at a pool!
The luau party is one of the top 3 teen party ideas around.
We've made it easy for you to create an unforgettable teen party or teenage birthday party using the ideas below!
Aloha!
Luau Party Invitations
Write the party details on inflated beach balls and then deliver them to your friends.
Cut out shapes of Hawaiian shirts from tropical themed scrapbooking paper and write the details on the back of the shirt.
What do you think of this idea? Send your invitation as a "message in bottle". How? So easy - you can purchase kits online and it's done! 
---
Luau Party Decorations
With a teen luau party theme, the more decorations the better to help set the mood! (Rest easy, the links provided below either take you to another page of this site or just take you to Amazon or one of this site's other affiliate companies.)

Table covers in tropical colors: hot pink, lime green, yellow, turquoise, and orange.
Sand Pails and beach toys (use sand pails to hold chips and dips)

Palm Trees (real, inflatable, or made from butcher paper)
Flowers (Hibiscus, orchids, palms)
Fresh Fruit (pineapples, coconuts, bananas)
Hollowed Out Coconuts as candle holders
Travel Posters to Hawaii (check with a travel agent to see if they have any they will let you have)
---
Teen Luau Party Food & Beverages
Teen parties include LOTS of food! Other than the usual chips and dips sort of party food, you can add some "flavor" to your luau party with these party food ideas:
Hawaiian pizza
Fruit salad (use tropical fruit)

A teenage birthday party will need a cake. Here is a link to some options...
Fill up a kiddie pool with ice and use that for serving beverages.

---
Teen Luau Party Games
Here are my favorite easy and fun luau party games:

Have a "dance off" hula style
Hula Hoop Contest
Limbo!
Play Pass the Orange Game (two teams form a line…each team has an orange and passes it from person to person under their chin – no hands allowed! The first team that passes the orange all the way down the line wins!)
Play Pass the Coconut (like Pass the Parcel)
Play Hot Coconut (like Hot Potato)
Have a Coconut Hunt (Treasure Hunt to find the hidden coconuts)
Play the Bust the Coconut Game – Tie a brown balloon to an ankle of each guest. Have them try to pop each other's "coconuts" without their own getting popped
Have a load of sand delivered and have a sand castle building contest.
Have a surprise gift exchange. Before the party purchase and wrap fun beach related items. Draw numbers to see who gets to go first…then guests go one at a time and can pick an item to open or steal a gift from someone else.
Hit a luau themed pinata. It's easy to make your own teen luau party pinata
Play some great water games, even if you don't have a pool!
If you do have a pool, check out our list of pool games to add to your party planning!
Here are some fun things to do at the beginning of the party, when you are waiting for everyone to arrive. Sometimes these activities are called "ice breakers" because they get the party started.

Prior to the party look up the Hawaiian name of each of your guests and include it on a name tag
Hire a hula dancer to come do a show and teach a dance
Decorate sugar cookies with icing and sprinkles to look like beach balls
Decorate flip flops
---
Luau Photo Backdrops
A great photo backdrop is a must, and one cute idea would be to set up some surfboards.

Another fun idea is to make your own volcano as a photo backdrop!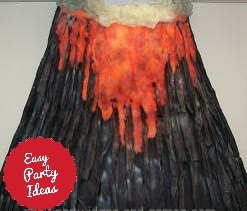 ---
More Fun!
I love it when visitors to this website share their ideas! Hannah shared this fun game, which she calls Coconut Smooch:
Hannah says...
It is a two person game. You put a cocunut in between your bellies, try to get the cocunut up to your guy's lips. Oh yeah, NO HANDS! If the coconut drops you have to pick it up some how without hands. Don't be a party pooper and use your elbows unless they are behind your back!:)
Thanks Hannah!
---
Luau Party Favor Ideas (and Prize ideas too!)
There are lots of ideas for luau party favors that are great because they can be used over and over after the party. You can even come up with a logo for your party and get it imprinted on them...
Beach Towels

Beach Bag filled with sunscreen, beach towels, etc.

Water bottle
Frisbee
Drawstring tote bags

---
Tell us about your great teen party idea!
Do you have a great party idea? Share it!
What Others Have Said
Click below to see ideas from other visitors to this page...

Don't Drop the Coconut Not rated yet
So in don't drop the coconut you have water balloons and you pair up with a teammate. You throw the balloon (the coconut) over to them standing at a short …
This site is a participant in the Amazon Services LLC Associates Program, an affiliate advertising program designed to provide a means for sites to earn advertising fees by advertising and linking to amazon.com.

Let's

Connect

!