A Stroke of Fun!
This post may contain affiliate links. Read our full disclosure policy.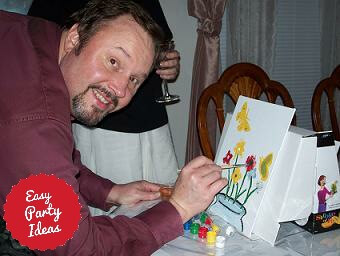 A few years ago an ice breaker party kit called "Stroke of Fun" was sent to me to try and review. I was so glad!
The idea was SO easy!
Set it out, then let your guests pick up a paintbrush and contribute their own special touches to a masterpiece that develops over the course of the party.
Here are some reasons why you might want to try this at your party...
Instant Party Ice Breaker
For one thing, I get requests all the time for great party ice breaker activities. This is it! Set it up, and it will draw a crowd of curious people at your party. Before you know it, everyone is wanting a turn.
What is an ice breaker?
It is any activity that gets your guests mixing and mingling, talking with each other and meeting new people. A good activity gives people who don't know each other something to talk about it.
Becomes a Gift
If you are using this icebreaker for your party, it also becomes a gift.
If you are having a birthday party, it becomes a great birthday gift at the end of the night. It would be great for any adult party or teen party.
I understand that it is a popular idea for graduation parties, so it isn't limited to birthdays, anniversaries, etc.
Use it anytime you'd like a memento of your event.

Everything You Need for a Stroke of Fun!

Unfortunately, the company who made Stroke of Fun is apparently no longer making this product.
HOWEVER, there is no reason why you can't recreate it yourself!

These are some recommended items:
Canvas
Easel or Table for canvas to sit on while painting
Drop cloth to protect the floor
Pencil and some stencils (I recommend doing the stencil in your chosen design before the party, so it will be ready to paint.)
Paints
Brushes
Water (to wash out those brushes)
Paper Towels (just in case...)
"Signature Card", where everyone who contributed to the painting could sign their name, write a special message, etc.
You'll find all the supplies that you need easily at
this Amazon page.
(Affiliate Link)
Ready to try it at your next party?
I've done this activity at a couple of different parties, and each time everyone thought it was so inventive and a wonderful keepsake for the party honoree.

If you try this, please send me pics - I would love to share your creations with other site visitors!
---
What is your favorite party game?
Do you have a great party game? Share it!
This site is a participant in the Amazon Services LLC Associates Program, an affiliate advertising program designed to provide a means for sites to earn advertising fees by advertising and linking to amazon.com.

Let's

Connect

!

These are more of my Favorite Ice Breaker Games