Great Party Games
This post may contain affiliate links. Read our full disclosure policy.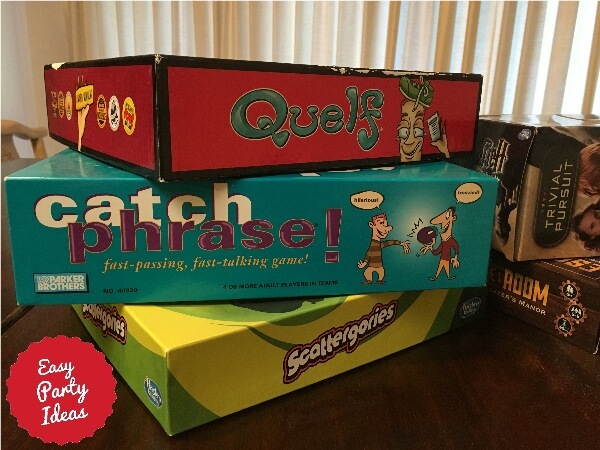 If you are looking for easy and fun great party games that are easy to play and that can be purchased and played right out of a box, then this page is for you!!
If you don't already own these games, you may be able to borrow them from a friend. Or perhaps you'll want to invest in your own to have on hand for future parties!
When selecting which game you will play, keep in mind:
the number of people who will be playing
the amount of room that will be needed to play the game
is this a game that everyone can participate in?
if you have a large number of people, can they play on teams? (Guys vs. Girls works great!)
---
My FAVORITE Great Party Games to Buy
TOP PICK:
Catch Phrase Game
One of my favorite great party games. The bigger your crowd, the better! I've played it in groups of 30 before. You need to divide into two easily recognizable teams, so great to play guys against the girls! There are lots of different editions available too! If there is only one game to own, for me, this would be it!
---
Taboo Board Game
This is played in teams and can be played by both large and small groups. Lots of fun!
---
Pictionary Game
A classic party game which is great to play in teams so it can lend itself to a larger group. No drawing expertise required!
---
Apples to Apples Party Box The Game of Crazy Combinations
This game comes in several editions, and works great for 4 - 10 players. A classic after-dinner game!
---
Scattergories Game
Great to play for the competitive and create people in your group. Because you play in teams, this is a good game for any size group. Also, playing in teams will help people get to know each other better!
---
Quelf Board Game
This game is too funny. I have a friend who now refuses to play because he always seems to be the person who ends up having to do something ridiculous for an extended period of time, like panting like a dog most of the game. The rest of us want to play because we know that he will be the person doing those silly things! Works great for small groups.
---
Trivial Pursuit Game
A classic! Even at a large party it can be played if you have people doing different things at different times. Many a party I've been to where this game is sitting out for people to play, and sometimes a few will play for a while, someone will get up and a new player will take their seat. You can play in groups or individually. Lots of editions are out there too based on certain interests!
---
Whats a DAME to do?!
Honestly, I haven't played this game, but it has been recommended to me by so many people, I wanted to include it on this list of great party games. From reports I've heard, it is good to play for a girls night, and it is a relatively "clean" game - safe to play with small groups of mixed ages, church groups, etc.
---
Giant Jenga Style Games
Take a
Jenga Classic Game
style game and supersize it! Makes a great game to set up and let everyone play as they wish. Very popular for everyone to gather around, and makes a great ice-breaker game too!
This site is a participant in the Amazon Services LLC Associates Program, an affiliate advertising program designed to provide a means for sites to earn advertising fees by advertising and linking to amazon.com.

Let's

Connect

!

Where Next?