Hawaiian Slumber Party
This post may contain affiliate links. Read our full disclosure policy. 

Aloha!

A Hawaiian Slumber Party (or Luau theme) is one of the most popular sleepover ideas out there.

It is always fun to "go tropical", especially when the weather is cold outside.

Here are some easy party ideas and games to help you plan yours!

Aloha! Slumber Party Invitations
Write the party details on inflated beach balls and deliver. (uninflate them and you can slide them into an envelope)
Send your invitation as a message in a bottle.
Hawaiian Luau Decorations
Palm Trees (real, inflatable, or made from butcher paper)
Flowers (Hibiscus, orchids, palms)
Fresh Fruit (pineapples, coconuts, bananas)
How about some homemade party decorations that look great - tiki torches, tropical flowers...even a volcano!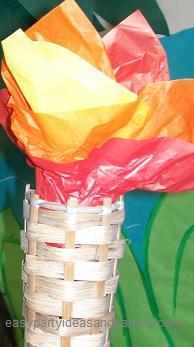 Hawaiian Slumber Party Food
Fruit salad (use tropical fruit) or serve fresh fruit
Hawaiian pizza – ham and pineapple!
Serve chips/dips and cookies in Sand Pails and beach toys
Serve drinks with cute little drink umbrellas
Add a luau themed cake
Hawaiian Slumber Party Activities
Have your friends dress for the beach or for a day in the tropics


Give your friends Leis to wear or grass skirts are fun too!) when they arrive


Prior to the party look up the Hawaiian name of each of your guests and include it on a name tag


Decorate flip flops


Make large tissue paper flowers


Have a load of sand delivered and have a sand castle building contest. (keep it outdoors if you can…sand gets everywhere!)


Have a surprise gift exchange. Before the party purchase and wrap fun beach related items. Draw numbers to see who gets to go first…then guests go one at a time and can pick an item to open or steal a gift from someone else.


Hawaiian Luau Sleepover Party Games
Dance off … hula style


Hula Hoop Contest
Limbo!
Pass the Orange Game : (two teams form a line…each team has an orange and passes it from person to person under their chin – no hands allowed! The first team that passes the orange all the way down the line wins!)


Coconut Hunt (Treasure Hunt to find the hidden coconuts)


Bust the Coconut Game - Tie a brown balloon to an ankle of each guest. Have them try to pop each other's "coconuts" without their own getting popped


Once Upon a Time… - Sit in a circle and let the host tell a story. They'll start with a sentence to get the story rolling. Then the next person in the circle will tell what happened next in one sentence. Go around the circle 3 times to complete the story! (with a small group you may want to go around the circle more times than that)! Start the story in Hawaii…


Hawaiian Sleepover Party Favor Ideas
Beach Towels
Water bottle
Drawstring tote bag


Your Turn! What made your slumber party great?
Did you have a great time at your slumber party? Tell us about it!
This site is a participant in the Amazon Services LLC Associates Program, an affiliate advertising program designed to provide a means for sites to earn advertising fees by advertising and linking to amazon.com.

Let's

Connect

!

Make your own...