Book Lover's Bookworm Slumber Party
This post may contain affiliate links. Read our full disclosure policy. 
If you are a book lover (who isn't?), then a Bookworm Slumber Party might be just the thing you are looking for!
And if you are part of a book club, then this slumber party would be a great theme for you.
Now, if you aren't part of a book club, you can "create your own", just in honor of your party.
Select a book that you'd like everyone to read, give them enough notice and time to get it read, and then you can discuss it at the party. You can even do activities or an outing that goes along with the book.
Invitations:
Easy to do it yourself!
Make a little book, and write your party details inside

Write your party invitation on a pretend library card
Slumber Party Decorations and Food:
Visit your library or bookstore to see if they have any promotional posters. Ask for something that is advertising books or authors that they can give to you - hopefully for free!!

Serve a cute Book Cake.
Bookworm Party Activities:
Come dressed as your favorite book character


Make "book worms" out of pompoms


Decorate a book bag by taking a plain canvas tote bag and decorating it with paint.


Make Bookmarks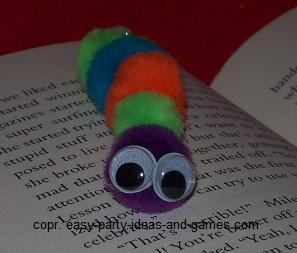 Bookworm Slumber Party Games:

Charades
Keep Talking - You'll need a bowl full of words written on slips of paper. Words should be things…such as tree, table, traffic light, broccoli, etc., and a timer. To play, have a player pull out a slip of paper, which will be their "topic". Have them talk about their "topic" for two minutes, without getting off-topic! After their two minutes is up, have the next person take a turn!


Favorite Book - Sit in a circle and let each person tell about their favorite book.

Once Upon a Time… - Put your story telling skills to the test! Sit in a circle and let the host tell a story. They'll start with a sentence to get the story rolling. Then the next person in the circle will tell what happened next in one sentence. Go around the circle 3 times to complete the story! (with a small group you may want to go around the circle more times than that)!

Photo Fun - A great way to illustrate your slumber party story. Divide players into teams, with each team using a digital camera. Give each team a list of photos to take. Some ideas are...the team pretending to sleep, of the team dancing, of the team doing yoga, etc. Whatever you can think of that will make a crazy photo! Make sure the different players take turns being the photographer so everyone gets a turn to be photographer and models!


Truth is Stranger than Fiction Game - Not really a book, but fun to try to figure out which tabloid stories are real (or not!)


More Slumber Party Games
Perfect Party Favors:
Book lights


Book plates


A small book or journal
Add your Bookworm Slumber Party ideas to our list!

This site is a participant in the Amazon Services LLC Associates Program, an affiliate advertising program designed to provide a means for sites to earn advertising fees by advertising and linking to amazon.com.

Let's

Connect

!

Great Ideas Worth a Look