Candy Theme Sweet Sixteen Party
This post may contain affiliate links. Read our full disclosure policy. 
A Candy Theme Sweet Sixteen Birthday Party is a very sweet idea for a sweet sixteen!
Everyone loves candy, right? So this theme is an easy one to plan and get excited about!
Candy in general makes a great theme for teen parties.
Everything is here - a color scheme, decorations, party games, and an easy party favor.
There are even some great songs about candy that you could play (or compile on a CD) such as "The Candy Man" (Sammy Davis Jr.), "Sugar, Sugar" (The Archies), "Candy" (Cameo), "I Want Candy" (Aaron Carter) and "Candy Man" (Christina Aguilera), to name a few.
These decoration and favor ideas could also be used to get you started for a Candyland Party or Willy Wonka Party as well!
Candy Theme Sweet Sixteen Party Decorations
It is easy to make your own homemade party decorations with this theme for a sixteenth birthday party. Here are some ideas:
Colored tables clothes and balloons
A Candy Bar is a MUST!

For party tables or a centerpiece, use small flower vases with peppermints, butterscotch candies, or other small candy items. Instead of flowers in the vases, use large lollipops.
Make lollipop decorations by using large circular pieces of styrofoam wrapped in pastel cellophane with a wooden dowl for the stick.
---
Candy Theme Teenage Birthday Party Games
You'll need teenage party games for a for a candy theme sweet sixteen. Here are some first class games to play:
Play a Chocolate Mystery Tasting Game...unwrap different chocolate bars, slice, and have a "tasting". See who can guess what each type of candy is, or...
Have a Chocolate Tasting - tasting different types of chocolate: milk, dark, white, etc. There are lots of different types of dark chocolate available, some stronger than others.
Play the M&M Hunt Game
Have a treasure hunt, searching for a treasure chest full of...candy (what else)?
A game that has been submitted by several of our site visitors is called the "chocolate game." How to play the Chocolate Game.
Have a pie eating contest (chocolate pies).
Build it! Use a tool like this book at this Amazon Link:

Candy Construction: How to Build Race Cars, Castles, and Other Cool Stuff out of Store-Bought Candy
---
Candy Theme Teenage Slumber Parties
Consider this candy theme for a fun 16th birthday slumber party. You can use the games listed above, but if your candy sweet sixteen celebrations include a teenage sleepover, you can also do some of these fun teenage slumber party activities...
Remember these?

Dig them out!

If you don't have them, I've included some Affiliate Links to Amazon for your convenience:

Play Candyland 
Watch the old-school Willy Wonka & Chocolate Factory, or...

Watch Charlie and the Chocolate Factory (Widescreen Edition)


Play some of our fun slumber party games.

---
Candy Theme Party Favors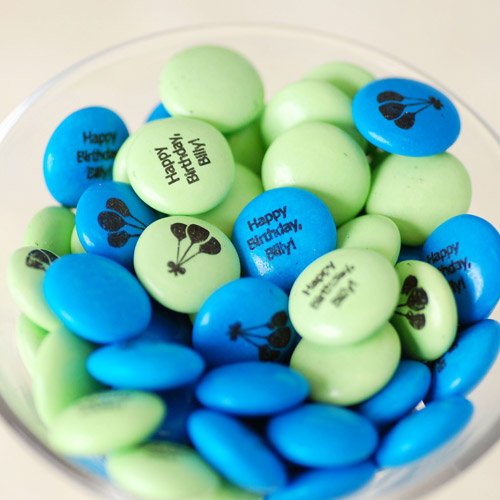 Have you seen those M&Ms and other candy that have been stamped to say something? I found the place that does that! Visit Beau-coup for personalized candy and party favors!

Candy with personalized wrappers would also be great at your candy theme sweet sixteen party.

Fun Party Favors, just for the girls, are Candy necklaces, bracelets, ring pops and candy lipstick.
Have A Great Sweet Sixteen?
Do you have some great ideas for celebrating a 16th birthday? Share it!
This site is a participant in the Amazon Services LLC Associates Program, an affiliate advertising program designed to provide a means for sites to earn advertising fees by advertising and linking to amazon.com.

Let's

Connect

!

More Teen Party Ideas
If you are planning a teenage birthday party, especially a 16th birthday party, you'll want to make it really special.
Don't delay! Check out my page Sweet Sixteen Party for lots of hard to find teen birthday party ideas.
Huge List of Teen Party Games
More Teen Party Ideas to choose from